Two weeks are down.  I'm still tired of water, but no longer want a diet coke.  I don't even think it'll taste good at this point.  I just want something other than water.  I found a Tazo passion fruit tea and according to everyone online it is compliant.  So I'm going to pick some of that up this weekend to try.  Maybe that'll get me through.  I even found someone who said to make it with sparkling water – hmmm…. maybe that'd be tasty.
Day 8 (Jan. 9)
breakfast: banana, water and tea with two little pups really wanting some of the banana
lunch: chicken salad
dinner: chicken and potato
Day 9 (Jan. 10)
breakfast: two eggs and half of a small tomato cooked with ghee and a banana
lunch: chicken
dinner: fried chicken cooked in almond flour and coconut oil, smashed potatoes from Pioneer Woman, and broccoli.  I didn't get a picture – oops!
Day 10 (Jan. 11)
breakfast: didn't eat anything – I wasn't hungry and desperately needed to go grocery shopping so I just drank water
lunch: ground sausage – I still wasn't hungry thanks to my numbing migraine
dinner: again, still didn't feel good so I just left it.
Day 11 (Jan. 12)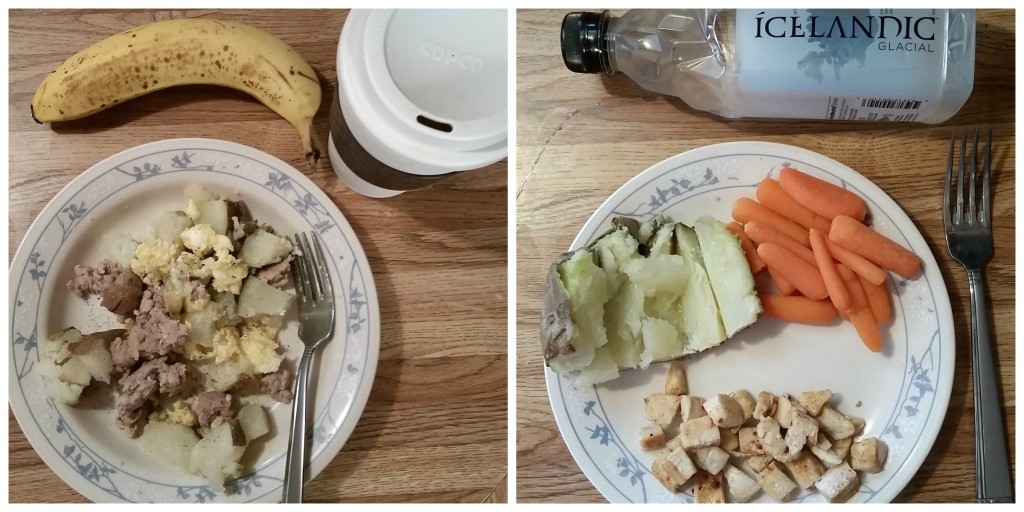 breakfast: sausage, 1 egg cooked with a dab of ghee, half of a white potato (I really need to add more veggies to my breakfast. I always remember the ingredients for lunch and dinner while I'm at the store, but can't seem to get breakfast down)
lunch: cooked chicken that I seasoned, boiled carrots and the remaining half of the potato with ghee
dinner: I can't remember – I really need to write these things down or always take pictures.  Probably something with chicken because that's my go-to.
My lunch was so good!  I actually felt full and couldn't finish the potato.  It was such a nice feeling!  I'm not going to lie – I haven't felt hungry too much this Whole30, but I haven't felt full either.  I'm not talking uncomfortable, sick-to-my-stomach full.  Just normal satisfied full.
Day 12 (Jan. 13)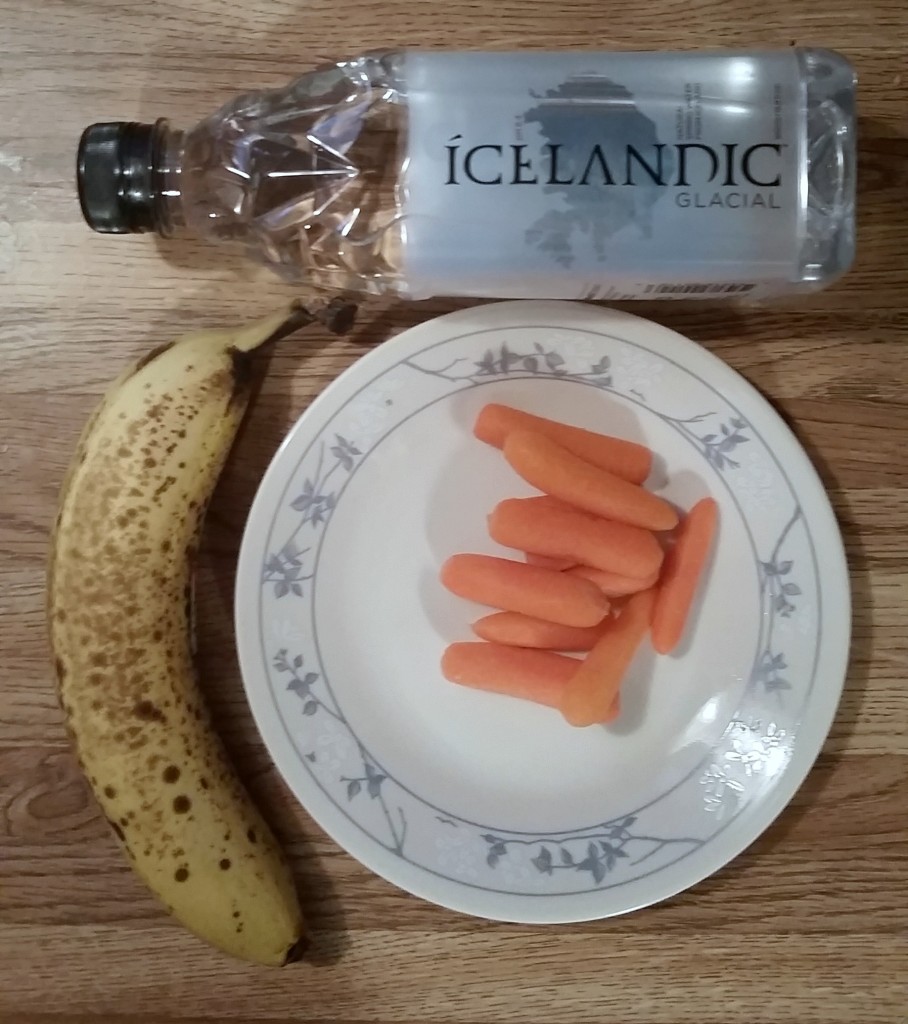 breakfast: steamed carrots and a sad looking banana (but someone on Instagram made a great point – better a sad banana then stopping for pastries.  So right!  So I am proud of my little banana)
lunch: fajita chicken
dinner: shrimp and slaw
Day 13 (Jan. 14)

breakfast: 1 egg, 1 egg white (for the less eggy taste), seasoned sausage, boiled carrots and another overdue banana
lunch: shrimp sauteed in EVOO and boiled carrots – all of it cooked in coconut aminos (I usually add brown rice to this dish, but since I can't on Whole30 and didn't have time to prep Cauliflower rice I went without.  It was actually pretty good.  Simple, but good.)
dinner: HUGE taco salad.  I sauteed onions and tomatoes in coconut oil then added poached chicken that I shredded and then let simmer in my taco seasoning blend.  A bed of red leaf lettuce was on bottom and homemade guacamole was on top.  Then I added some boiled carrots.
Today was a good day.  I was loving my carrots (obviously! ha!) and I felt satisfied after every meal.  I went to Crossfit after work (before dinner) so I grabbed a handful of unsalted cashews to give some extra power while working out.  I didn't crash or feel weak at all and it was leg day.  Lots of squats, lots of lunges and some sit-ups added in for fun.
Day 14 (Jan. 15)
breakfast: I wasn't too hungry when I woke up so I made something small – 1 egg and 1 egg white fried in coconut oil and boiled carrots on the side.  I didn't eat all of it – just not hungry.  So the pups got a little paleo treat!
lunch: I have my Kiwanis meetings on Thursdays and we meet at a Mexican restaurant.  So I tried to be careful, but I'm sure I wasn't in compliance.  I had fajita chicken with veggies, big bed of lettuce and guacamole on top.
dinner: this is what I get for not taking pictures or writing it down…. I can't remember what I ate last Thursday.  Some sort of chicken dish probably.  It's my go-to.