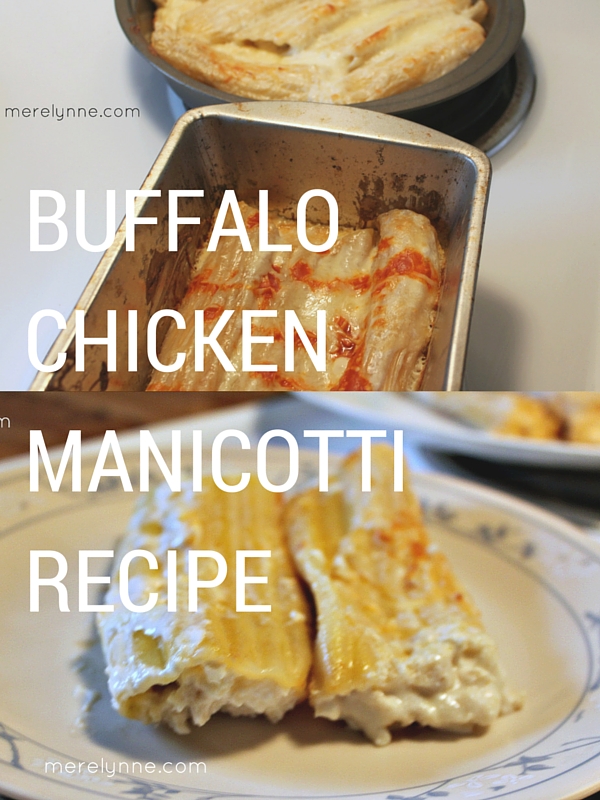 O.M.G. This Buffalo Chicken Manicotti has to be one of J and mine favorite meal.
It's sooo good.  I mean, seriously, it's that good.  I love pasta and J doesn't so for me to get my pasta fix I usually have to find a way to add some kick to it.  Then he'll be happy.
I made a buffalo chicken lasagna roll-up not too long ago and it's a very similar recipe, just different noodle.  I have to get creative to get pasta!  I'll have to share that one with you at some point.  I used Simply Gloria's recipe as a starting point and made my own tweaks to it.  I am not a big fan of having to purchase a ton of ingredients or having to spend too much time in the kitchen.  I actually made the recipe just as Gloria does and it's delicious.  But this time around, I took a few shortcuts.  It was still just as good and J couldn't tell the difference.
I am not a big fan of anything spicy, so I usually start out making a normal dish then divide it in 2.  I add buffalo sauce to J's portion and keep mine as is.  They are both delicious – well J thinks the buffalo chicken manicotti is amazing and I think my regular chicken manicotti is to die for.  So at the end we're both happy – he gets a kick and I get my carbs!
The other night I went to make some buffalo chicken lasagna, but I of course did not have the right pasta noodles.  I did, however, have some manicotti shells leftover from another dish.  So I had my bright light bulb moment and this recipe was born.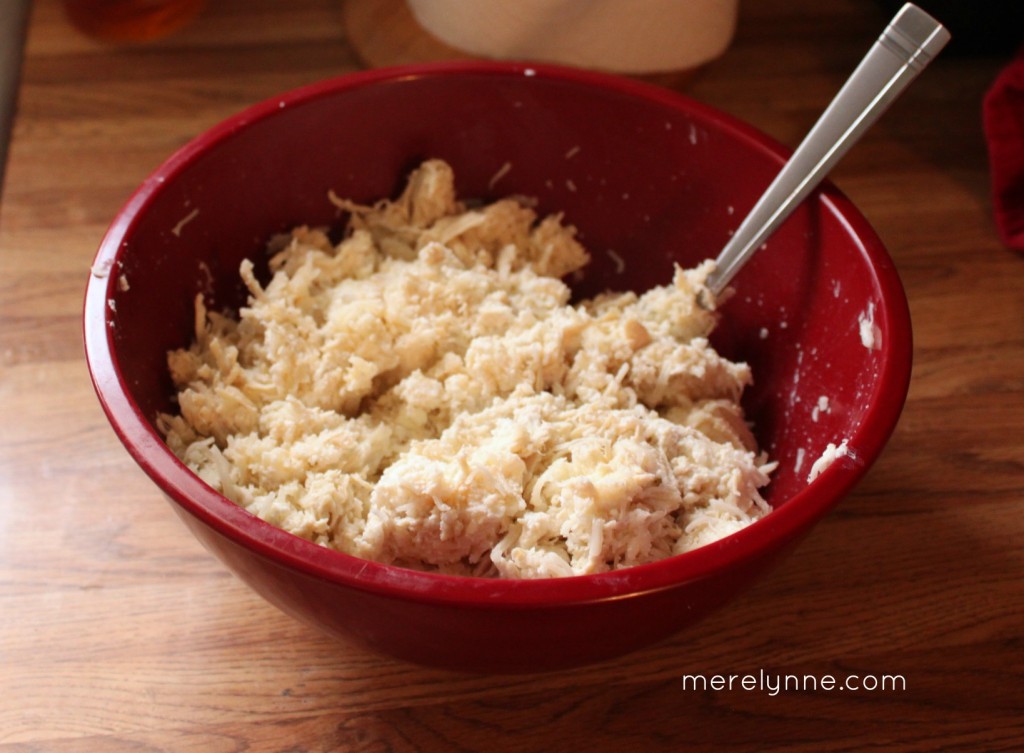 I start by poaching chicken and then shredding it using my KitchenAid mixer with the paddle attachment.  It's so much easier and faster then trying to shred by hand using two forks.  I usually end up giving up after a few seconds and burn my hands to use my fingers.  So this way, I don't burn myself and don't have to have a lot of patience to get the job done.
I purchased jar Alfredo sauce (gasp! I know).  It was a lot easier and quicker to use then having to mess with making my own cream sauce.  I just heated the sauce on the stove and added in a bit more of pepper to taste.
Combine the shredded chicken, cream cheese, and mozzarella.  Once it's mixed well divide the mixture into two.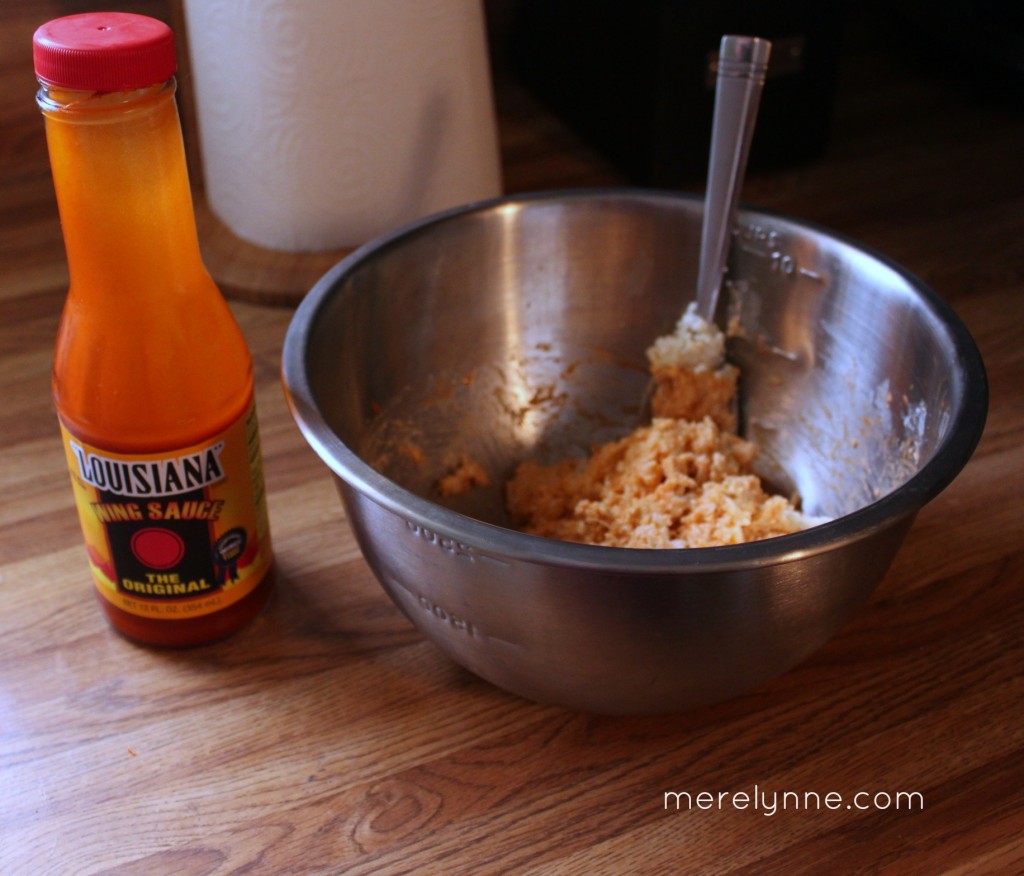 In the second bowl add the buffalo sauce and stir well.  If you want the whole recipe to have buffalo sauce then go ahead and keep it all in one bowl.
Cook the manicotti noodles for about 5 minutes because it will finish cooking in the oven.  Drain and set on paper towels to remove any excess water.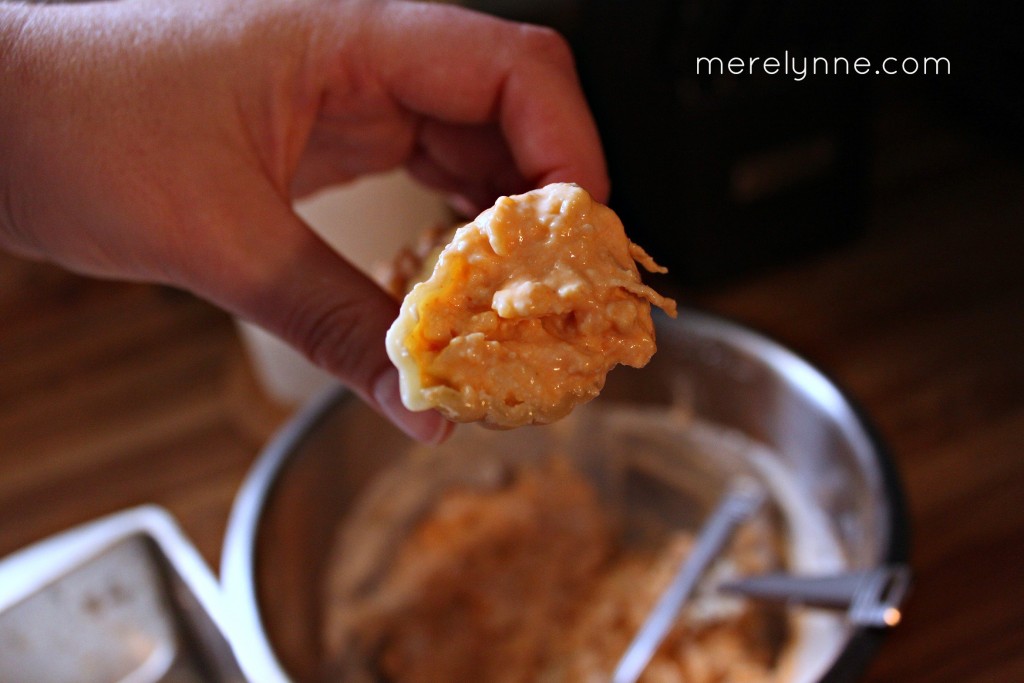 This is the fun part!  A little messy, but so fun!  You want to take a spoonful of the chicken mixture and start stuffing into the manicotti shells.  You want to make sure they are stuffed to the brim.  Any excess pasta showing on the inside will just harden in the oven.  Do this with both the regular chicken mixture and the buffalo chicken mixture.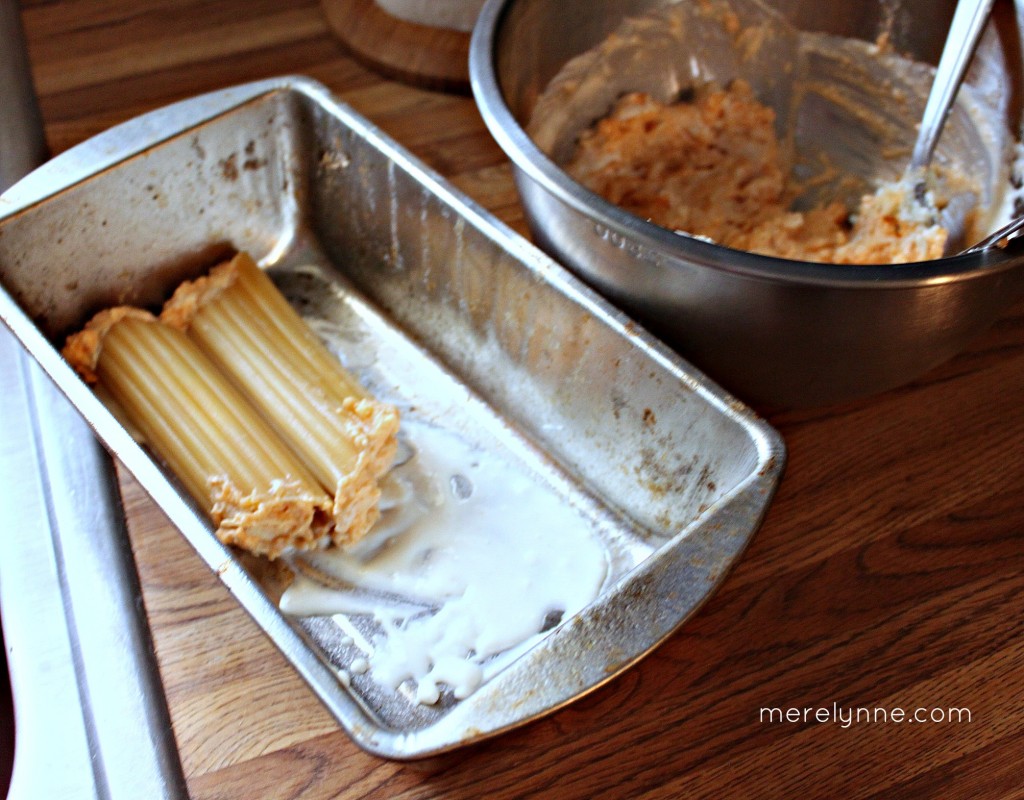 Take a little of the Alfredo sauce and cover the baking pan.  Lay the stuffed noodles in the pan.  Once they are all placed, take the remaining Alfredo sauce and cover the pasta noodles.  You want to make sure everything is nice and covered to prevent them from hardening in the oven.  Plus the liquid will help the noodles finish cooking while it's baking.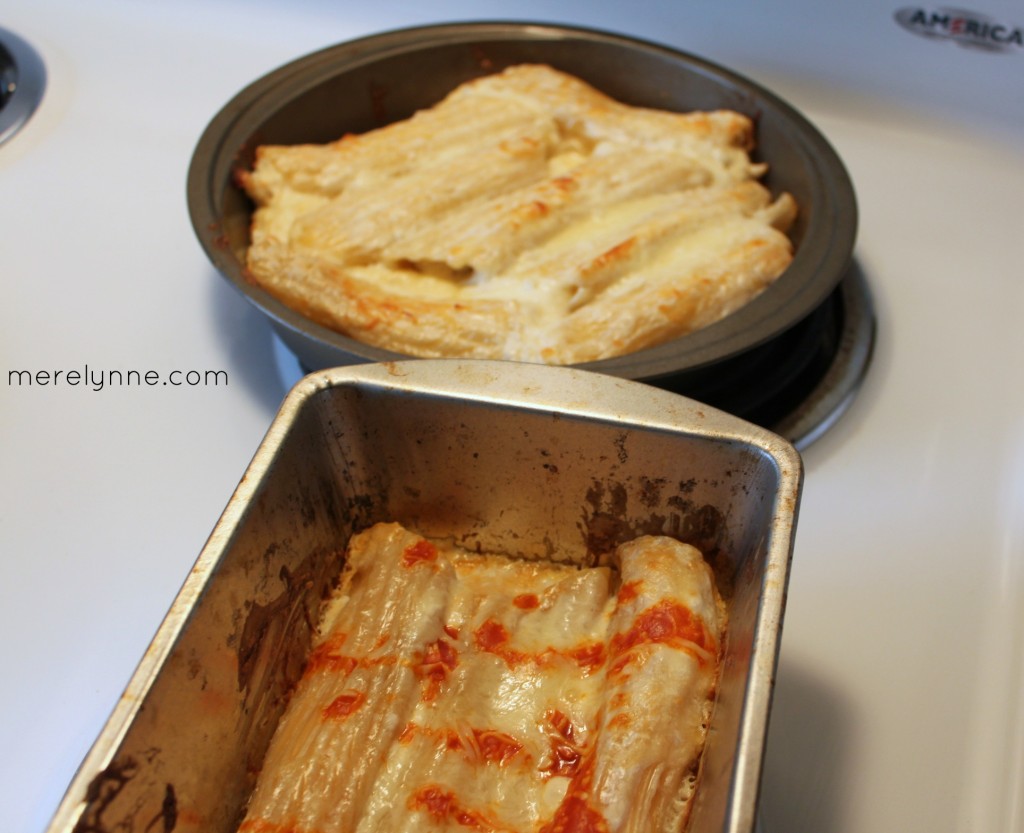 For the buffalo stuffed ones, I drizzle a little extra buffalo sauce on top before baking.  Bake for about 25-30 minutes at 350 degrees.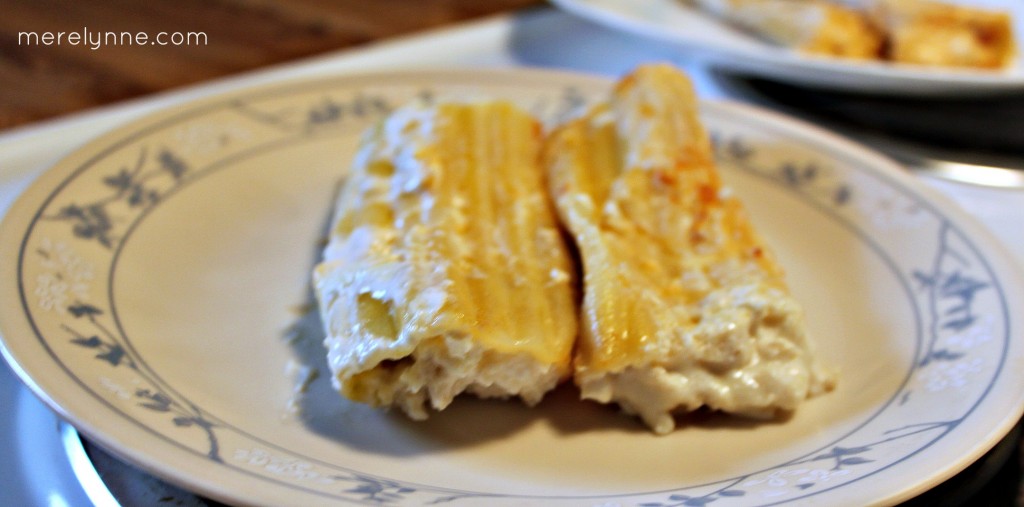 Ingredients for stuffed buffalo chicken manicotti:
12 manicotti noodles, cooked and drained
2 chicken breasts, poached and shredded
1/4 cup buffalo sauce (can add more or less to your taste)
1 jar of Alfredo Sauce
1/2 package (4 oz.) package cream cheese, divided
2 cups shredded mozzarella
Directions:
Add manicotti pasta to large pot of boiling water, let cook for 5 minutes and then drain.  Place noodles on paper towels to remove any excess water.
Heat Alfredo sauce on stove on medium heat.
In large mixing bowl, add shredded chicken, cream cheese and mozzarella cheese.  Mix well
Divide chicken mixture in half and place second half in another bowl.  Add buffalo sauce and mix well to combine.
Put a spoonful of Alfredo sauce on bottom of baking pan and spread to cover.
Stuff manicotti noodles with chicken mixture – half with buffalo chicken mixture and the other half with the regular chicken mixture.
Spread remaining Alfredo sauce on top.
Bake for 25-30 minutes at 350 degrees.
The following two tabs change content below.
Meredith Rines, a budget and financial strategist helping fans pay off debt and live the life they've always wanted.
Latest posts by Meredith Rines (see all)