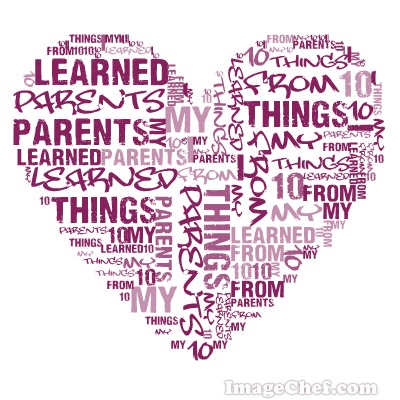 It's not news that I am in awe of how great my parents are.  When it came to the parent pool, I hit the jackpot.  My parents were always there for me, my sister, and what's surprising, my best friends.  There is nothing my folks wouldn't do for their daughter and the ones we love.
J and I are not planning on having children anytime soon.  We would like to be married for a few years so we can really get to know each other and our quirks.  I want to make sure that when the time comes for our children to be grown and gone, J and I are still madly in love.
But after planning a wedding together with the help of family, I started wondering what lessons I would like to pass on to my kids.  My parents instilled a lot in me over the past twenty something years.
It's hard to pick out just 10 things I learned from my parents, but these were the ones that stood out.
1)be independent and self-sufficient
2) work hard, play hard
3) be dependable
4) tell your kids stories and let them tell you some too
5) be open with one another
6) it's okay to let people go
7) there will only be few people that travel through each life stage, cherish those friends
8) learn how to budget and save money
9) live a little
10) be the house with the best snacks so kids want to hang out there
My parents are pretty amazing. I pray that I will be half the parent they are to me because if I am, then I know my kids will be successful in their personal life, career,and emotionally.
Cheers!