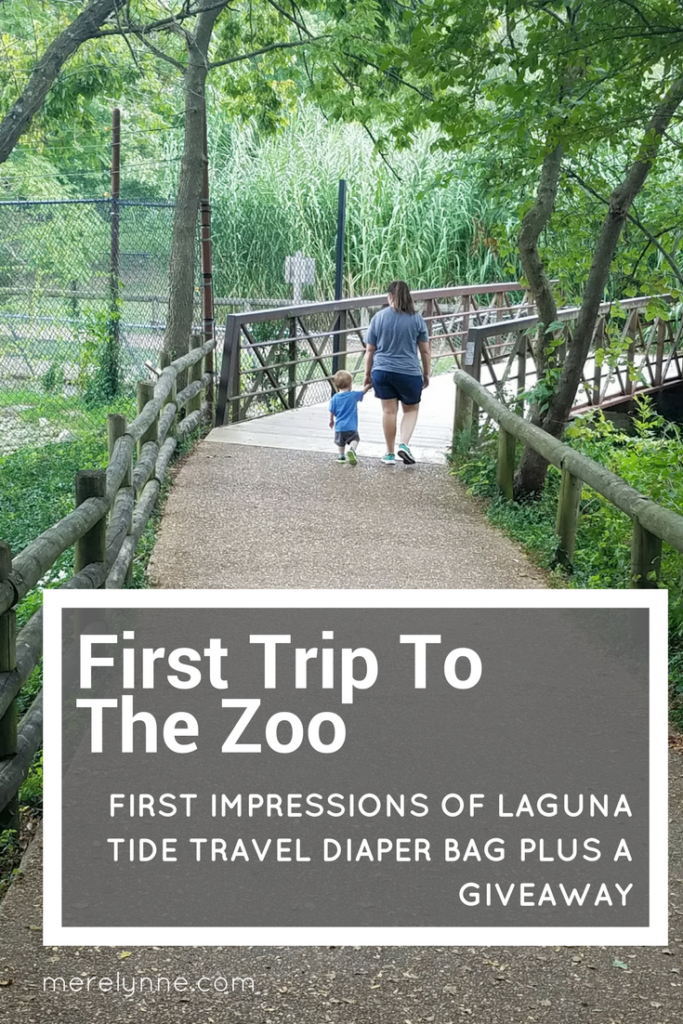 This past weekend our little family had the time of our lives. My best friend from high school lives about 3 hours away, so after months and months of saying we would come for a visit, we finally loaded down the car hit the road. Their little girl is just a few months older than our son so they were able to play and have a blast together.
It was so nice having a chance to catch up with my friend and to see our sweet babies becoming life long best friends. Our little guy was exhausted come Monday morning when it was time to drive home. He didn't want to leave, but he needed a good long nap to get him back to normal. This little guy was such a trooper. All weekend we went, nonstop. He napped only 30 minutes on Saturday and then only 30 minutes on Sunday, which is short for my sleep-loving child.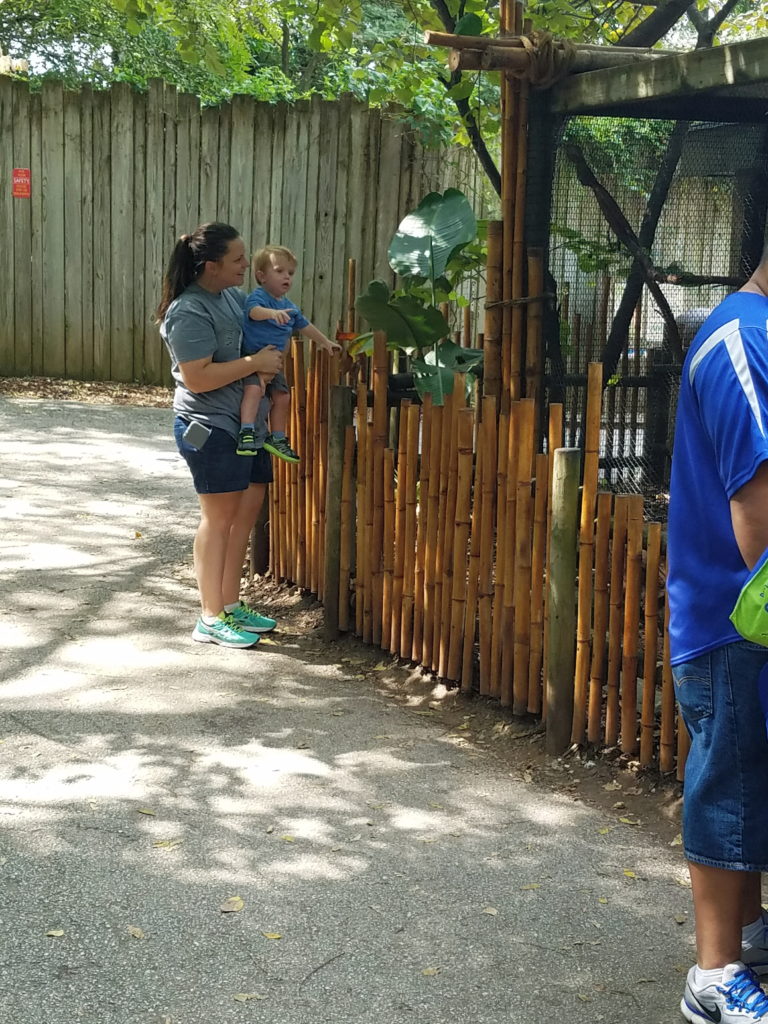 On Sunday we all went to the Dickerson Park Zoo in Springfield, MO. We explored every inch of the zoo, we fed giraffes and watched the lions nap on a big rock. Our little man is as independent as they come. Our little guy did not want to be pushed into his stroller, even when he was too tired to walk. He wanted Daddy to carry him while he rested then he was off again. Little man preferred to be out front, leading the way for the rest of the group.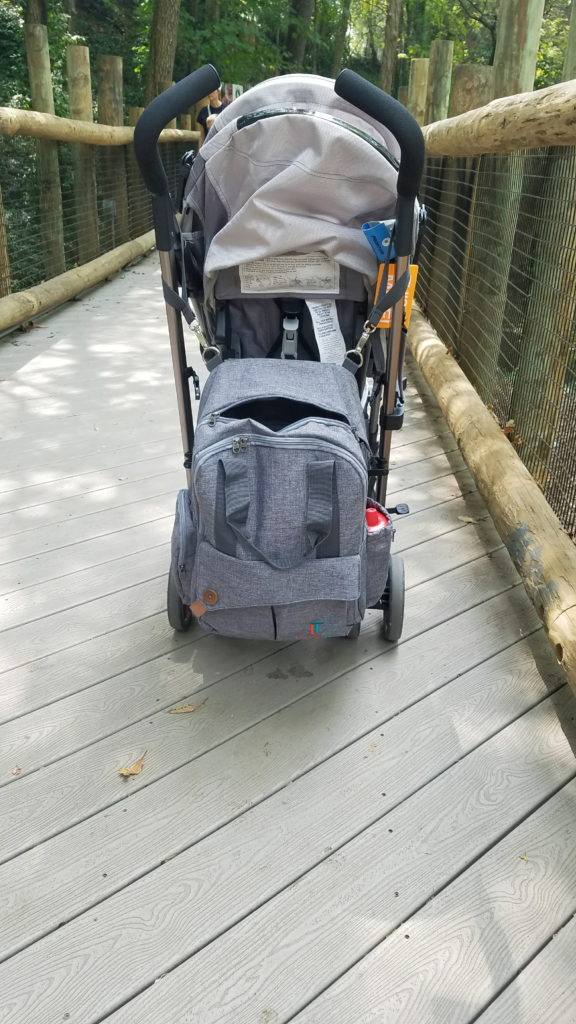 I was asked recently how we pack our toddler's diaper bag for a long day away from home.
I've shared in this post what we bring, but I wanted to go into more detail about why I like to carry a diaper backpack on those long days.
I don't know about you, but carrying around a diaper bag all day is so not fun. The bag usually falls off my shoulder, especially when I bend over to pick up our son. If I have it stuffed for a busy day then I usually lose a few items with each pickup too. I saw online a few diaper backpacks and really wanted to give one a try. I ordered one on Amazon not that long ago for our trip to Florida. It's a nice bag, but honestly I knew I could do better. I had been trying to find a new one when I was asked to try out the new Laguna Tide Travel Diaper Bag. I jumped at the chance. I looked at it online and thought this could really be the answer to my diaper bag problems. So the people over at Laguna Tide were super nice and gave me this diaper backpack to test (and they offered you a coupon code for 15% off, keep reading to get the code!).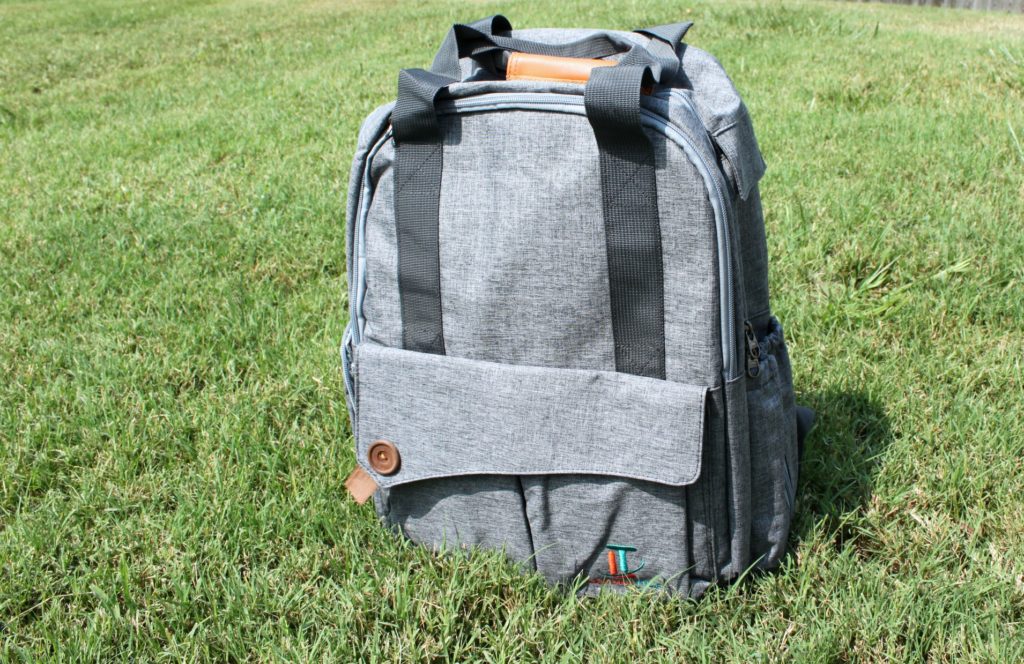 This past weekend was the perfect time, too. With all of the traveling and adventures we went on made sure this bag could keep up. I recorded a quick video of my first impressions and as promised I'm sharing my final thoughts on this bag, too.
This diaper backpack is the real deal. I loved so many features about it, but the best part was the actual backpack straps it comes with. So many diaper bags (even ones I've purchased before) have such thin straps. So by the time you get the straps adjusted and the bag filled, the straps just slide right back down when you go to pick it up. It can be such a pain walking through the store with a diaper bag banging against your rear-end.
This bag also came with some great insulated pockets so we were able to keep out little man's snacks cool during the 80 degree weather, plus his sippy cup of water stayed cold while we explored the zoo. The bag even came with a changing pad, which came in handy at the gross public bathroom at the zoo. I'm not a real germ-a-phobic mom, but something about those public restrooms gross me out. I was easily able to change our little guy, reach everything I need without having to take the bag all the way off and set it on the dirty floor. That's a huge game changer for me. I always hate having to take off my diaper bag, sit it on the ground (because there is never a table or hook near those stations), dig out what I need all while trying to keep my busy toddler from falling off.
Overall I give this bag 5 out of 5 stars! It really was a huge help to have a nice, sturdy bag for a long weekend. The people over at Laguna Tide and I are partnering up to off you a chance to win one of these bags.
The giveaway will run from September 8 through midnight on September 14. So be sure to enter for your chance to win. You can grab one of these Laguna Tide Travel Diaper Bags over amazon. Make sure to use the coupon code: MEREGP15 to get 15% off.
I was not financially compensated for this post. I received a sample for review purposes. The opinions are completely my own based on my experience.