Did you know everyone has a budget? Yes, everyone.
Even you have a budget. Even the anti-budgeter next door has one.
What you spend is your budget. Whether or not your write it down and keep track of it.
Your income less your expenses each month is your budget. It can be as simple or as complicated as you want to make it. I'm sharing my tip on how to create a simple budget.
The people that are turned off by budgeting are the ones that tend to overcomplicate things. I'm sharing my one tip that can help turn you into the pro-budgeter you've dreamed of.
You can watch the video or keep reading.
The easiest tip for sticking to and creating a simple budget is by tracking your money. Not as you spend it, but before you spend it. Before you write your rent check, swipe your debit card or ACH your car payment. You need to track your money on paper (or spreadsheet) first.
We use Google Sheets as our check register, but I take it one step further by pre-tracking our monthly expenses. I know about what day each bill will hit, when our paydays will be and when I need to go grocery shopping.
I'm going to assume you probably know all of those things too. You run your house pretty smoothly and you know when the baby will need more milk and diapers, and when you will need more toilet paper. It's a mom thing for sure. J has no idea when we're about to run out of food and when the baby is going to need more wipes. But I do. Just like you do.
Most of us moms and wives are pretty up on logistics when it comes to our household. So I take the knowledge I have about grocery shopping, loan payments, rent, and daycare costs then write it down on my check register.
I start with the first of each month then I write down the date of each bill, payment or expense. I add in any income and the day they will be deposited into my account (I love direct deposit and don't have to think too much about it). I subtract any expenses from income to keep a running total. Now I know on the 20th of each month how much I'm going to have after all the bills have cleared and before I get paid on the 30th.
For instance, if you look at your check register on the 20th and see you have two more bills that come out around the 23rd then you will know on the 20th how much money you can spend until you get paid again.
Does this make sense?
No more guessing. No more cutting it too close.
You know on the 20th if you need to be eating at home the next 10 days so you have enough money to put gas in your car.
This one tip on how to create a simple budget – pretracking your expenses – has saved my family over and over again.
There are no more surprises when it comes to our bills. Nothing gets overlooked and you won't have to write a hot check hoping it doesn't get cashed before payday.
If you want to download the budget template my family uses, check it out. It has helped so much on keeping us on track and allowing us the ability to see where our money is going. No more guessing or not knowing.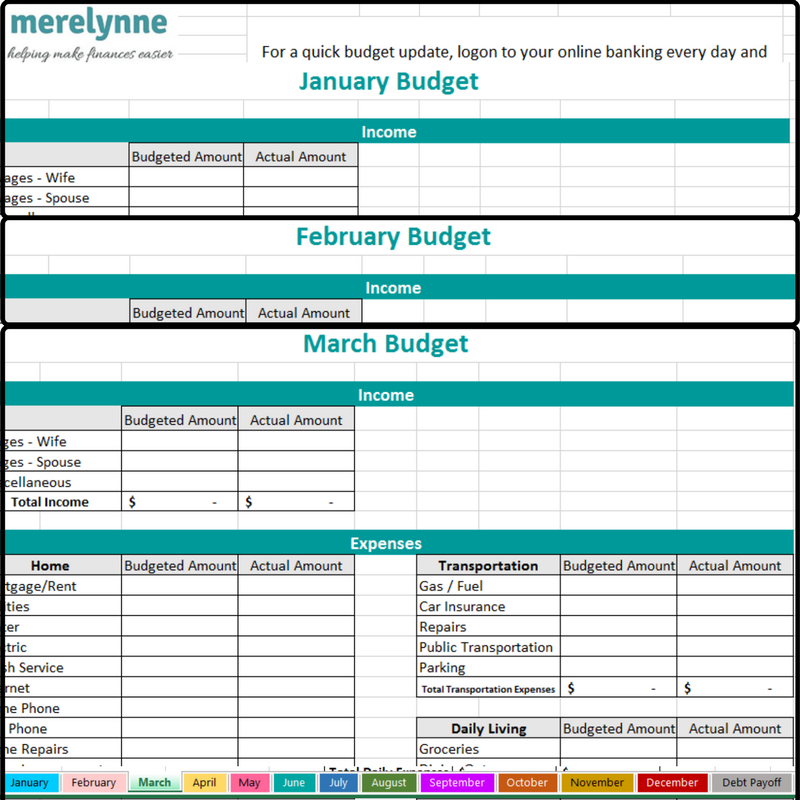 If you're looking for a great tool to help keep your family on budget, then check out out my budget spreadsheet. Each month is laid out right in front of you where you can keep track of what you budget and what you actually spend. Now you'll know in real time how you're doing each month.
The following two tabs change content below.
Meredith Rines, a budget and financial strategist helping fans pay off debt and live the life they've always wanted.
Latest posts by Meredith Rines (see all)