Affiliate Disclosure: I am grateful to be of service and bring you content free of charge. In order to do this, please note that when you click links and purchase items, in most (not all) cases I will receive a referral commission. You will not pay more when buying a product through my link. Your support in purchasing through these links enables me to continue to offer you lots of free stuff. Thank you!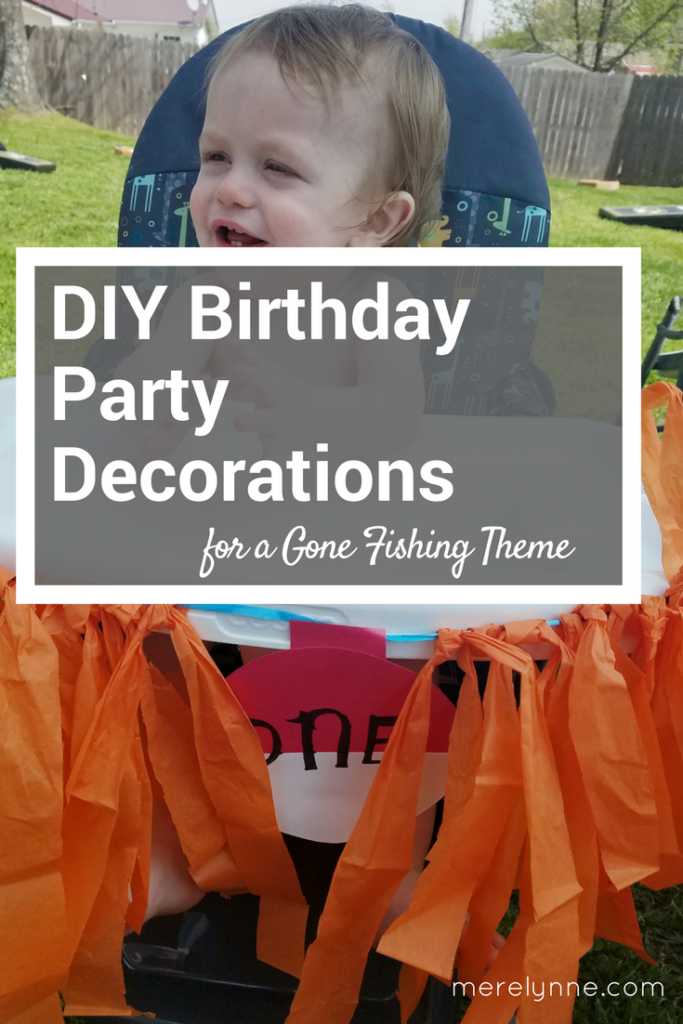 For our little man's party I ended up creating most of his decorations. I searched on Pinterest (you can check out my board of inspiration) for tons of ideas. Then I went to start looking at buying the decorations. Whoa! Those prices were big, at least in my book. I knew if I wanted to provide lunch for everyone then I wouldn't be able to afford all of those fancy decorations. So I took what I saw on Pinterest and made it myself. You can make your own party decorations, too. All you need is a little bit of planning and some creativity. I swear you can create most of the decorations for a fraction of the retail price.
I want to have an Honest Abe moment with you…. If I had the extra room in my budget and wasn't worried about saving money then I would have just purchased everything we needed because it would have been easier. I didn't spend but a few hours making everything, but it would have just been easier to buy it all; however, that is not my reality.
Before I go any further I need to say…
I am not the most crafty person in the world. I lose my patience easily. I am all about progress not perfection. Also, after looking at the party pictures I realized that I did not do the best at taking pictures of my decorations. I was so pressed for time and then when the party came I was enjoying my son and our family and friends.
Now with that being said let me share with you my DIY birthday party decorations.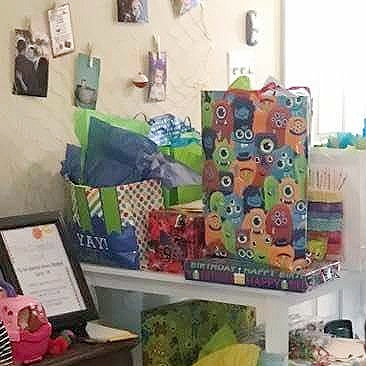 I created a photo wall using a net I ordered off amazon for less than $6.00. I took a gamble ordering this decorative net
because I couldn't specify which color I wanted. But after reading the reviews and seeing the prices of the other nets, I decided to roll the dice. I was so happy I did! I ended up with a yellow one, which was perfect. Honestly any color would have been fine and I would have made it work. The net was huge and I wound up cutting off a portion I needed. I didn't use the rest of it and now I have it tucked away for a future party.
I used clothespins that I already had on hand to hang the pictures and then used some leftover fishing line from when J went fishing a few weeks ago. I found these bobbers
on amazon for around $4.00 and had my friend help me string them to the net.
The pictures were part of the package our photographer gave us from our family shoot a few weeks ago.
I then placed our kitchen table in front for a place to gather the gifts. This wall cost me about $10.00 to do. Not too bad.
Then over on the food table I ordered a table cloth from amazon (because everything comes from amazon!). This striped plastic tablecloth
was perfect. I actually ordered two, but since it was windy we decided not to cover the tables outside. They were only $2.99 each (the price actually has lowered when I was writing this post!). Since it was so cheap, I decided to hold on to the one I didn't use and the one we used was still in perfect condition, so I wiped it off and folded it up.
I made a few food decorations using canva and some construction paper. I already had the dowels and the papers so after I printed them in color, I cut out the images, glued to the construction paper and taped to the dowels. I think they turned out perfectly! I even created them as PDFs so you can download them yourselves.
I purchased a tackle box from walmart for about $8.00 and used those to place the gummy worms, Twizzlers and Swedish fish in. Now that the party is over J has a new tackle box he can use! I'm the best wife ever!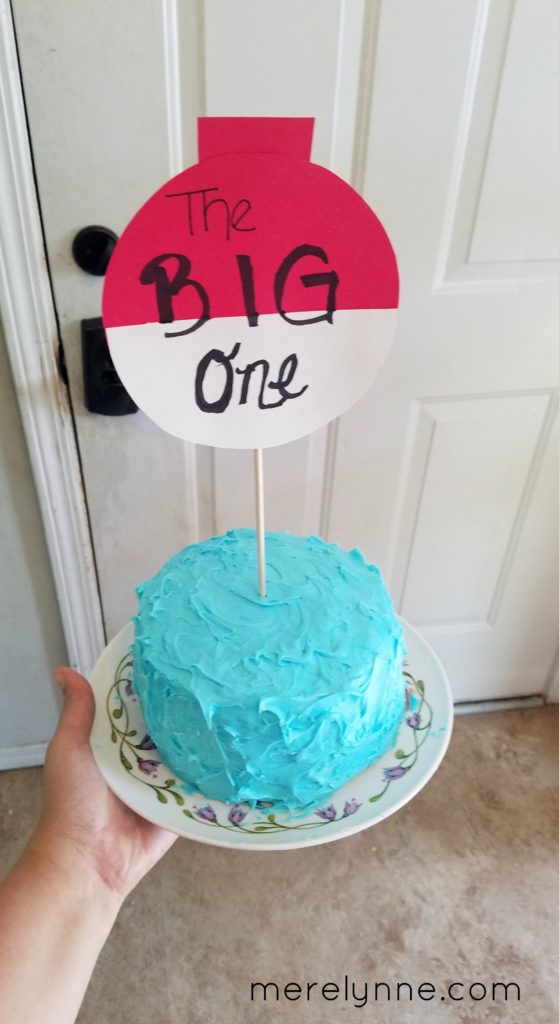 The smash cake was probably the easiest decoration I made. Two pieces of construction paper, a dowel and tape was all that was needed. I even shared how I made his smash cake for only $3.00. After we took our family photos a few weeks ago I learned just how much our little guy doesn't like cake. I think the icing is too sweet for him. So I didn't want to spend too much on his cake, including decorations. In the smash cake pictures, the cake topper (the one I spent over an hour creating) was the first thing destroyed and ripped. I learned my lesson! For the party I kept it simple.
I took a red and white piece of construction paper. Then using my compass from the 6th grade (yep, I still have my compass that we used in beginning math class with the original pencil!) I drew a circle on each piece. If you size the circles correctly you should be able to get 2 circles from each color, and I used the second one for the high chair. I then cut the white piece in half and using a very old glue stick I put it together. After I was finished I realized I forgot the top part of my bobber, so I used red scraps and made it work. After it was glued, I took a black marker and wrote "the big one". I used regular tape to stick the dowel on and that's it.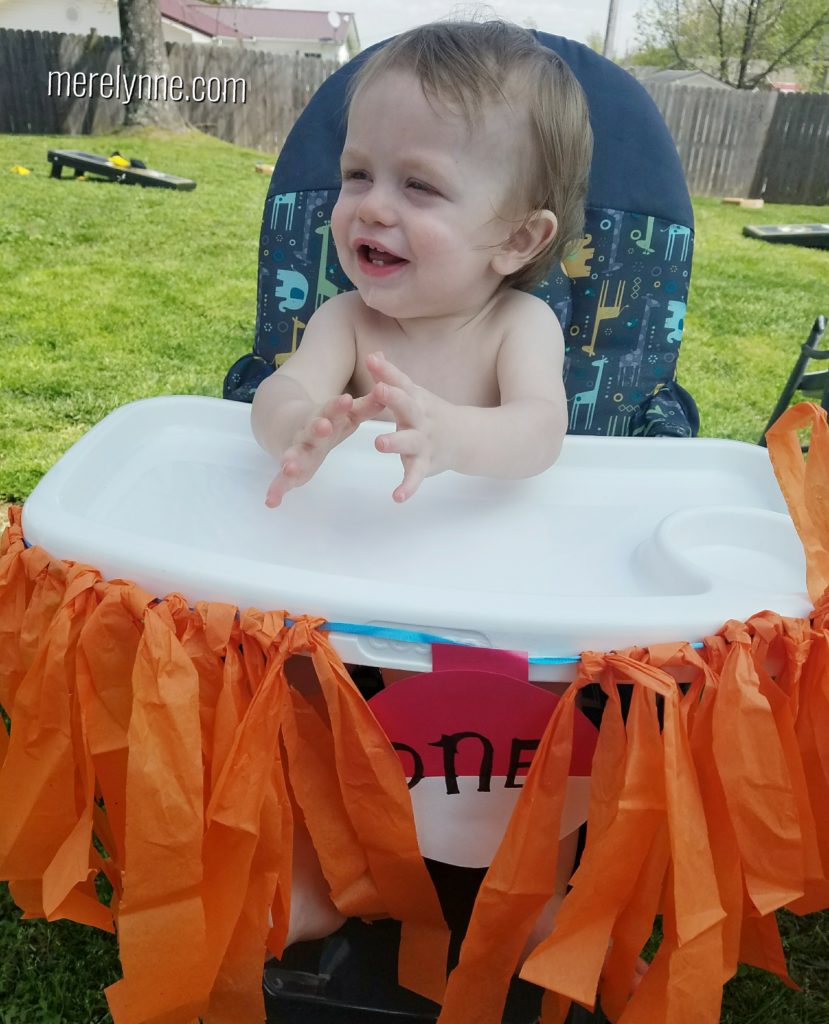 For his high chair pennant, I took some orange tissue paper I had on hand and cut it into strips. Then I tied the strips to some blue gift ribbon (I couldn't find my twine and I was tired of looking so I improvised). I then cut out a circle using red and white construction paper, glue it together and took a black marker to it. I think it turned out wonderful!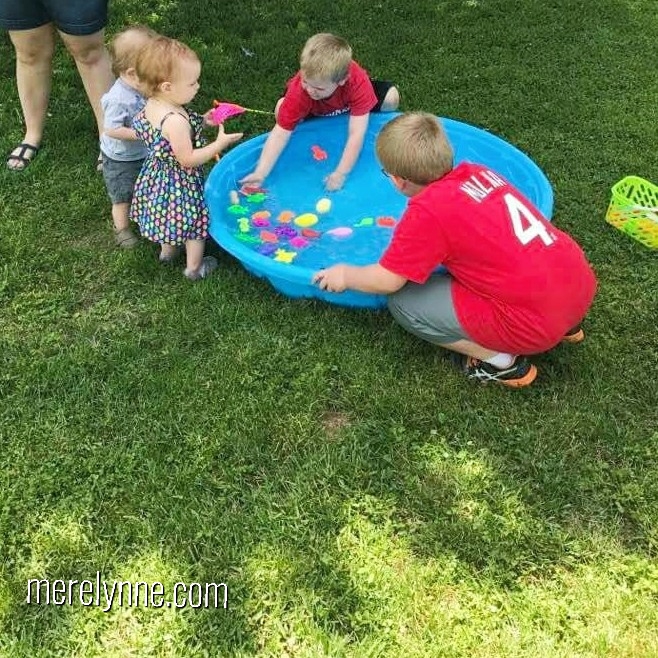 Outside we decided to not do any decorations since it was windy. We had two canopies set up and our little kiddie pool for the kids to play with. The kiddie pool was a huge hit! I bought a magnetic fishing set
which came with 2 fishing poles, 2 nets, a blow up pool (that we didn't end up using) and tons of fish, sharks, and food (weird, but they were probably the favorites) pieces. Now the party is over, little man has lots of new bath toys to play with. I bought the pool for about $8 from Wal-Mart and the set was about $25 on Amazon.
That's it! That's the DIY birthday party decorations we created for our little guy's first birthday. I was all about keeping it simple, doable and within our budget. To keep you on track, I talked about how I stayed organized by using this handy checklist.
The following two tabs change content below.
Meredith Rines, a budget and financial strategist helping fans pay off debt and live the life they've always wanted.
Latest posts by Meredith Rines (see all)