Affiliate Disclosure: I am grateful to be of service and bring you content free of charge. In order to do this, please note that when you click links and purchase items, in most (not all) cases I will receive a referral commission. You will not pay more when buying a product through my link. Your support in purchasing through these links enables me to continue to offer you lots of free stuff. Thank you!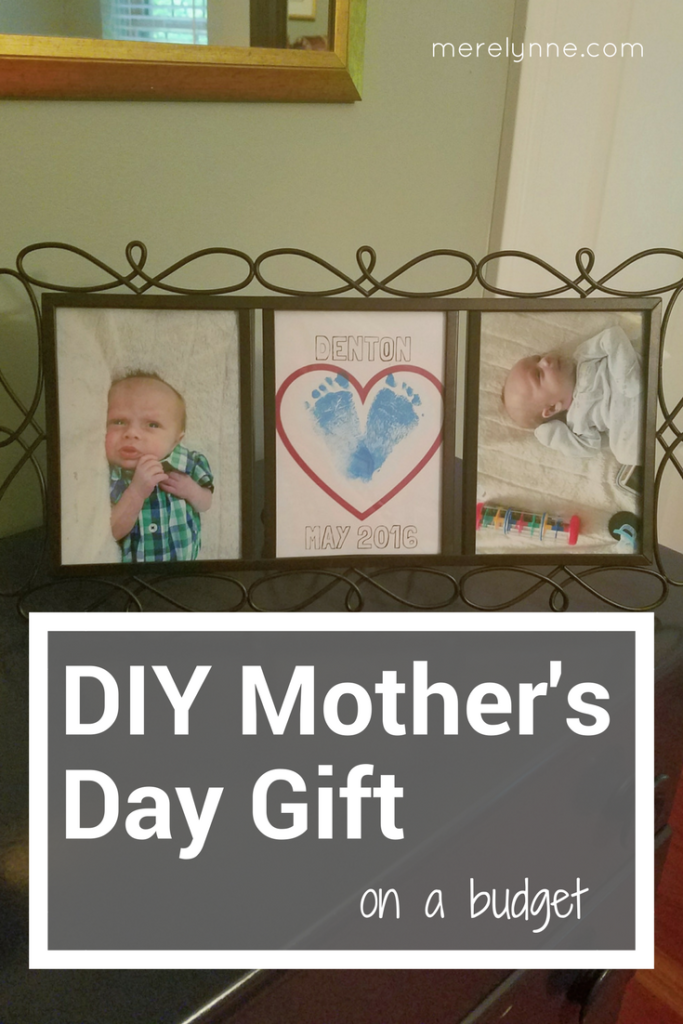 I wanted to treat my Mom to something special for her birthday and Mother's Day last year. I know, I know I can't believe I am just now getting around to sharing what I did last year! #momissues
Our little guy was right around a month old, I was still struggling with the recovery from my c-section, I was tired and learning to adapt to this whole motherhood thing. My Mom was great (a little overwhelming at times, but what new Grandma isn't), she had really helped with the Baby and there were a lot of days she would just bring me lunch and sit with me for an hour. When it came time to start thinking of Mother's Day and her birthday, which is just a few days later, I knew I wanted to do something special for her. Our son is my parents' first grandchild and they were over the moon with excitement for him, so I knew he had to be a big part of her gift. That's why I wanted to create a DIY birthday gift for her.
Honestly this gift can be created for a birthday, Mother's Day or even Father's Day gift. Heck, it would even work for Grandparents' Day.
J and I were trying to mind our budget, like always. And with medical bills and some home projects our money was pretty tight. I had to put on my thinking cap and come up with something creative that wouldn't break the bank.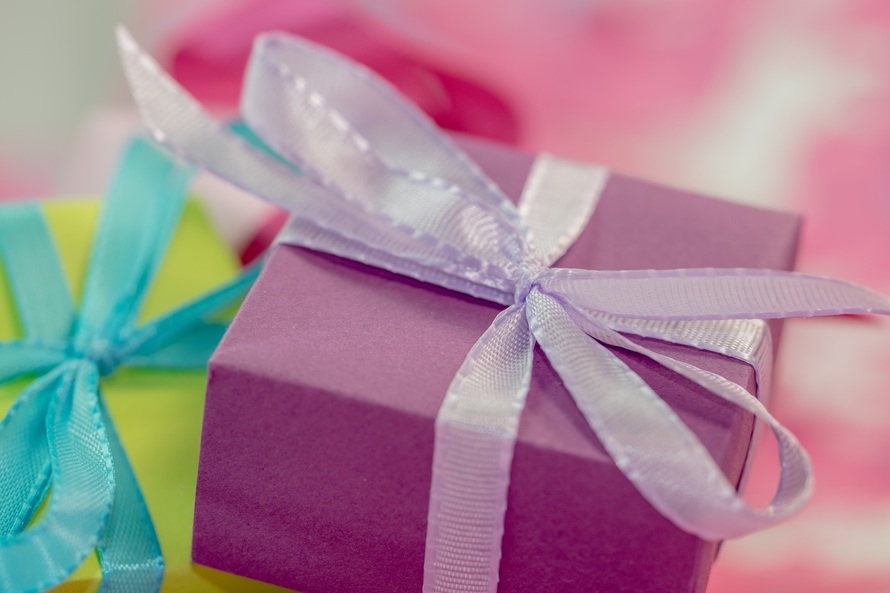 I headed to Hobby Lobby and came across this pretty picture frame that holds three 5×7 images. Luckily it was on sale and was 50% off. After taxes I paid a little over $13.00 for it. You can find the exact same frame on Amazon
for less than $16.00 if it's just easier to order one. I typically buy everything on Amazon, but for those last minute items I tend to go shopping in-person.
Once I saw the frame, I decided I would do something similar to my DIY Father's Day gift I created for J. I created a simple image using canva.com. They had the heart image under the elements heading and under the shapes tab. I then added his name, the month and year to remember when it was done.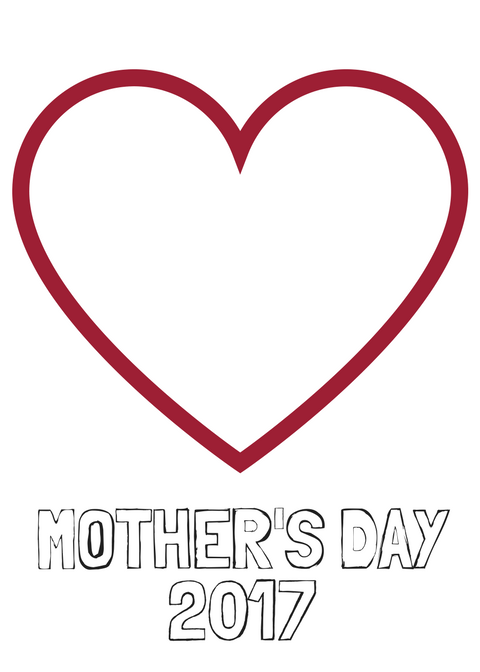 I came home and used the same ink pad that I used in J's gift that was leftover from our wedding thumbprint tree guestbook. I simply pressed his feet into the heart by overlapping his heel prints. I let it dry then placed it into the center frame. I used plain printing paper so there wouldn't be a problem with the thickness when I tried to close up the back.
I then headed onto walgreens.com to upload a few pictures. I of course googled a coupon code and found one for 40% off. I ended up paying less than $3 for the images. I placed them in the remaining slots and that was it.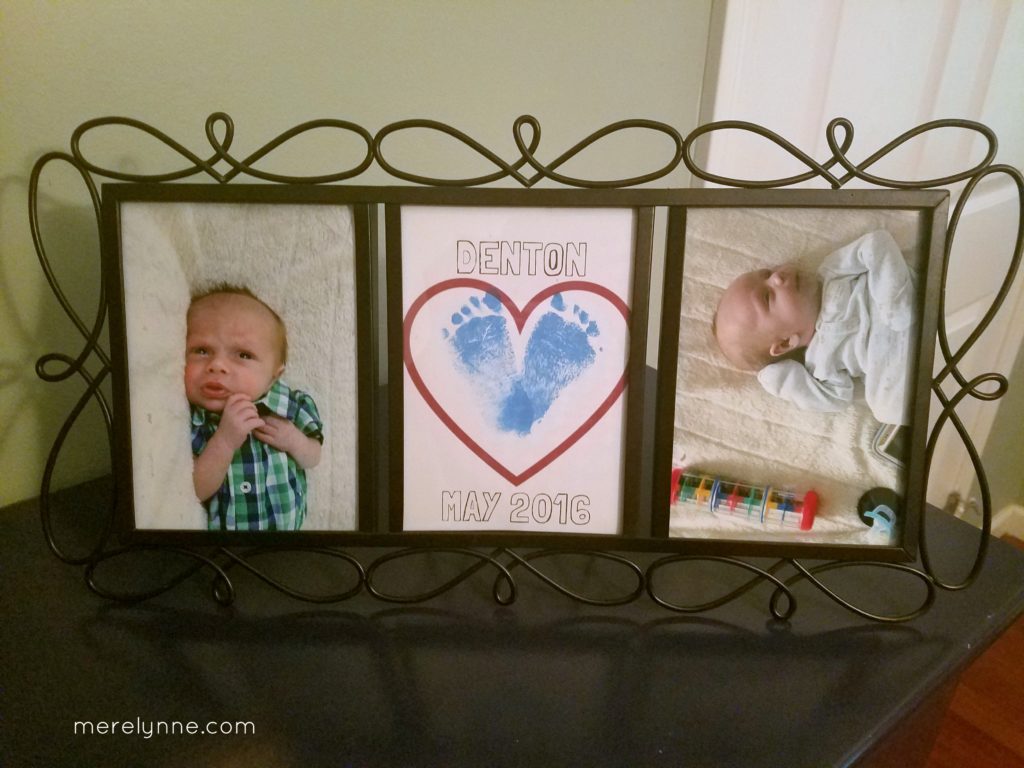 I updated the image so feel free to download the DIY Mother's Day PDF or click the image above to print.
So for right around $17.00 I created a really sweet and memorable Mother's Day gift. My Mom loved it and she still has it proudly showcased in her home. I have plans to do personalized gifts for both grandparents every year – that way they can get gifts that show off how their grandson is growing and I know they'll be gifts they want to have around.
The following two tabs change content below.
Meredith Rines, a budget and financial strategist helping fans pay off debt and live the life they've always wanted.
Latest posts by Meredith Rines (see all)