Affiliate Disclosure: I am grateful to be of service and bring you content free of charge. In order to do this, please note that when you click links and purchase items, in most (not all) cases I will receive a referral commission. You will not pay more when buying a product through my link. Your support in purchasing through these links enables me to continue to offer you lots of free stuff. Thank you!
Do you ever have one of those mornings where you're about 10 minutes late on everything? You finally get the baby up, breakfast in his belly and your face put on just to realize your evening is going to be just as crazy. You need to go ahead and plan dinner – if you have dinner ready before you even get home from work that's bonus points.
I have the easiest dinner ever for you. Pizza Meatball Subs. Watch the video below to see just how simple this family-loved dinner is. You can use the meatballs in spaghetti, make sub sandwiches, put on top of a pizza, or eat just as they are.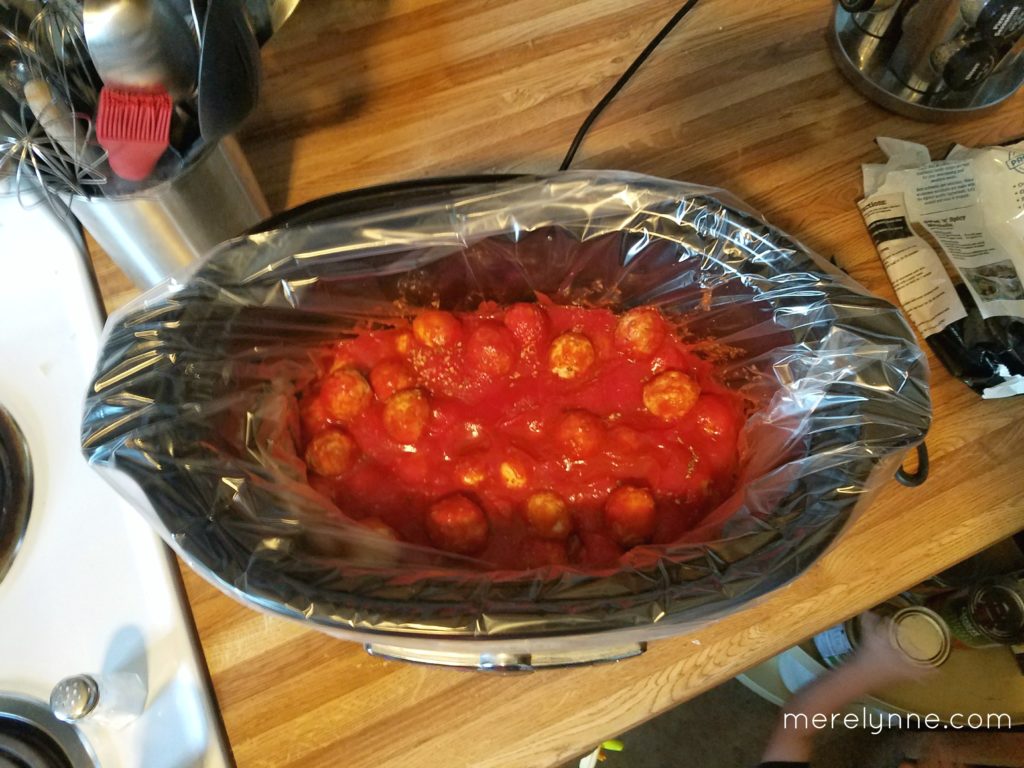 All you need is a bag of frozen meatballs, jar of pizza sauce or pasta sauce, extra spices and a slow cooker. Here's the slow cooker (it's even on sale!)
I use and talk about in the video. I love the fact it has a timer that kicks off the cook feature and automatically turns on the keep warm capability.
Easy Clean Up Tip
If you haven't seen these slow cooker liners
then you're missing out! You can get them on Amazon (because Amazon is Mom's best friend!) for pretty cheap. I won't use my slow cooker without them because clean up is a breeze. Just grab the bag and throw away the mess. No washing, no scrubbing!
There you have it, friends the easiest dinner ever!
No lie! I like simple, mistake-proof dishes that take little time to prep and even less time to clean up. These pizza meatball are so versatile and if you don't want pizza flavored then you can use pasta sauce or make your own tomato sauce with some yummy spices. Really the variations are endless. You can even make meatballs using BBQ sauce and grape jelly.
The following two tabs change content below.
Meredith Rines, a budget and financial strategist helping fans pay off debt and live the life they've always wanted.
Latest posts by Meredith Rines (see all)