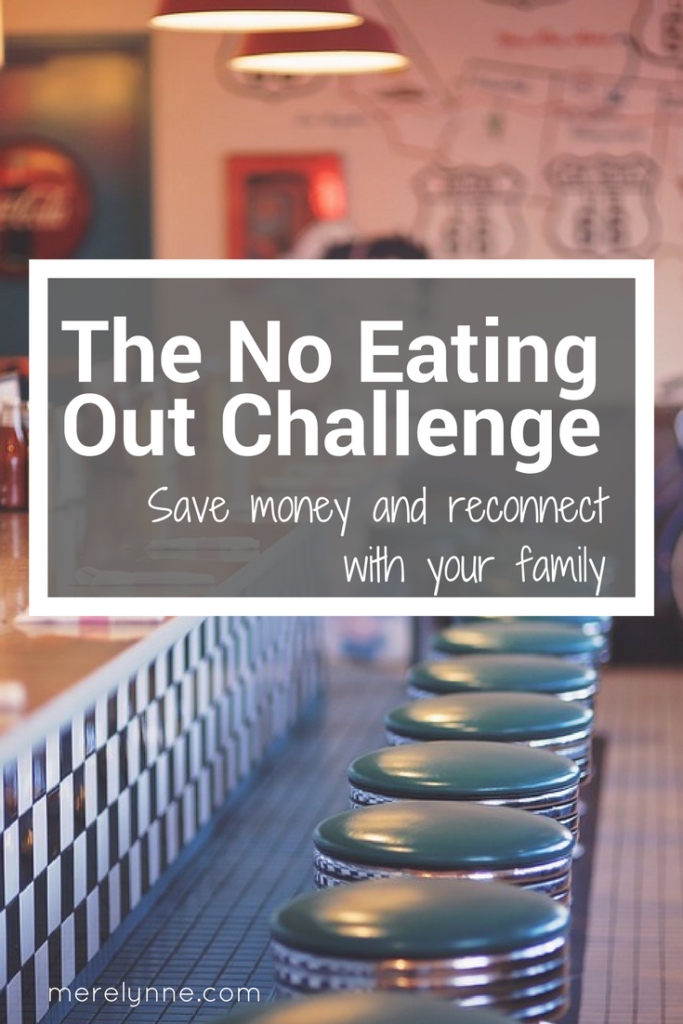 I don't know about you, but I like to eat out. There is just something about someone else cooking dinner for my family and doing the dishes that's hard to resist. But lately we have found ourselves splurging a little too often on our dinners. We haven't gone crazy overboard on our spending, because I have been tracking pretty consistently. But we could be saving more money just by eating at home and I know that.
Do you need a break from eating out? I know we do! Over this past week I came to the realization we needed a break from the easy option. So I created a simple a challenge… I call it the…
No Eating Out Challenge
It's similar to the idea of a spending freeze, but it only applies to eating out. Basically it is going to force us to sit at home around the kitchen table a bit more for the next 7 days. We can reconnect and just spend more time together – the three of us. I encourage you to join in on the (fun) challenge with us. We plan on starting Monday morning, but you can start anytime you want.
The Rules:
No eating out for breakfast, lunch or dinner.
No quick pick-ups at the gas station, including drinks.
No easy runs to the grocery store to by an already (or almost) prepared meal.
Eat at home every night this week.
Take lunch with us to work or school every day this week.
The Goal:
Save money. Reconnect as a family. Start utilizing the meal plan that is created each week so food is not wasted.
Are you in? If so, leave a comment letting me know when you planning on starting. Let's encourage each other during this no eating out challenge!
Watch my latest Facebook Live video where I talk all about the savings from taking this challenge.
The following two tabs change content below.
Meredith Rines, a budget and financial strategist helping fans pay off debt and live the life they've always wanted.
Latest posts by Meredith Rines (see all)