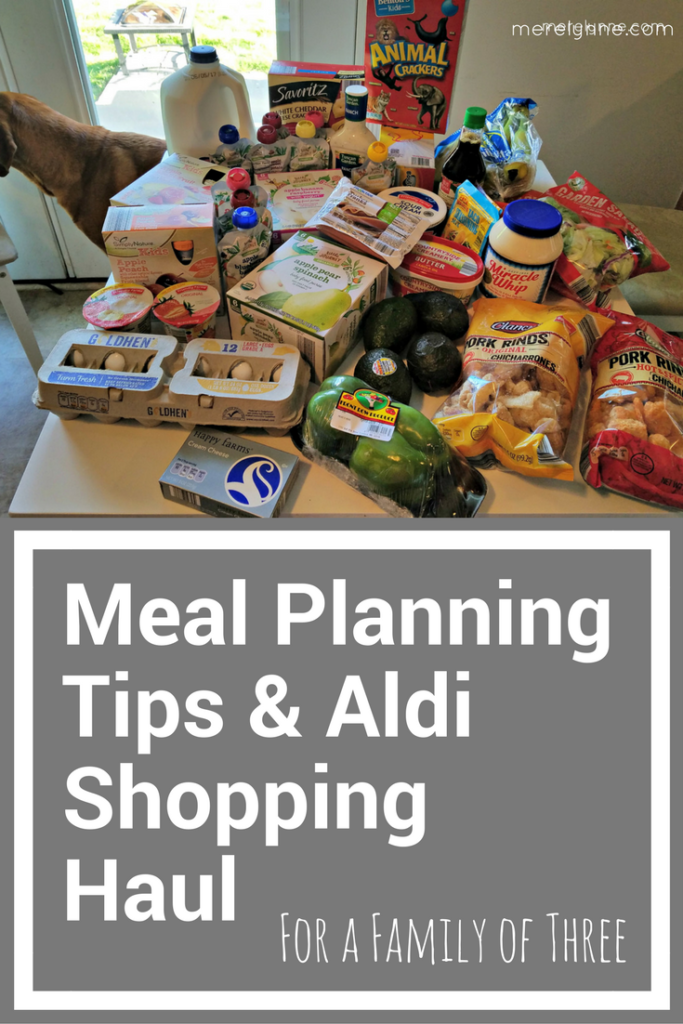 You asked for it – how do I feed my family on a tight budget with meal planning for one week?
Well I thought today is the day to show you. We just got home this past weekend from our week long vacation and it was time to restock the pantry and freezer.
Now that Walmart has done away with price matching, I thought it was time to show off my new grocery shopping skills. I've switched to shopping mainly at Aldi so that I can stay on budget and still get quality produce and other food items. Now I don't expect Aldi to always have what we need, but I have found that it does a pretty good job. For the items it doesn't carry I plan on getting from Amazon, because Amazon is Mom's best friend and from the local Neighborhood Market Walmart.
I also am pretty savvy when it comes to online shopping. I love certain programs that help me make money just shopping normally. Ebates is a great resource and I highly recommend it. You can sign up here (using my referral link). There are other ways to save money with in-store shopping are using apps. These are great and I recommend them to everyone. Even if you only get a few dollars back each trip (or less) the savings can really add up.
Typically I meal plan for about 2 weeks at a time. That way I can buy meat in bulk and other foods in larger quantities. It also helps on the prep time because you can just brown a big pan of ground beef, split it and then use it for two separate nights. However, we stayed the weekend with J's family after we got back to Missouri then when we finally got home we had a long lunch with my parents. So by the time it came to meal plan and grocery shop we were all exhausted. Our little guy wasn't going to make it to his bed time so we decided to just use what we had in our freezer and pantry to get us started.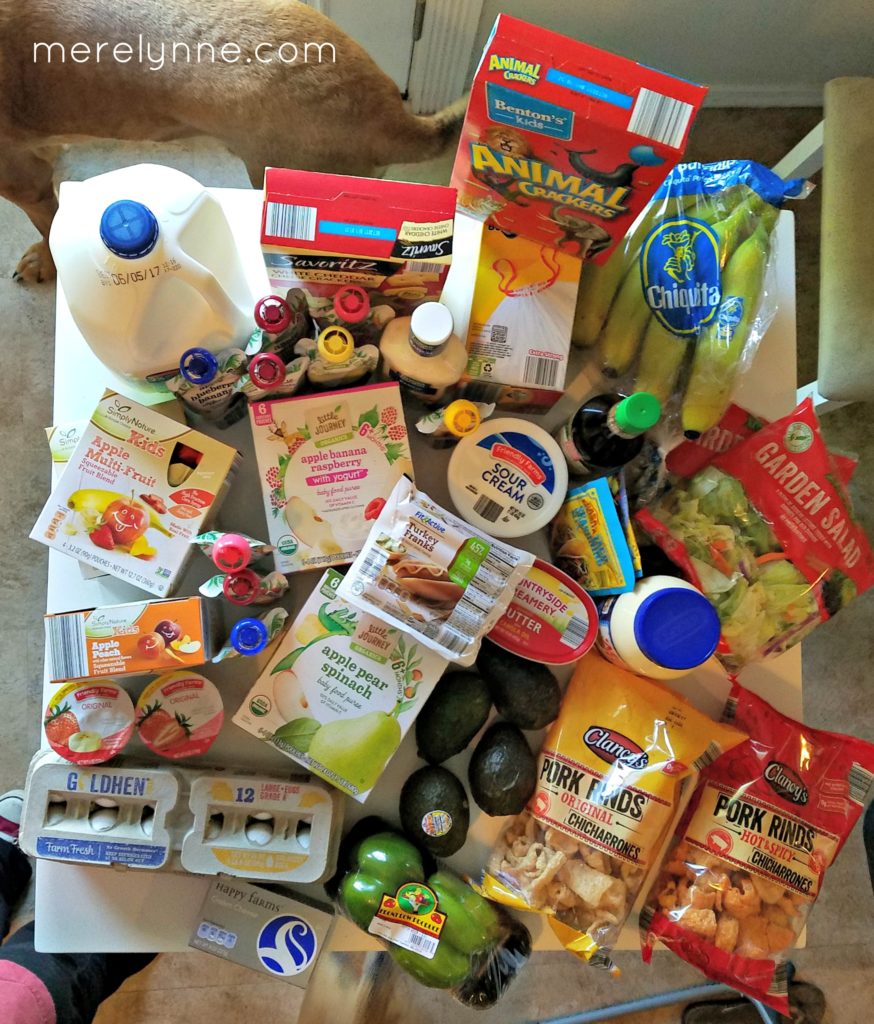 We ended up meal planning for only one week this time around and then when we go next weekend I will start back on my 2 week plans. J and I also decided to clean up our eating a little after our vacation. It was time to get back to eating healthier and eating at home a lot more. So we planned to have breakfast, lunch and dinner at home for this whole next week.
Check out the quick video sharing my best grocery shopping tips for a tight budget, how we meal plan and what all I bought from Aldi.
Here's the first step in meal planning:
Go through your pantry and freezer. Make a list of which meats and other items you already had on hand. Then from there plan your meals.
We lucked out by having enough meat for the entire week (lunch included!) so that meant this shopping trip was going to be easy and we were going to be able to stay in our grocery budget.
The second step in meal planning:
Plan around what you already have. You may love knowing you have a small stockpile on hand, but you should be rotating through your freezer items and what you have in your cabinets. So go ahead and create your meal plan based off what you have. Now if you have the wiggle room in your budget or there is a great sale going on then you can buy new meat to replace your inventory. Make sense? You don't want to keep a pound of hamburger meat in the freezer for years when you go through a pound each week. Make sure you're rotating your stock.
We looked at what we had on hand then planned our breakfast, lunches and dinners around it. We knew we would have to buy a few items to go with the meals, but the bulk of each recipe was already bought months ago.
We ended up spending just under $59 for the whole week and honestly some of these items were just restocking our pantry so they will last longer than a week. We're going to have tasty meals that are a bit healthier this week, too.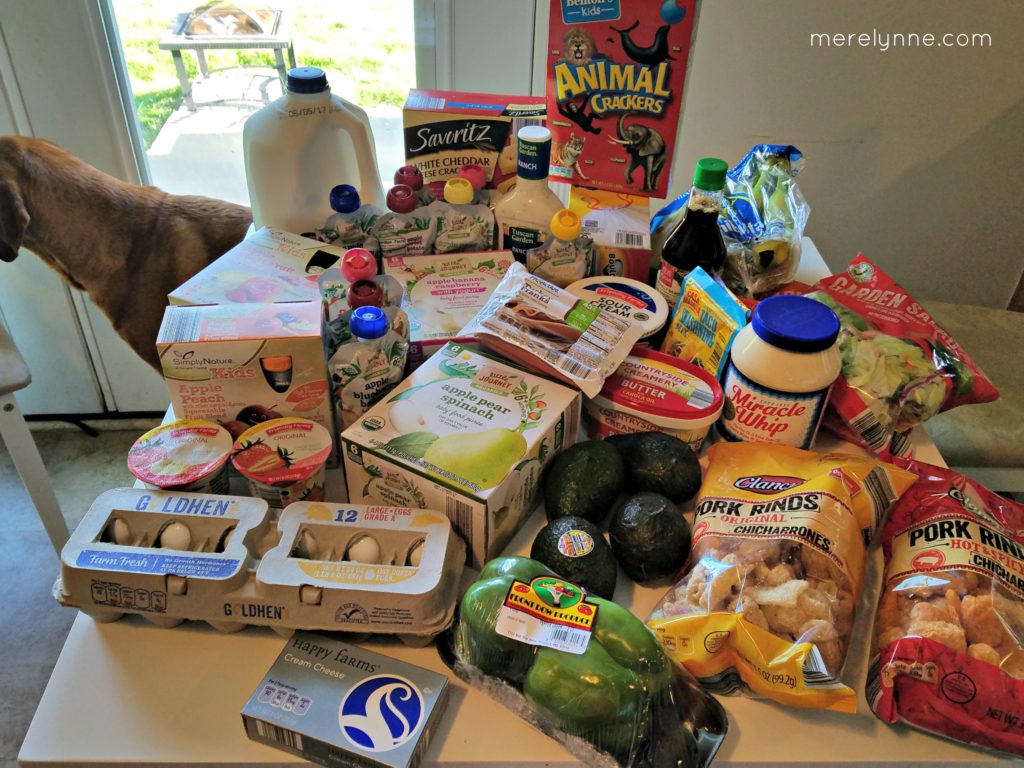 Here's what we're planning for the next week:
Breakfast each day will be eggs, sausage and cheese scrambles.
Monday Lunch: Grilled Chicken Salad with Avocado
Monday Dinner: Grilled Pork Steak (for J) and Grilled Pork Chop (for me) with Parmesan peas
Tuesday Lunch: Shrimp Salad with Avocado
Tuesday Dinner: Hamburgers
Wednesday Lunch: Egg Salad Sandwiches
Wednesday Dinner: leftovers
Thursday Lunch: Chicken Salad
Thursday Dinner: Fajita Chicken Bake
Friday Lunch: leftover Fajita Chicken Bake
Friday Dinner: Chicken Cordon Bleu Bake
Saturday Lunch: left over Chicken Cordon Bleu Bake
Saturday Dinner: out with my family for my Mom's birthday
Sunday Lunch: Chicken Salad Sandwiches
We'll go shopping again for our next two weeks on Sunday afternoon so I only planned through lunch.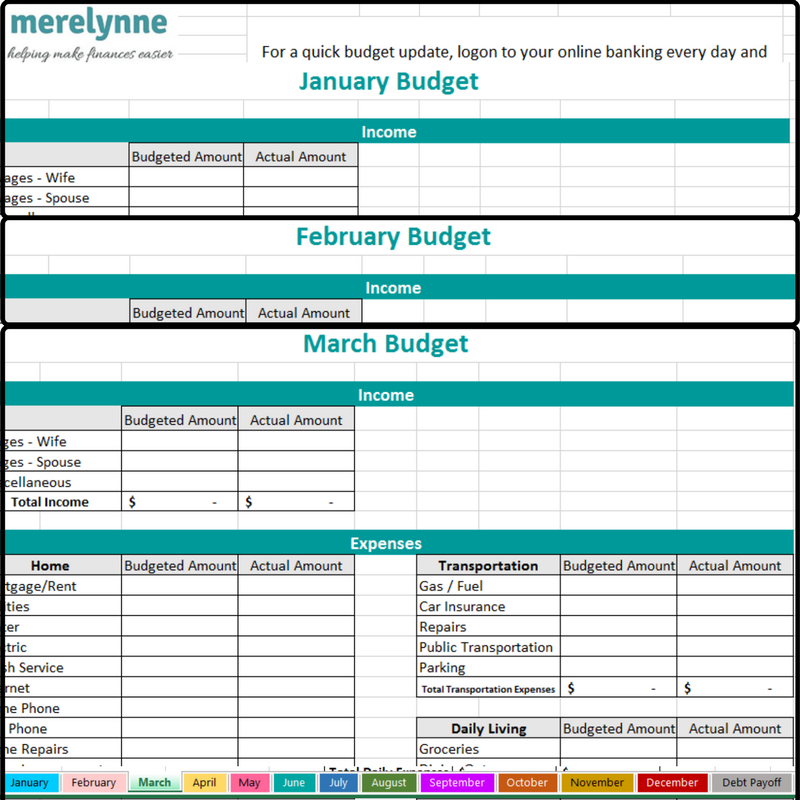 If you're looking for a great tool to help keep your family on budget, then check out out my budget spreadsheet. Each month is laid out right in front of you where you can keep track of what you budget and what you actually spend. Now you'll know in real time how you're doing each month.