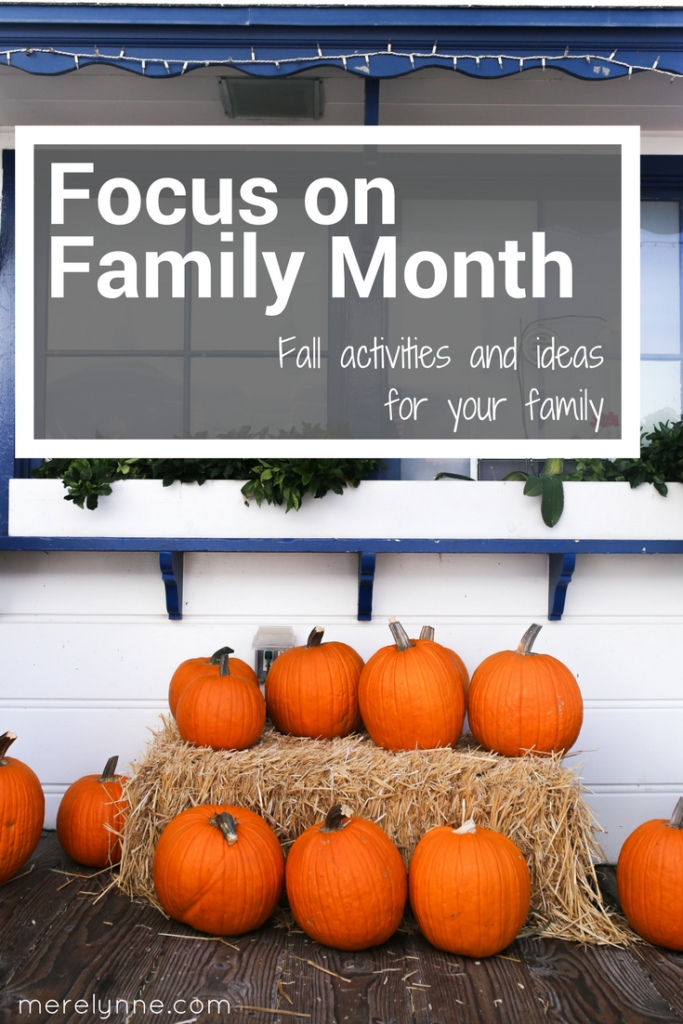 Happy October! They say winter is the most magical time of the year, but I think Fall is a very close second. This month since the temperatures will be starting to drop we'll be spending lots of time outside. There are a few pumpkin patches, corn mazes and other fun stuff we are going to try to do.
I figured this would be a great time to have another focus month. If you remember, back in February I typically have a Focus On Finances month. I always planned on having another focus month, but it never happened. I guess that's what happens when you're a Mom – your brain is going a mile a minute, all the time and if you don't write it down then it just won't happen.
Anyways, I realized that October would be perfect for a Focus on Family month. I put together a bucket list last year, but now that our little boy is older we'll be able to do a lot more. Last year we went to the pumpkin patch and he was barely 6 months old so there was a lot he just wasn't able to do. But now he is 18 months and is full of energy. He runs, never walks. Our sitter's husband calls him Mouth of the South, which is some former wrestler that apparently never stopped running his mouth.
This month will be all about spending time together. Fall is a great time to be outside, it's not too hot and it's not too cold yet. Where we live pumpkin patches pop up about this time of year, so there is always a fun (and cheap) activity we can go do on the weekend. I'm planning on putting together a new fall bucket list of things we are most excited about doing this year with our little man.
But to get you started with the Focus on Family month, here's a list of a few fall fun activities you can do with your family:
spend time together at the local pumpkin patch
go apple picking
attend a fall festival
plan a family themed Halloween outfit
have a few picnics outside
go to the park
have a movie night
What are some of your favorite things to do as a family? Leave a comment letting me know!
The following two tabs change content below.
Meredith Rines, a budget and financial strategist helping fans pay off debt and live the life they've always wanted.
Latest posts by Meredith Rines (see all)