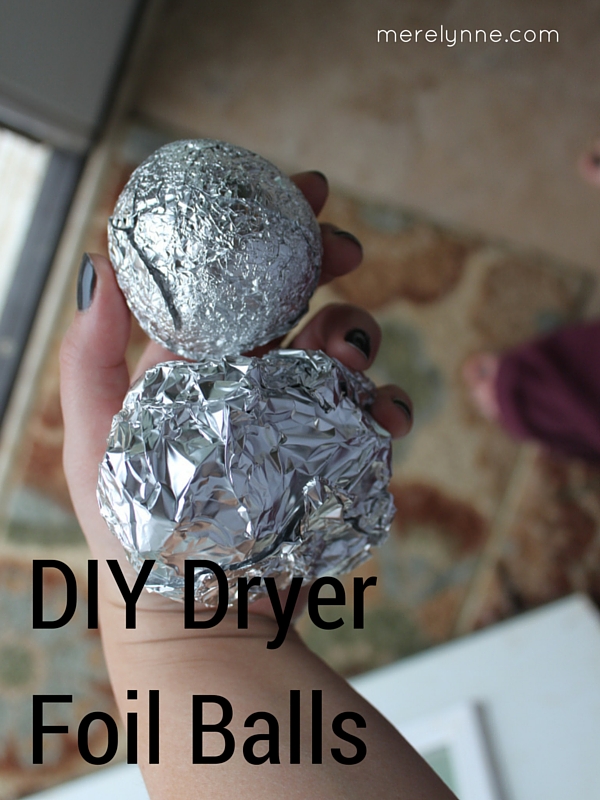 To go along with our Focus on Finances this month, I'm sharing a tip on saving money with your laundry. This one little tip can really add up the savings! These are the easiest DIY dryer balls you will ever see! Hands down!
This past weekend I decided to really catch up on all of our laundry. When I say really catch-up that means run close to 6 loads in one day. For two people that's a lot. Now if you have several children and they all play sports or are just kids then you may feel 6 loads is an average. But around our house, 6 is a lot.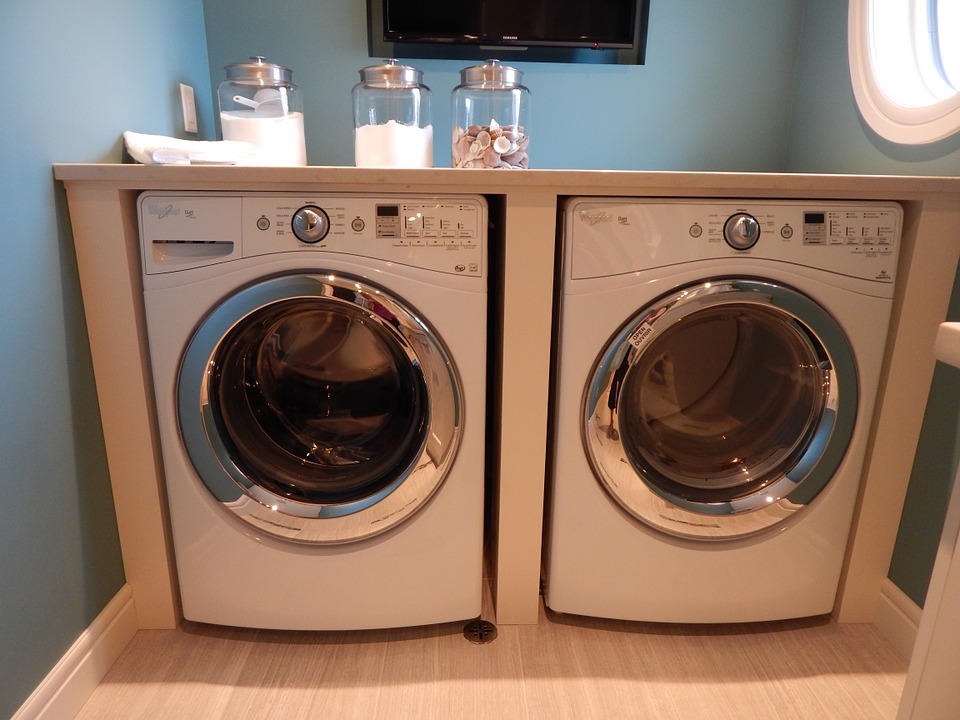 What can 2 people dirty up in one week that requires 6 loads of laundry? Well… let me tell you…
I did our clothes, J's work uniforms, sheets and towels, blankets from our bed, blankets from the couch, and rugs. I probably could have broken up our clothes into at least 2 loads, but our new washer is the best. We just purchased a brand new washer from Sears. It is the first new washer I've ever owned. I've always had hand me downs, which was great! They were free and did the job just fine. But now that I've had the taste of what a new washer is like… boy! I can't wait to get a new dryer to match! This new washer really holds a lot, especially compared to the little guy I had beforehand that got me all the way through college.
By the end of the day, our clothes were full of static. It didn't help that I had been going non-stop and the fact it was barely 30 degrees outside all day. Whenever the temperatures drop, the static goes up in our house. I have been researching like crazy on a way to handle all of our static electricity without adding too much to our laundry costs each month…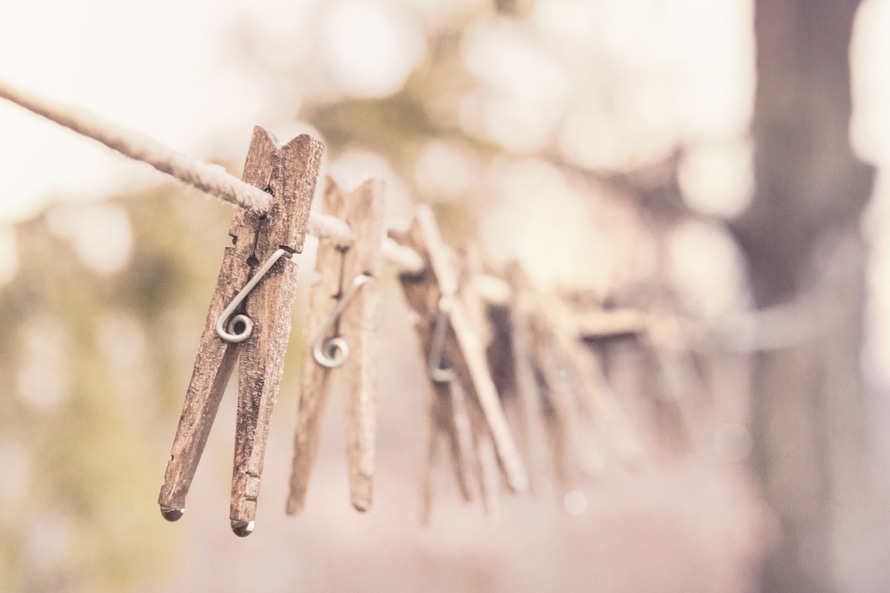 Let's be honest, when it's 30 degrees or even when it's 90 degrees, I am not going to hang our clothes on a line to draw. During the summer months, we have too many mosquitoes and the last thing I want is to give them a landing ground that will end up inside. Plus, I've never hung clothes on a line. Sure, we hang our nice clothes up to dry, but not t-shirts and towels.
I think I found it… I found the solution…
Foil dryer balls.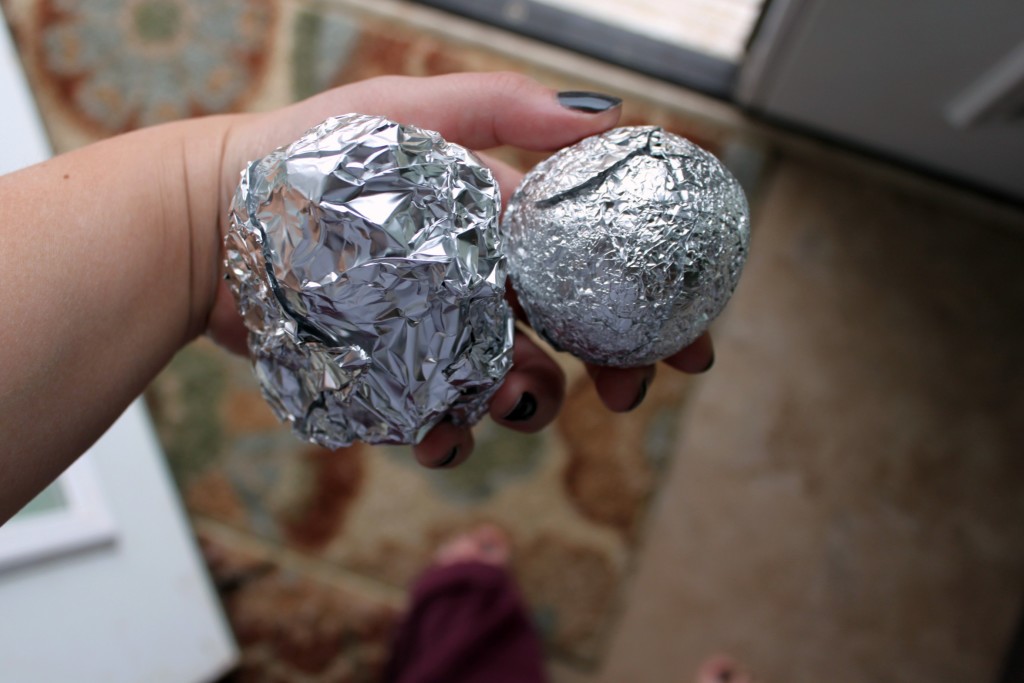 I've seen the wool, felt balls all over Pinterest and they look great. But let's be honest for a minute, I am not going to take the time to make them. It's just going to happen. I need a quick-fix. Plus, I don't have the yarn I would need to make these amazing dryer balls and I'm frugal… so I like using what I have on hand.
Enter in…
Foil dryer balls.
What?!!?
You read that right! I am now using foil dryer balls in my dryer. They work great! I did some research to make sure I wouldn't be starting a fire by putting foil in my dryer. After reading about it, I realized that it would be safe.* The dryer hose is foil, right? I gave it a try and I'm in love.
Here's what you need for foil dryer balls:
a few sheets of foil
tennis ball (optional – see below why you may want one)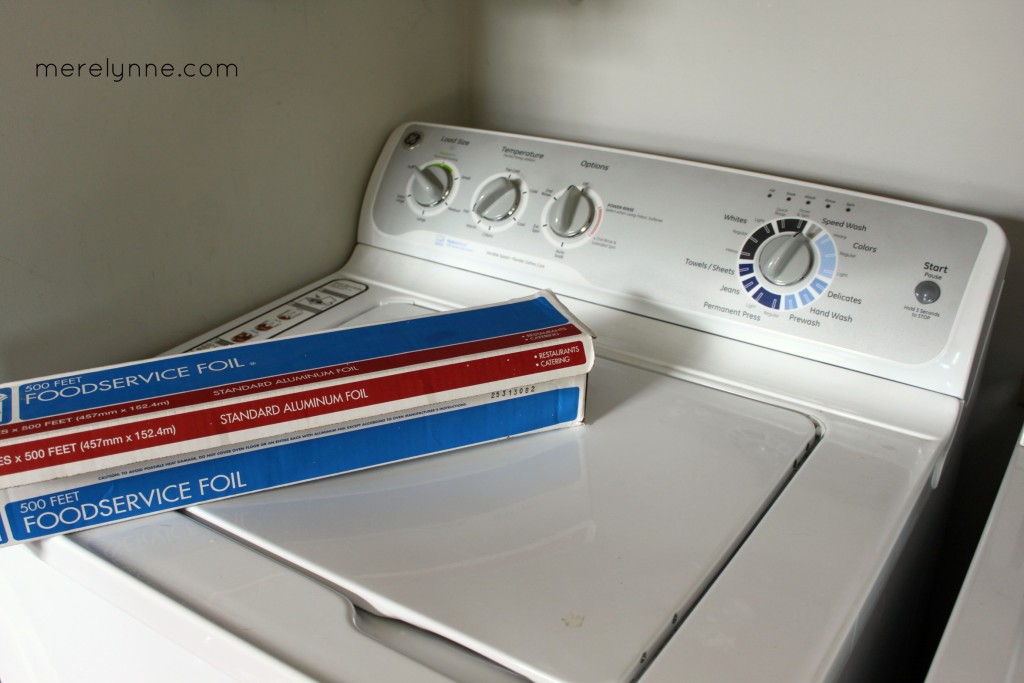 If you want to just use foil, then wad one piece of foil into a ball and then wrap the other sheets over it to make it a bit bigger. The foil dryer ball will last quite awhile so there isn't a need to replace after every cycle. These will really, really help with static cling. Especially right now with the weather getting colder and the air getting dryer, I've noticed most of our loads of laundry are full of static electricity.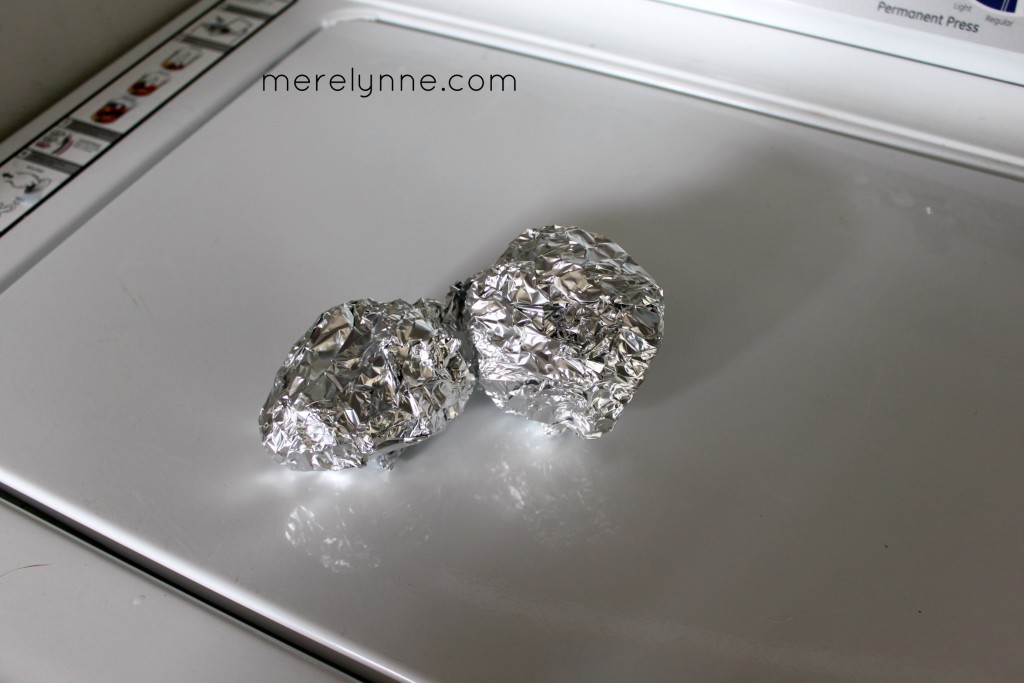 Ever since I started using the foil dryer balls, our static issues have vanished.
Why is a tennis ball optional? Well let me tell you…
A benefit of the felt dryer balls is the weight. The weight of the balls causes them to bounce around while the dryer is going, which helps make your clothes softer and fluffier. So, that's where the tennis ball comes into play.
You can wrap a tennis boil with the foil. Do several layers of foil. They will hold up in the dryer and provide the weight you need to get your clothes and towels extra fluffy.
Soft and fluffy cloths aren't really a necessity in our house. I hang-dry most of our nice clothes and I don't really care if our bath towels are extra fluffy or not. But it is a great option that's still inexpensive.
I bet you will notice a difference when you start using foil dryer balls in your dryer. I did!
*please do your own research to make sure. Just because it worked for me, I don't want anyone blaming me for any mistakes.
The following two tabs change content below.
Meredith Rines, a budget and financial strategist helping fans pay off debt and live the life they've always wanted.
Latest posts by Meredith Rines (see all)