This post contains affiliate links, which means that if you click on one of the product links and purchase an item, I may receive compensation. You will not pay more when buying a product through my link.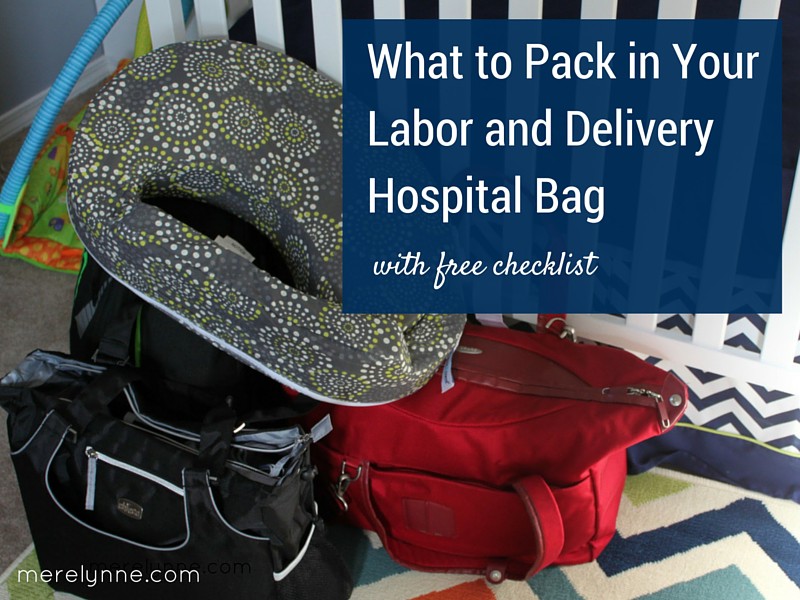 It's getting close. The time for Baby Boy Rines to make his debut. To say I'm excited would be an understatement. I just can't wait to meet this little one!
The closer and closer I get the more glad I am to be prepared. I have my hospital bag packed and ready to go. I actually have it in my car so that way it's with me no matter where I am. You never know when he's going to be ready so I figured it would be smart just to go ahead and put it in there.
I've been talking with all of my mommy friends about what's the best pieces to put in the hospital bag. I've compiled a great checklist and would love to share it with you.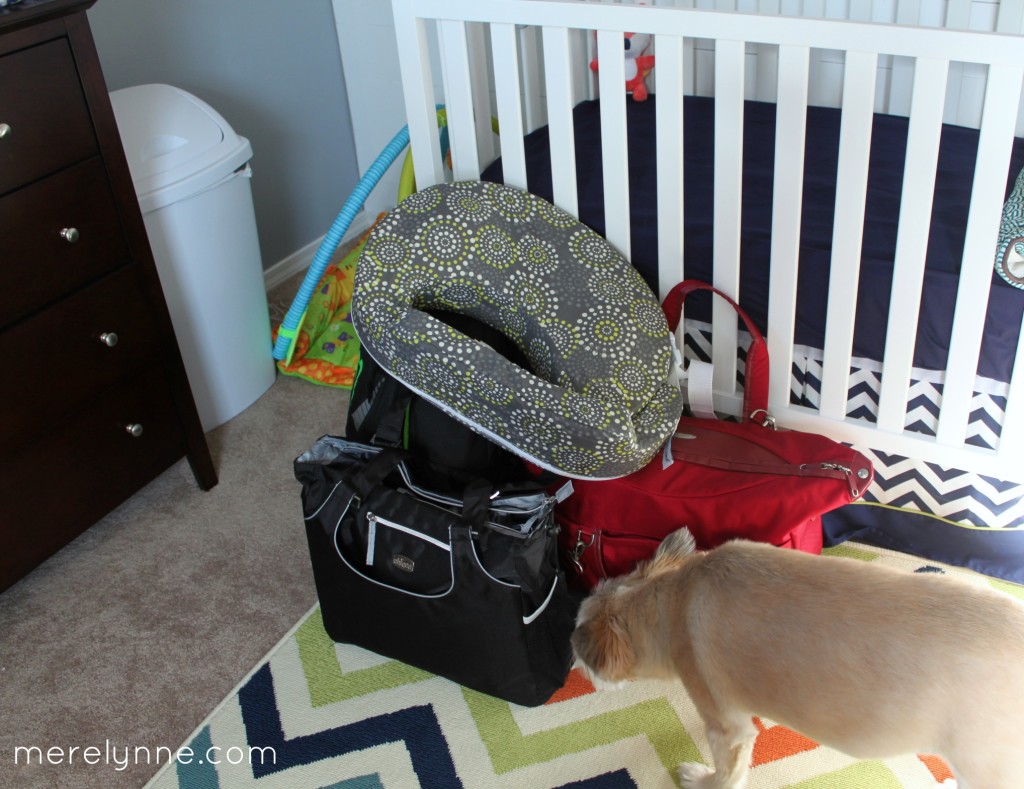 Even Maggie wanted to get in on the packing!
Here's what I have in my hospital bag:
lanolin

nursing pads

light robe that opens in the front – I love this

one from walmart!

nursing bras

pump bra

breast pump

change of clothes – I wanted to stay comfortable and I knew that I would not immediately fit back into my pre-pregnancy clothes. So I packed a few yoga pants and comfortable t-shirts

cardigan

maxi pads

warm socks

hair ties

contact lens and solution

glasses

phone charger

camera, battery and battery charger

playlist on my phone

toiletries
flip flops
slip on shoes
I also packed a smaller bag for the baby and here's what I have in there:
outfit to go home in

sleepers
sleep sack
breast feeding pillow
hat
mittens
packed diaper bag (see the checklist for what's in our diaper bag)
swaddle

pacifier

Carseat (it's actually already installed in our car)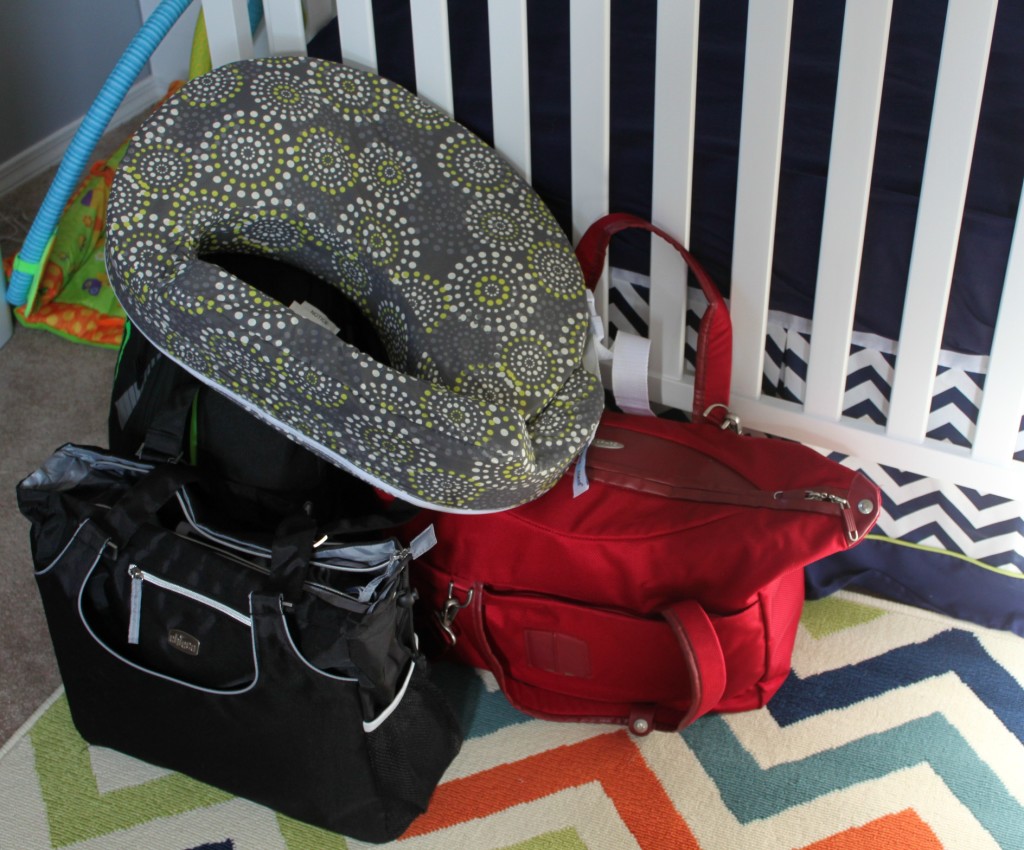 Don't forget about the man in your life! I've heard those labor rooms can get pretty chilly. Not to mention the amount of time labor can last, so I packed a few items for J in my hospital bag, too.
Here's what J has in the hospital bag:
change for the vending machine

snacks

fleece jacket

change of clothes (you never know if he's going to be able to leave and if it lasts over 24 hours then he's going to want clean clothes)

snacks

phone charger

iPad and charger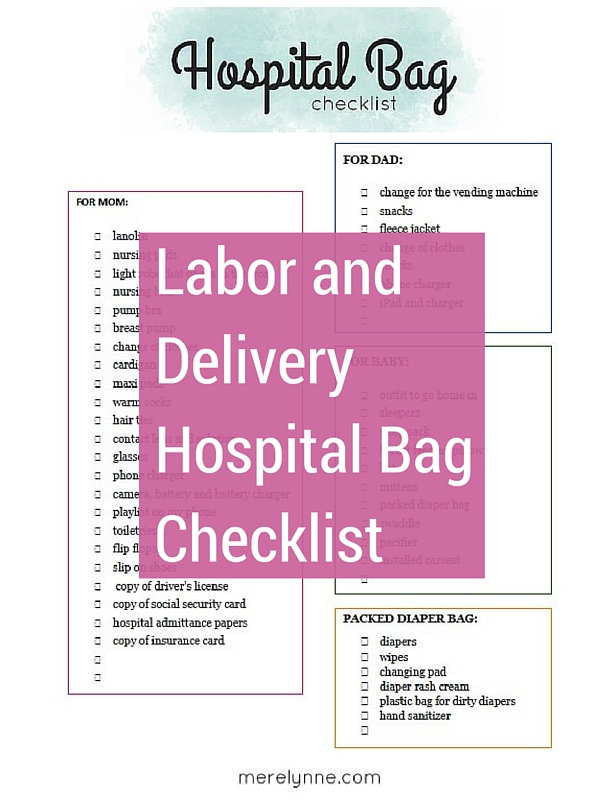 I created a FREE downloadable checklist for you to use while your packing your labor and delivery hospital bag.
The following two tabs change content below.
Meredith Rines, a budget and financial strategist helping fans pay off debt and live the life they've always wanted.
Latest posts by Meredith Rines (see all)