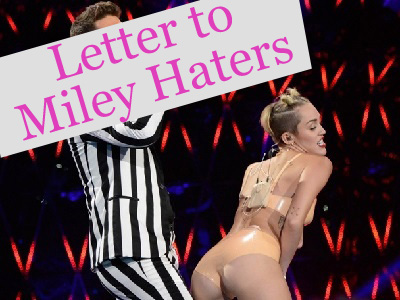 Dear Miley Haters,
Yes, her performance at the VMAs was grotesque.  Yes, if I had small children I would strongly consider not letting them look at her as a role model any longer.  But is she to blame for that behavior? No, she is not.
Miley is the outcome of the media, obsessed fans, and (probably) never being told no as a child.  Do you truly believe that an individual who is able to buy $1000s of dollars worth of clothes at a young age and has her face plastered all over TV and novelty merchandise will be a normal, productive person in society?  Then you are just plain blind.
Miley is getting exactly what she wanted.  People talking about her right before her new album drops.  It is not a coincidence that the VMAs air, every single news station from E! to CNN is talking about her crude performance and then her new album cover drops.
So, Miley haters we, the people, have created this media monster who is suggestive and crude.  She has never had a normal day-job and never will, she has never had to live on a "normal" budget or save for anything.  She is not someone that would function in our seemingly day-to-day life.
In other words, get over it.
Sincerely, 
someone who is fascinated by the marketing of it all