Affiliate Disclosure: I am grateful to be of service and bring you content free of charge. In order to do this, please note that when you click links and purchase items, in most (not all) cases I will receive a referral commission. You will not pay more when buying a product through my link. Your support in purchasing through these links enables me to continue to offer you lots of free stuff. Thank you!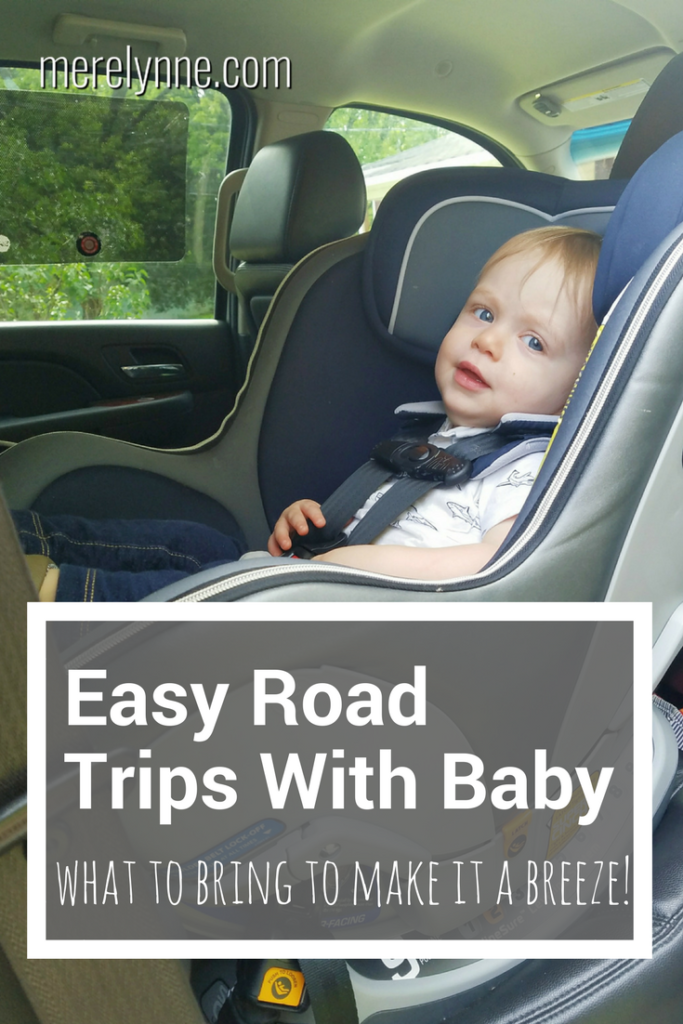 J and I love to go. His family lives about 2 hours away, my sister is about 3 hours and the majority of our friends are in the opposite direction about another 3 hours away. So we like to travel a lot on the weekends.
We're also the crazy people that prefer to take our three dogs with us on road trips. With such a crazy bunch we've learned a few tricks to help us keep our sanity.
Here's how we take road trips with our little guy:
Prep your bottles before leaving the house. Baby Boy was formula fed for the first year so I liked to have at least 3 big bottles filled with water and 2 small ones filled. We bought these formula dispensers
and they have been a lifesaver. One is for 6 oz. bottles and the other one is for 2 oz. bottles. Now he's on milk so I use a small ice chest that is tall enough to hold his bottles. I fill a bottle (or two) with milk and put it on ice for the road. Now I don't have to try to pour while driving and I can quickly grab a filled bottle to soothe a cranky child.
There has been (almost) nothing better than the day our little man could hold his own bottle. It was a miracle! Now when he gets hungry, we can just hand him his bottle, he feeds himself. When he's done he typically puts the bottle on the side of his car seat so I don't have to worry about it leaking everywhere. The only time I have to crawl in the back is when he wants actual food. We use the pouches, but he hasn't quite mastered feeding himself those yet.
A few weeks ago I went to KC to visit a friend and her little boy who's about the same age as our man. Her little man can feed himself those pouches, but our guy hasn't quite gotten it yet. Anyway… we were driving back to her apartment and we thought they both had fallen asleep. When we pulled in, I went to get my guy out and noticed this orange liquid all over him, the ceiling, the door, window, inside his car seat and the outside of his friend's seat. Yep, her little guy was being nice and handed my boy his pouch of food. Of course he didn't know what he was doing so he squirted food everywhere! It was pretty funny and luckily hadn't dried yet. So with a quick wipe down with a bath towel, we were all good to go.
Now we've been working on feeding ourselves those pouches ever since that weekend.

Get your diaper bag ready. I typically like to keep my diaper bag light. I hate over packing it with things I know I will not need in the car. So I keep it filled with just the necessities. Bottles, formula, one toy, a change of clothes, plastic baggie filled with wipes, and 2-3 diapers. Sounds like a lot, doesn't it? But trust me, it's not compared to how I used to pack a diaper bag.


I recently ordered a new diaper bag
from Amazon and I'm in love. It's big enough to carry what we need, but it's not too bulky that it drives me crazy. I had been using a thirty-one bag I bought back in my early twenties, but with flying for our next beach trip I wanted a bag that would zip fully closed. This bag doubles as a backpack, a messenger bag or has handles on top. It also came with stroller clips, which has been a huge help. I always hated shoving the bag in the bottom of the stroller. I didn't want my pre-filled bottles to leak or stuff to get unorganized.
Pack the baby's food items together in a separate bag. The first trip we took I packed Baby Boy's formula in our suitcase. That was a big mistake! I had to crawl all the way in the back, balance the suitcase on my leg so I could get the formula out. I've now learned my lesson and keep all of the baby's items in a separate bag that's easily reached.
In this bag I have a tub and soap to wash bottles, pack of formula, baby food, spoon, highchair cover for restaurants, table cover for restaurants, diapers, big pack of wipes, blanket, and a few more toys. This bag usually goes behind the driver's seat so the passenger can still reach it.
Baby Boy is usually pretty good in the car, but we've learned that it's important to keep a seat open next time him just in case. In a past trip we were headed to Springfield, which is about 3 hours away. We were almost half-way when Baby Boy woke up starving. He is so much like his Momma when he's hungry. There is no appeasing him until there is a bottle or food in his mouth. J had to pull over along the side of the highway and I had to hop in the back. Since I had his diaper bag ready to go with filled bottles that boy was happy within seconds and this Momma wasn't shaken by the screams coming from our little man.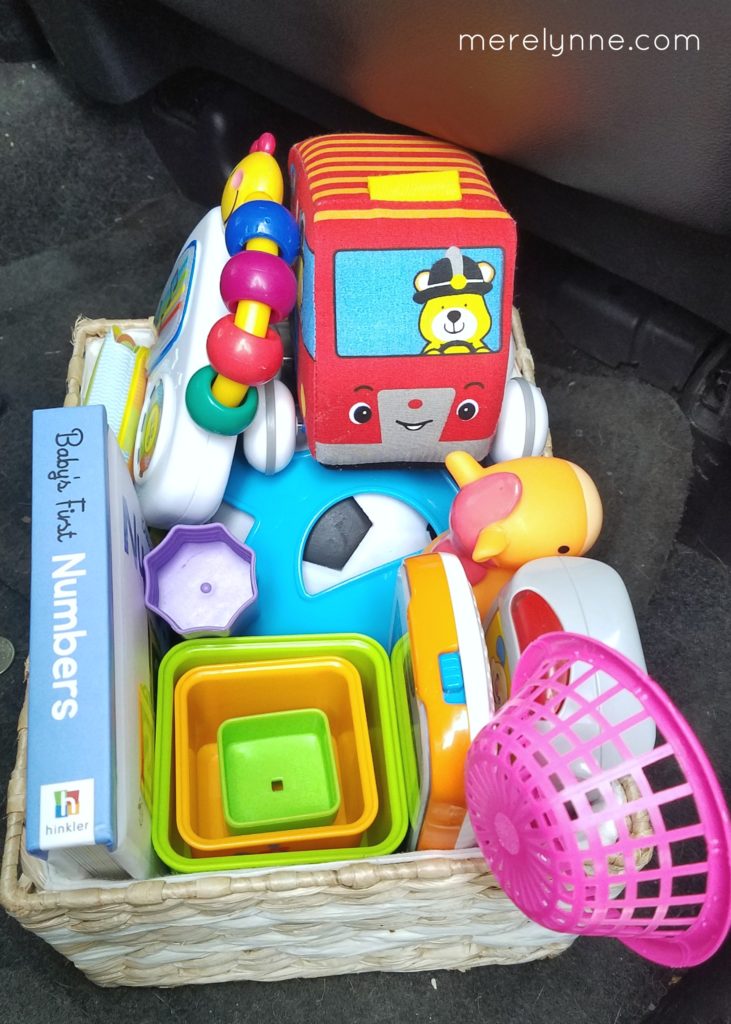 Keep a handful of small toys close. When Baby Boy is bigger then obviously the toys will change, but for now we try to keep a few chew toys and ones that light up in the car. I also tend to bring a few because sometimes he gets excited and will launch a toy across the car out of arm's reach. I started keeping a basket in the backseat that is filled with a few toys – light up ones, rattles, plush toys, and so on. The basket keeps the toys together and gives them a place so the car doesn't look a bit junky.
Bring a bath towel with you. A towel works great if you have to use the backseat as an impromptu changing station or if you pull over at a not-so-nice looking gas station. We've also had to use the towel one time I spilled a completely filled bottle all over the backseat. Babies aren't the only ones that make messes! Also, those towels work great on cleaning your car's ceiling from baby food that gets squirted everywhere (see above for story).
Keep empty plastic bags or grocery sacks in the car. I hate messes, especially in confined areas. Nothing feels worse than having stuff everywhere. So I try to keep things organized as best as possible. Typically I have an empty grocery bag we use for trash, one for dirty bottles and another for any spoiled clothes. That way we can keep everything together and off the floor.
Traveling with dogs is a lot easier. We drive a bigger SUV so we put the dogs in the very back. Years ago I was given or found (not sure which) a giant dog bed. It actually fits perfectly in the back of the car. Now we can put the pillow in the back and all three dogs are able to lay down and be comfortable.
If we're going long distance then we use the seat behind the driver for our suitcase and put the dogs' food and bowls in the back with them. That way they still have plenty of room to lay down and we still have an open seat in case one of us needs to be closer to our little guy.
If you're planning on a road trip to a beach, checkout my beach tips post for all the great things to take with you!
What do you do on road trips with a baby? Leave a comment letting me know, I love to learn more tricks!
The following two tabs change content below.
Meredith Rines, a budget and financial strategist helping fans pay off debt and live the life they've always wanted.
Latest posts by Meredith Rines (see all)