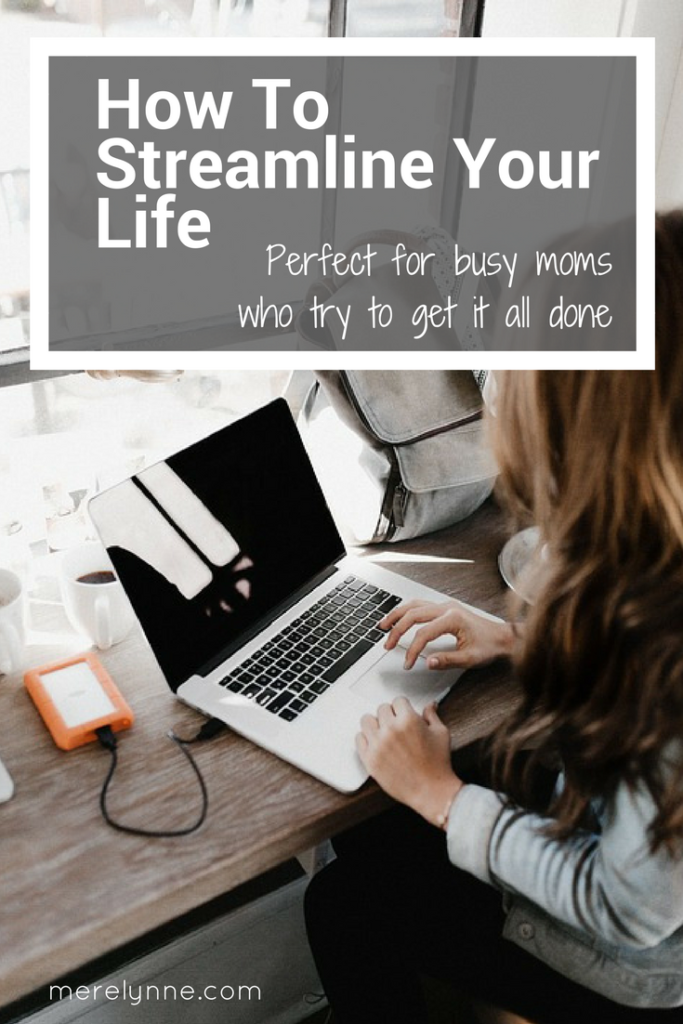 What does streamline your life actually mean?
Moms, we are busy all the time. The only down time we get is when we finally go to bed for the night, but it can easily be interrupted with a teething toddler. Us Moms get no breaks. So for me I feel like we have to get our stuff together so we can make it easier on ourselves, and our families. For me that would be streamlining every piece of my life.
We're laying in bed and trying to fall asleep, but our mind is going a mile a minute. We're replaying everything that happened that day – conversations, errands, tasks, feelings, and more. We start thinking about the next day and things we need to get done, but somehow we now realize we forgot to do something. So we tell ourselves to move it up our mental to-do list for the next day. Hoping that we remember, but knowing tomorrow is going to be crazier than today was.
Mom life is hard. Really hard.
As a mom we put way too much pressure on ourselves and hardly ever ask for help. Then when we've reached our limit we have a breakdown. For me, I know I've reached my limit when I feel like my house is suffocating me. I'm not sure what it is about it, but maybe it's because I can immediately control my house. When I feel like every other aspect of my life is out of control, the house is something I can get in charge of.
Moms wear too many hats – mom, boo-boo kisser, chef, cleaner, manager, logistics, accounting, pet wrangler, gift buyer, personal shopper, errand girl, career woman, friend, wife, sister, daughter, volunteer…
Seriously, I could keep going, but you get the gist.
One thing that has helped me take back control of the hectic areas of my life is by streamlining my life. Now I will say I am not perfect at this. Some days are better than others. Some days are bad. Some days I feel like I'm drowning at work and come home to too many tasks to get done before bed.
But I wanted to share with you the few things you can do in less than an hour to really help you streamline your life.
Auto Pay
Setup your monthly bills to automatically come out of your checking account. Doing this doesn't take too long. All you have to do is sign in online to your accounts, click the auto-pay or link your checking button. Go through the steps, tell them which date you want it to run (most of the time it'll be the deadline, a day before or you can pick the date), and then setup the amount (minimum payment, full balance, full bill, or specific amount).
The auto pay feature is amazing! You no longer have to worry about sending in your bill on time, you don't have to worry about finding a postage stamp or running to the store to buy some. If you have 6 bills a month that need to be mailed, you are spending close to $3 a month on stamps ($0.46 x 6 bills = $2.76). Don't have to worry about buying checks or envelopes so in the end it will save you.
Auto Order
This goes along with the post I wrote about why Moms love Amazon Subscribe & Save feature. You can order almost anything you consume on a daily, weekly, or monthly basis. We have ordered or do order diapers, wipes, dog food, dog treats, toilet paper, protein powder, ready to drink breakfast shakes, and more. All you have to do is go to Amazon's website, find the items you use on a regular basis and then setup it for the Subscribe & Save feature. Amazon will give you a discount for ordering something automatically. Plus, if you order 5 or more items (separate items) in a month then they will give you an even bigger discount.
Once you figure out how often you go through diapers, laundry detergent, or dog food (or whatever you use then you can just let Amazon know. I like ordering larger and heavier items from Amazon because that means I don't have to lug it into a grocery cart or into my car while wrangling my toddler.
Setup Reminders in Your Calendar
I am a huge fan of Google. I use Google for just about every aspect of our lives. It hosts our check register, to do-lists, and our calendar. What's great about Google is you can share it with everyone in your family. So you know when you husband's appointments are and he knows when yours or the kids' appointments are. You can keep organized for dinners at home or nights you have plans out.
But what I love the best about Google is the reminder feature. You can setup a reminder for just about anything – dogs' heart worm pills, changing the air filter in your house, doctor appointments, and paying a bill (if you aren't able to do auto pay). You can even use the reminders for every day tasks – empty the dishwasher, start laundry (or switch laundry, which is something I tend to forget a lot), your kid's medicine, finish a blog post, and anything else you can think of.
You can read how I setup Google calendar to work for us, but you can really turn it into anything you want.
Google To Track Your Spending
Going along with how Google is used in almost every aspect of our lives, we use it to track our spending. Actually, we use it as our check register. It's on Google Drive so no matter where I am or how little time I have in between errands or a toddler throwing a tantrum because he can carry around the grocery store's broom (yep!), I can quickly log into our check register, add in the expense and update our total. Now I know how much I have in our checking account after all of our bills are accounted for.
E-Mail Over Paper
One of the biggest sources of clutter and just a feeling of overwhelm is all of the paper we get in our mail. By simply switching to online statements, you no longer are inundated with financial stress on a regular basis. We schedule time in our Google calendar to go through bills, make sure auto-pays are setup (in case we need to change the amount), update our monthly budget and so on. It doesn't take long and by having statements online then I can simply do our weekly money date from anywhere.
Plus, some companies even charge $1 for sending paper statements. You could be saving yourself some money just by switching to online statements. You'll get a monthly e-mail as a reminder letting you know your statement is ready to be viewed. Then you can schedule time to look at all of your bills at one time. You can create a plan to tackle each payment because you'll be able to see the whole picture instead of just one payment at a time.
Use a Budget
It's no secret that I am a big fan of budgets. I talk about them all. the. time. Once you find a template you like (you can check out the one I created) then it makes it so easy to keep up with. All you have to do is spend a few minutes each week updating and then you will know exactly how you're doing. I know for us, not knowing our money situation is a huge stress point. I can feel the weeks that I don't keep up with it because I start to feel like I am suffocating and every task is just too much.
You'll worry every time you buy groceries or go out to eat because you just don't know how you're doing. So you tend to spend less, then run out and end up having to make a second trip to the store – so in the end you spend more. If you would just take a few minutes to create a budget and then consistently update it you'll have a more relaxed mentality around money.
What are some tools you use to streamline your life? Leave a comment below letting us know!
The following two tabs change content below.
Meredith Rines, a budget and financial strategist helping fans pay off debt and live the life they've always wanted.
Latest posts by Meredith Rines (see all)