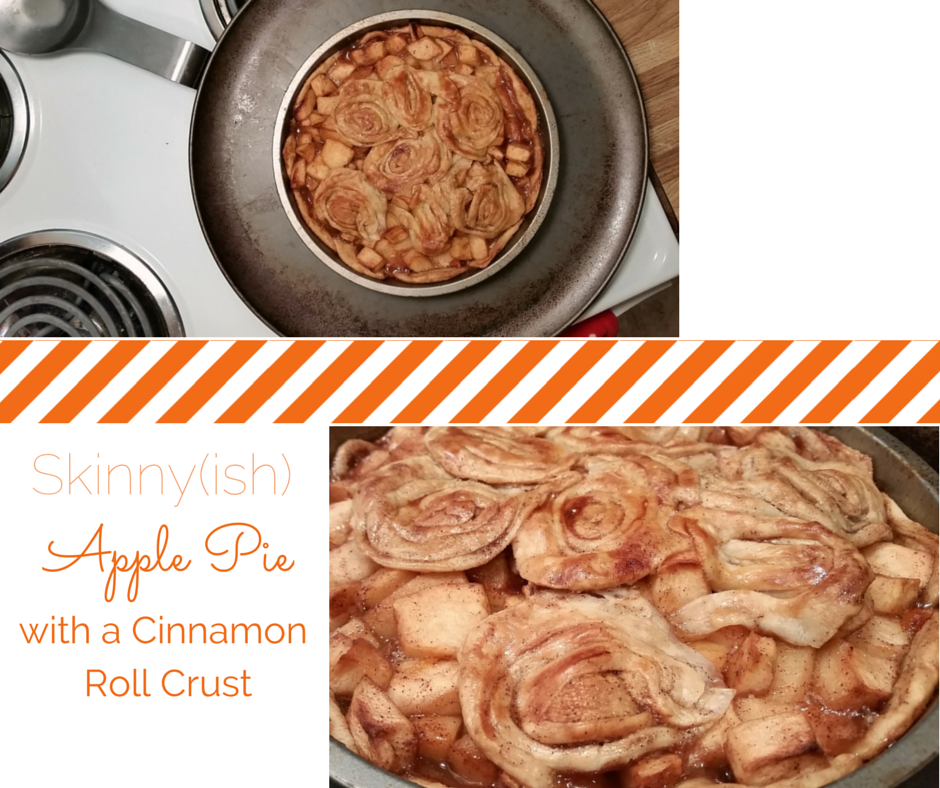 For Thanksgiving I wanted to bring an apple pie for two reasons:
1) I LOVE apple pie
2) I have been wanting to try a recipe for a cinnamon roll crust that I had seen on Pinterest.
The recipe was everything I had dreamed of and then some.  Yummy!  Plus, it wasn't hard to make and didn't require me to make a crust from scratch because we all knew that wasn't going to happen this past week.  No way.  Then I had added a tried-and-true apple filling recipe I had used years ago from Weight Watchers.  These two recipes combined made for apple yumminess magic.  I promise you it was like heaven in your mouth – you could taste the orchard.
*I would like to go ahead and apologize for the poor photo quality. I forgot my nice camera at the office and only had my cell to snap photos with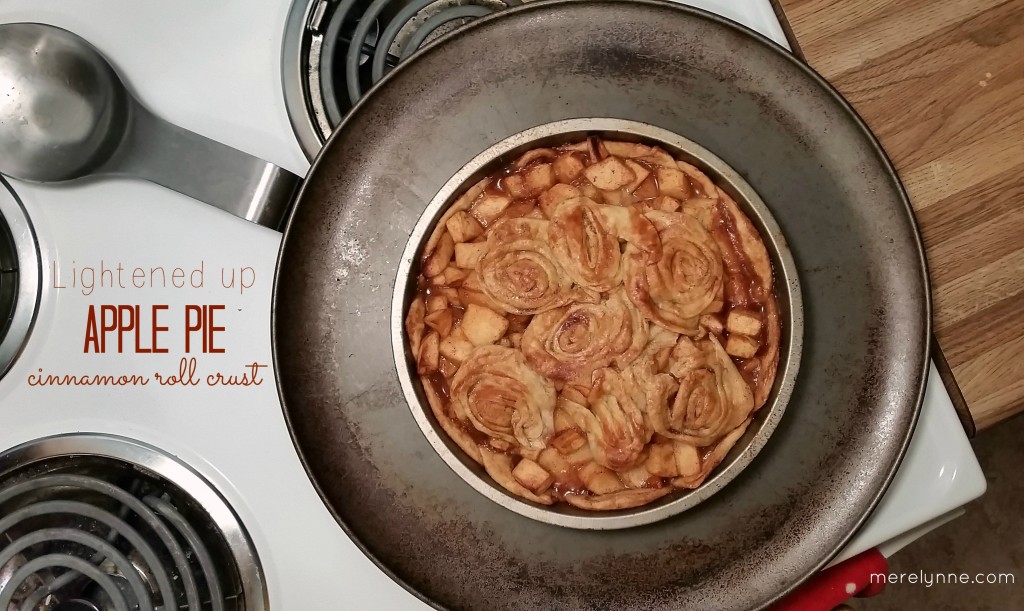 Cinnamon Roll Crust Recipe:
(adapted from Pure Wow)
1 package of 2 pie crusts (the refrigerated kind)
4 Tbsp. butter, melted (I used Brummel & Brown with yogurt)
1/2 c. light brown sugar
2 tsp. ground cinnamon
1 tsp. pure vanilla extract
1 egg white (for the actual baking process – see below)
On a lightly floured surface, roll out the two crusts until they are each 1/2″ thick.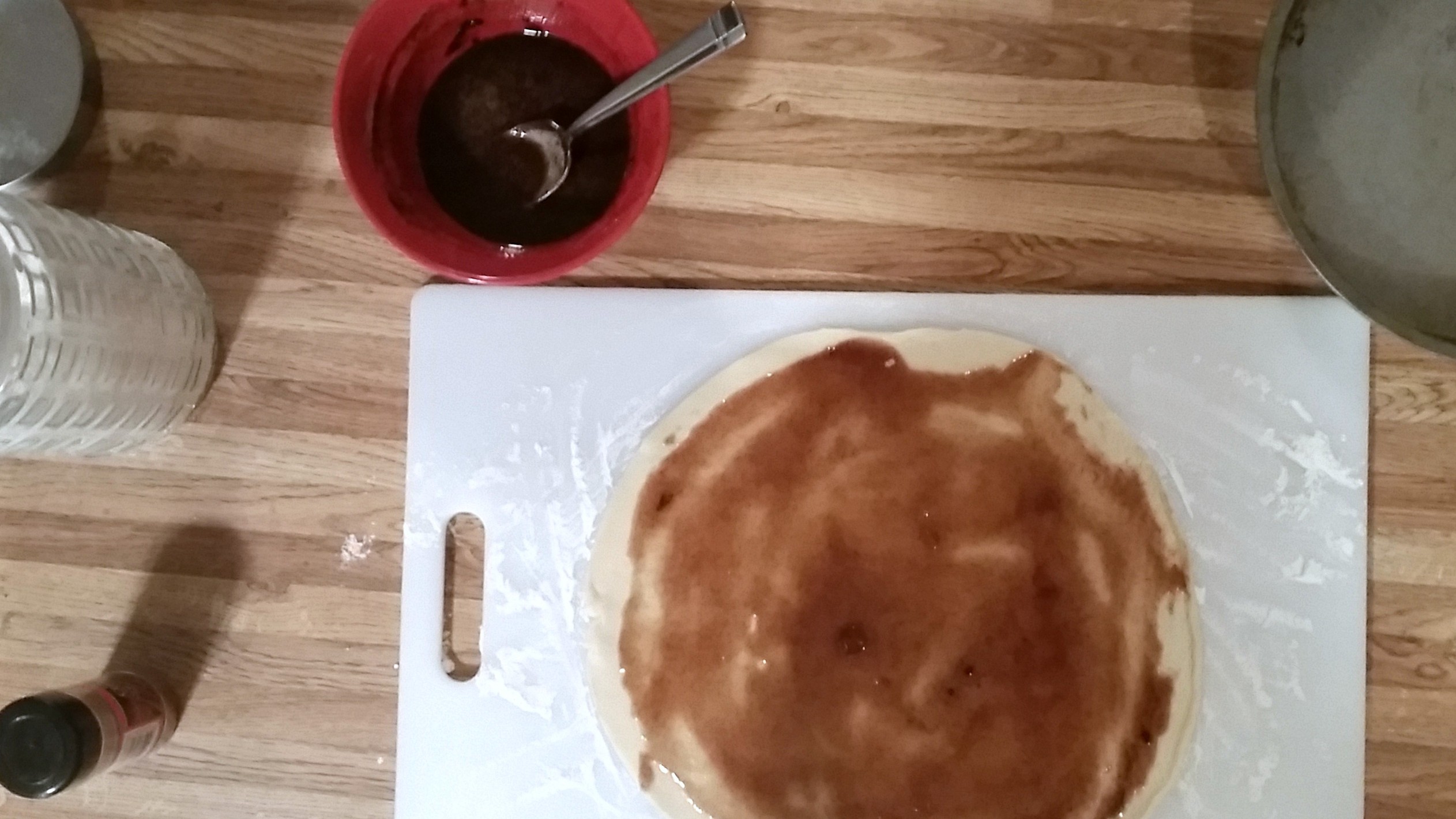 In a small bowl, mix together the butter, brown sugar, cinnamon and extract.  Spoon half of the sugar mixture onto each pie crust and spread evenly.
Roll up the crust, lengthwise.  Wrap in saran wrap and place in the fridge for about 20 minutes.  Take a serrated knife and cut the spiral into 1/2″ thick pieces.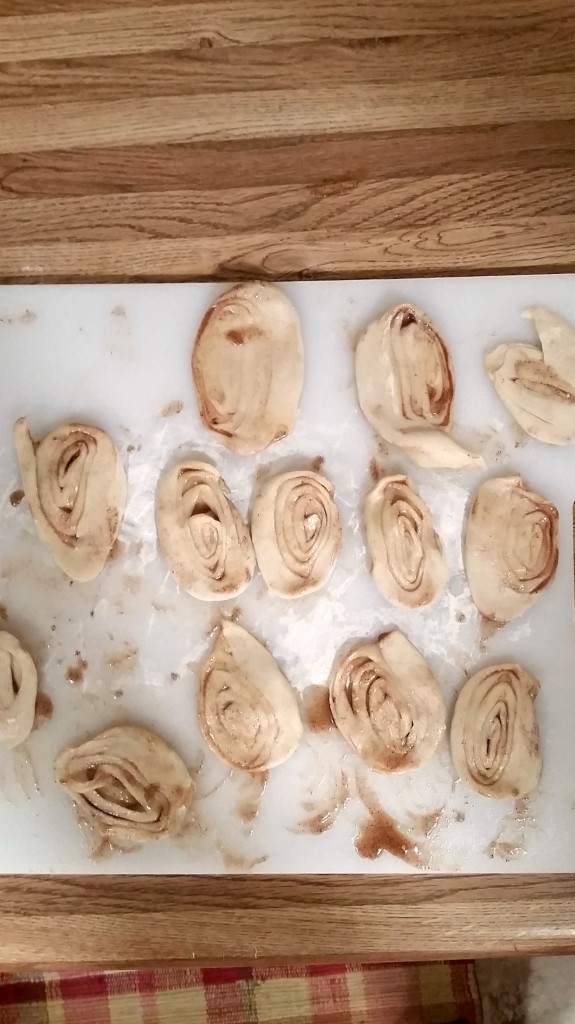 Take a rolling pin and flatten the spiraled pieces until they are about 1/4″ thick.
In the pie pan spread, lay out half of the flatten pieces so they overlap on the edges.  Press together.
You should be able to use all of your spiral pieces for the shell, however, if you have any remaining then you can make a pie topper.  Place Them together on top of the counter into a circle.  I didn't have enough remaining pieces to make an entire shell to cover my pie, which I thought was fine!  Chill both pieces for about an hour before filling.
Lightened-Up Apple Pie Recipe
(adapted from Weight Watchers)
2 medium Fuji apples, cut into 1/4″ cubes
2 medium Granny Smith apples, cut into 1/4″ cubes
1 Tbsp. lemon juice
1 tsp. ground cinnamon
1/4 tsp. nutmeg
2 Tbsp. apricot jam
In a bowl combine the apples, sugar, lemon juice, cinnamon and nutmeg.
Heat a large skillet over medium heat.  Add apple mixture and cook until slightly softened.  You will need to stir every few minutes.  This should take about 10-12 minutes.
Remove the apple mixture from the heat and stir in the jam.  Set aside to cool.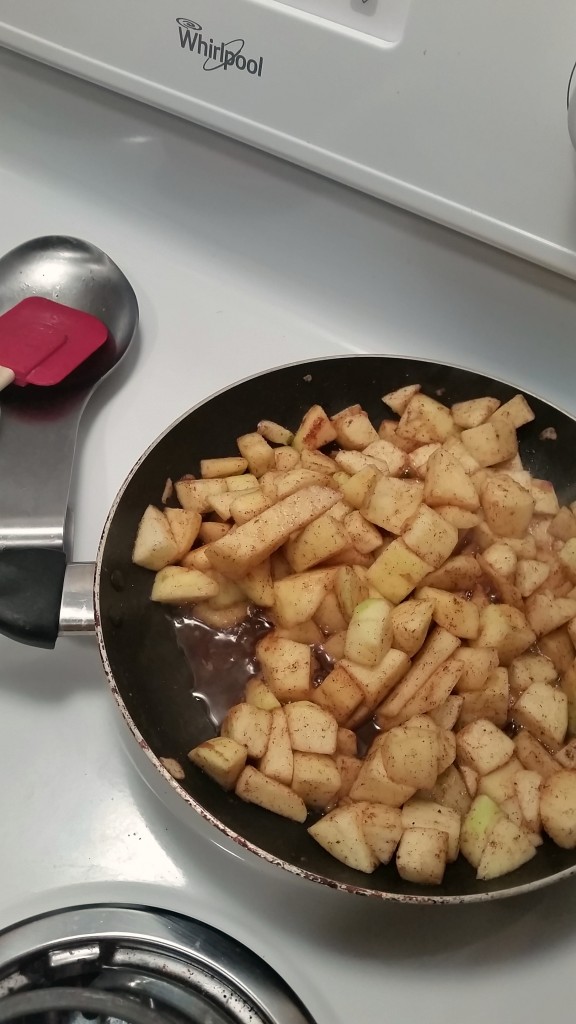 Once the pie crusts have chilled long enough, pour the apple filling into the bottom crust then top with the remaining cinnamon roll pie crust.  If your top covers the entire pie then cut 4-5 slits on top for it to breath.  Brush with egg white.
Adjust the oven rack to the lowest position and then place a rimmed baking sheet on the rack.  Preheat the oven to 500 degrees.  Once the oven is heated, carefully place the pie on the hot baking sheet.  Reduce the temperature to 425 degrees.  Bake for about 20-25 minutes or until the crust is golden brown.
Once the top is golden brown, turn the temperature down to 375 degrees and rotate the baking sheet.  Bake for about 30 minutes, until the crust is a deep golden brown.