Affiliate Disclosure: I am grateful to be of service and bring you content free of charge. In order to do this, please note that when you click links and purchase items, in most (not all) cases I will receive a referral commission. You will not pay more when buying a product through my link. Your support in purchasing through these links enables me to continue to offer you lots of free stuff. Thank you!
Last year our little family of three went to the beach twice. Our little guy was only two months old the first trip and then we went again a month later. I learned so much during those two trips. So much. I kept telling myself I was going to put together a blog post sharing all my secrets and tricks. But here I am almost a year later just getting to it. #momproblems

Actually what inspired me to write this post is the fact our little family is planning another beach trip this summer. I love the beach. It really is my happy place and the beaches at the local lake don't cut it (yuck!). I know this trip will be so much different than the ones last summer since our little guy is now walking and is so much more active these days.
Here are my baby beach tips for your newborns:
Bring A Laundry Basket.
It was the best thing I discovered. Not only can you haul all of your stuff down to the beach, but your little one can curl up and take a nap out of the sand. I can't tell you how many times I ended up just carrying my sleeping boy back to the house in a laundry basket. I laid a towel down in the bottom to give him some extra cushion, but that's it.
The holes in the basket are perfect to make sure your little one is getting enough air flow.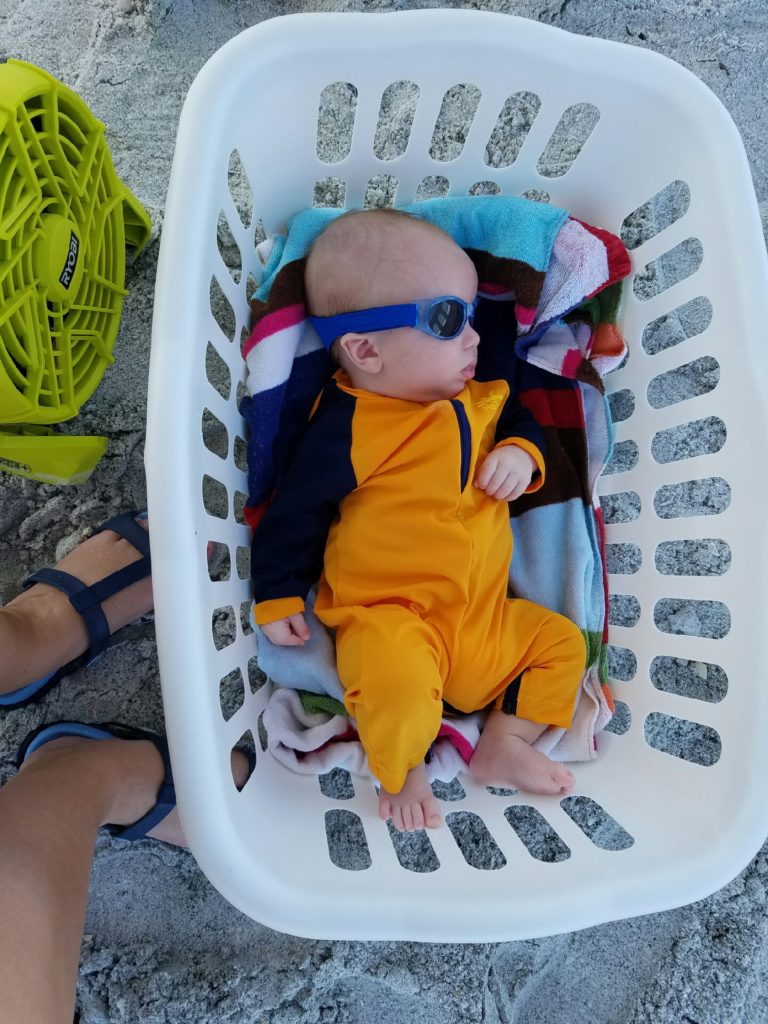 Bring A Portable Fan.
If you're worried about airflow are just want to make sure they're staying cool, then bring a portable fan. I used this stroller fan
that runs on batteries and clipped into the side. We also had a Ryobi fan that we used.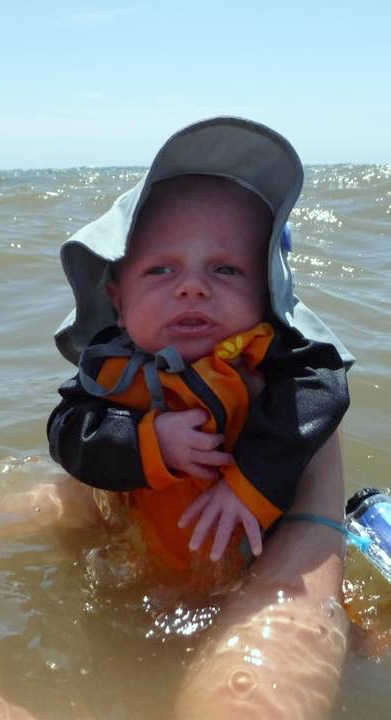 Bring Sun Protective Gear.
Make sure the swimsuit you purchase as built in UPF protection. I purchased this suit
on Amazon and fell in love last year. But now that's a bit bigger and harder to change a diaper in I went with a two piece – swim trunks
and rash guard
. I even purchased a hat with protection to make sure his scalp wouldn't get burned. This hat even has an adjustable cap so it can fit a small newborn or a bigger baby. We plan on using the hat this summer, too! It still fits!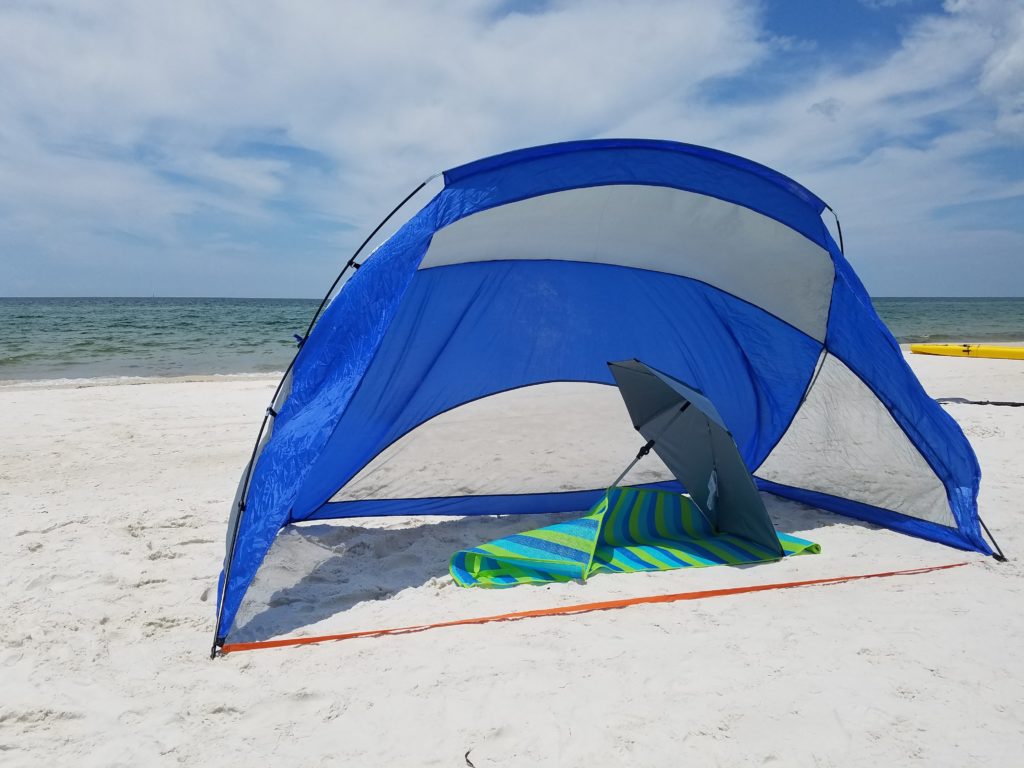 Bring A Canopy.
If you're going to a beach where you can bring your own canopy or rent one, then please do it! It's so much easier than hauling a pack-n-play to the beach (and less sandy). On our second trip we drove with J's family and they packed a canopy. It was perfect spot to have us out of the direct sunlight. If you do end up with an umbrella then I would recommend grabbing an umbrella anchor
to help keep the umbrella in place. On our first day last year, the wind caught the umbrella and it came flying out of the ground. It would have hit the baby but I ducked over him just in time to get hit pretty good in the forehead. It scared our little guy, but he was unharmed!
Bring Sunscreen
.
I used Babyganics Sunscreen and highly recommend them. I felt safe using it on my little guy.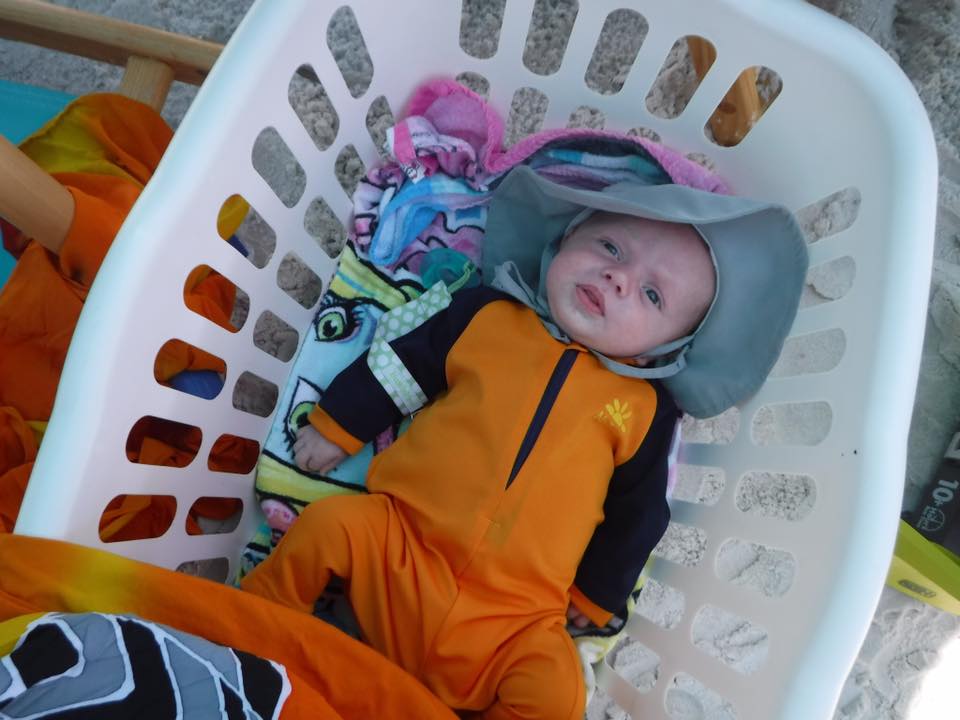 Pack Pre-measured or Pre-filled Bottles.
Whether you breastfeed or formula feed, pack bottles that are pre-measured and ready to go. I formula fed so I had measured out my water in the bottles and formula in my dispenser. This way when our little guy got hungry I didn't have to traipse back up to the house or worry about getting sand in his bottle. It worked great!
This year now that our little one is over a year old and much more active we plan on bringing:
This life jacket
. It's highly recommended and I love that it has a head support to keep his head from going backwards. It also has a handle so if we need to grab him, it will be a lot easier.
Babyganics sunscreen. It worked beautifully last year so I'm going to stick with it again this summer.
These swim trunks
and rash guard
. Like I said, this year I plan on having two piece swimsuit for him. I think it will be a lot easier when changing his diapers now that he's an active toddler as opposed to an 8-week old newborn.
The adjustable hat that I mentioned above. We also got a new one for his birthday that I can't wait to put on him. He's going to be so cute!
Swim shoes to wear around the pool. Since he's walking I figured keeping him off the hot concrete will be difficult. So I'm planning ahead and buying these water shoes
.
What are some of your favorite go-to beach tips for baby?