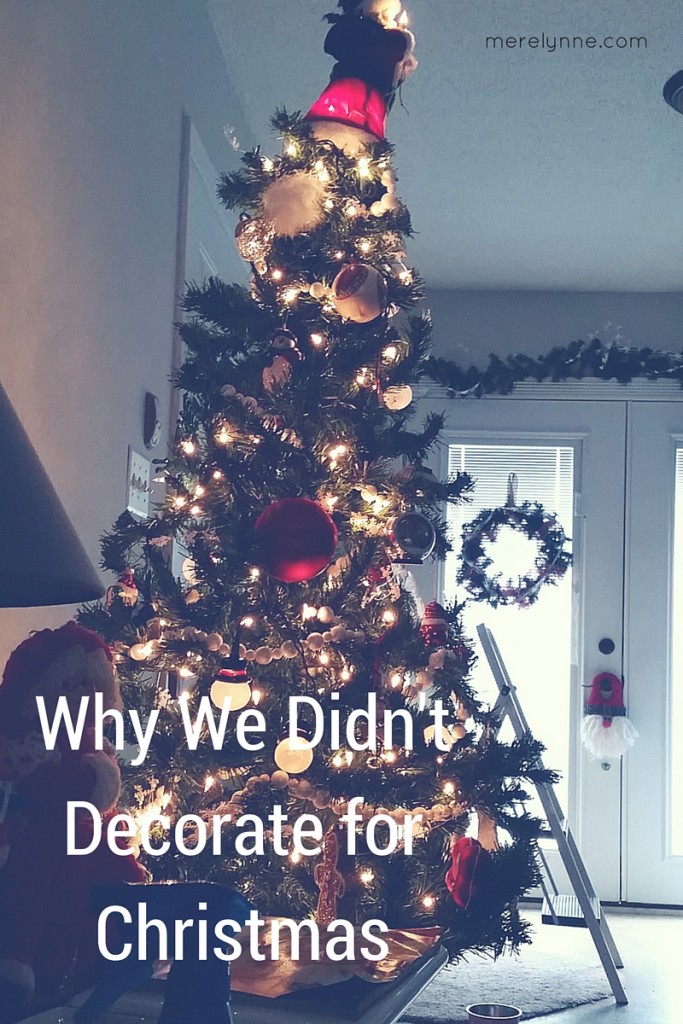 I'm a huge Christmas fan – HUGE! But I wasn't in the festive spirit this year.  I don't know what it was, but I just couldn't get into the swing of things this year.  Maybe it's because I've been so sick with this pregnancy that I've had zero energy.  Maybe it's because I realized that from now on we're going to be going all out for Christmas for the little one and the thought of doing it this year just didn't seem as important.
No matter the reason, J and I agreed together to not decorate for Christmas.  And you know what?  I'm 100% okay with it.  
I'm the girl that would decorate my apartment when I lived by myself.  I know I'm the only one that enjoyed those decorations, but I would still go out all – a tree, wreaths, stockings (for me and the pup), and lights.  This year the only Christmas task I've accomplished is hanging my Christmas wreath outside, but I didn't even get that done until mid-December.  So bad!
To be fair, I've been putting in extra time at work, studying and trying to stay focused on spending time with my family.  Plus, having to put a lot of energy into getting ready for a baby has been a lot.  This year we're spending Christmas Eve and Christmas Day with his family out of town.  So that was another reason to not drag out the boxes.
One thing I know for sure is we've saved money this year by not decorating.  We always find some light, decoration or blow-up figurine that we just HAVE TO HAVE.  So this year, by not decorating, we weren't tempted.
J and I know this time next year our house will be fully lit up every day in December.  We'll have our brand new tree (that was bought on sale after Christmas last year) up and decorated.  We will even have our stockings hanging.  We want the baby's first Christmas to be great, even if he won't remember it!  We watched the Christmas Light Fight on TV the other night and J is already dreaming up designs for our front yard.  So we might be making up for the time and money we saved this year by doing double next year!