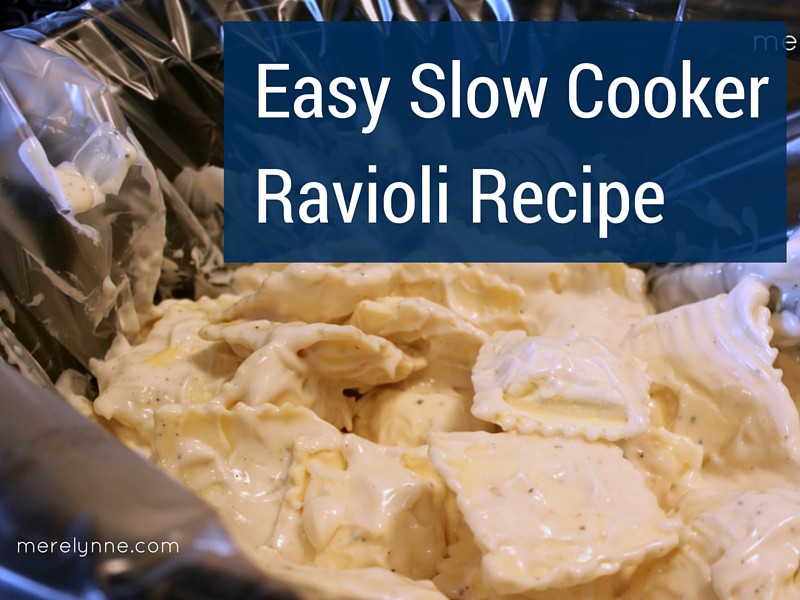 On a night that I know I'm going to be late, I always turn to my trusty slow cooker.  The other night I had a hair appointment that I desperately needed.  It may have been close to a year since my last haircut. A year, people!  That's bad.  One of my favorite go-to slow cooker recipes are the ones that don't take 8 hours to cook.
I mean, don't get me wrong.  I do love an all day recipe.  The house always smells delicious and dinner is always perfect.  But sometimes it's hard to remember to start dinner in the morning.  With being pregnant, my mind is falling apart.  I need a little help every once in awhile.  When I forget about having a long night then I need a dinner I can start on my lunch break.
I have discovered gold. Seriously! This is one of the best dinner recipes I have come across in a very, very long time.
I adapted this slow cooker ravioli recipe from The Country Cook.
I made it a little easier for me by making it only need 2 ingredients.
You can stick with the original, which is very good. I've made it before and we liked it, but I'm lazy and like to make it less work for me.
Here's what you need for the easiest slow cooker ravioli recipe:
1) one bag of frozen ravioli (either cheese or beef will do – you could mix by doing 1/2 beef and 1/2 cheese)
2) 1 jar of pasta sauce
optional: garlic powder and pepper
You can use either white or red sauce with this recipe. It's whatever your family prefers. I like lots of garlic flavoring, so I usually add about 1/4 teaspoon to my sauce along with some extra pepper.
Really the options are endless, you could add red pepper flakes, too. I've done that and it was still amazing.
Here's how to prepare:
Put a Reynolds slow cooker liner in the crockpot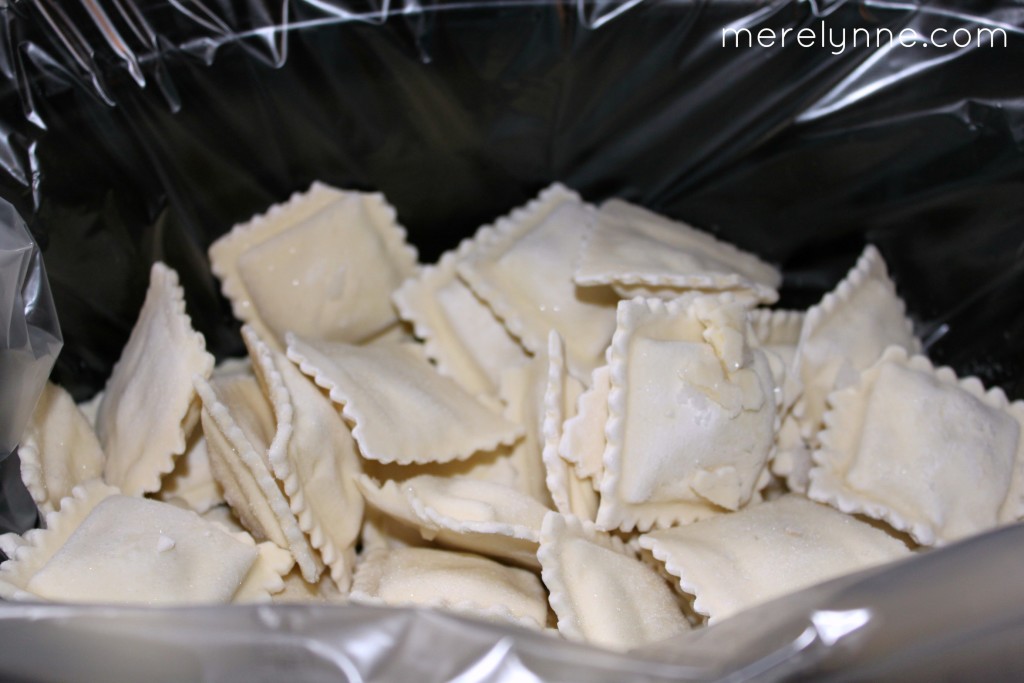 Place frozen ravioli in the slow cooker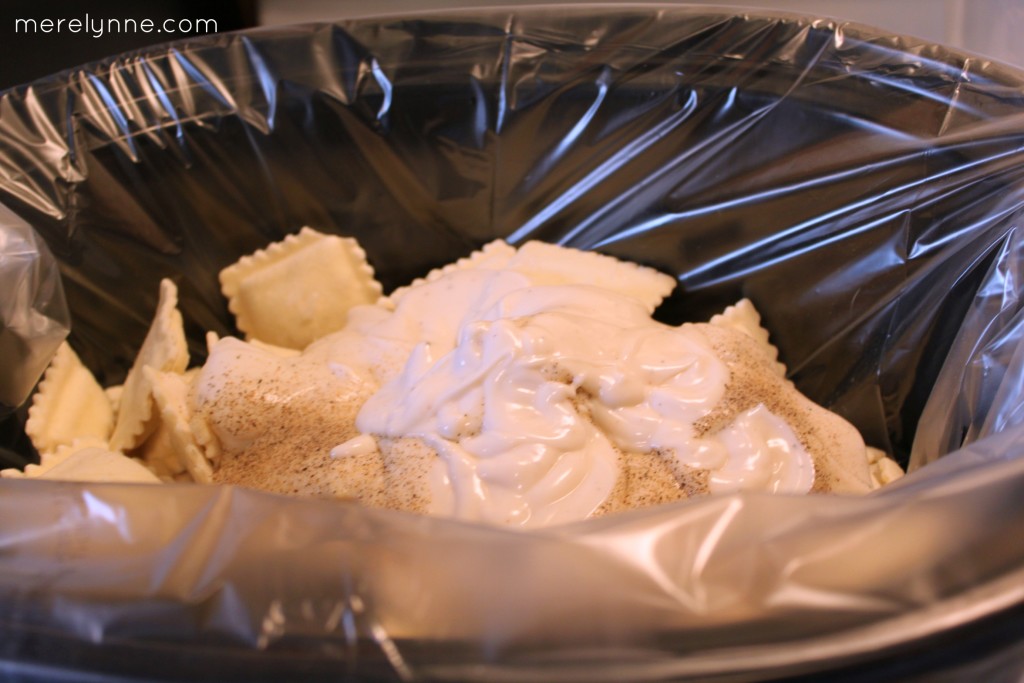 Add sauce and extra seasonings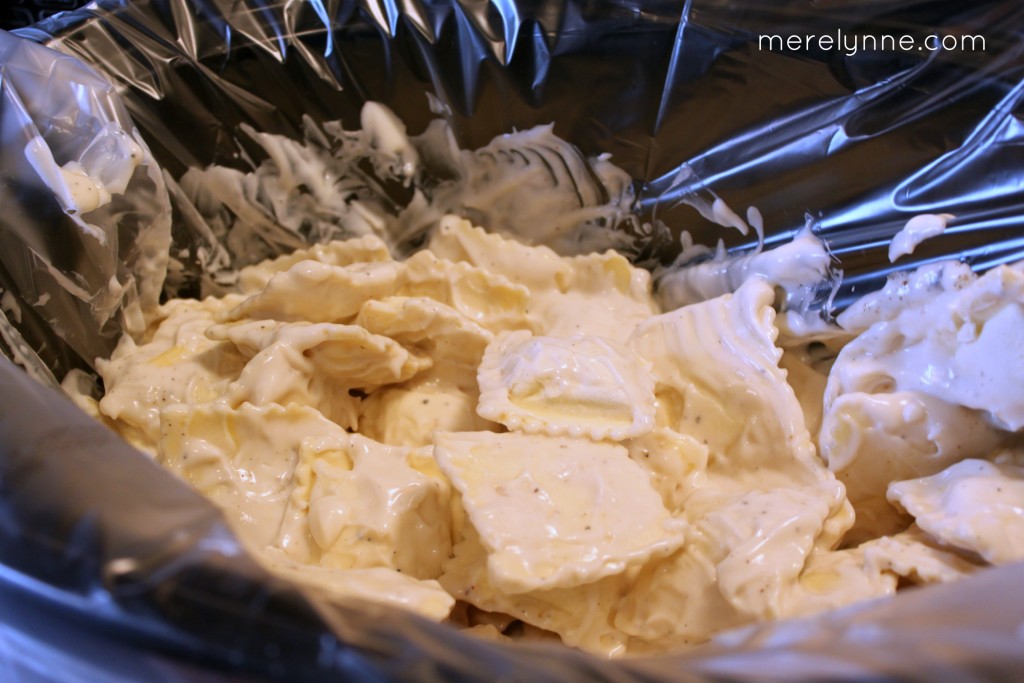 Stir to cover ravioli with sauce
Cook on low for 5 hours or high for 3 hours
That's it. Super simple!
I usually serve mine with a little Italian bread and salad or extra veggies.
I don't get paid to promote the slow cooker liners, but if you aren't using them already, you have to start! They are lifesavers! Clean-up is so much easier with them.
I bought a dishwasher safe slow cooker so the pot could be washed, but by the time you add it in the dishwasher you don't have room for anything else. So now with these liners I save my space in the dishwasher and don't have to wash by hand.