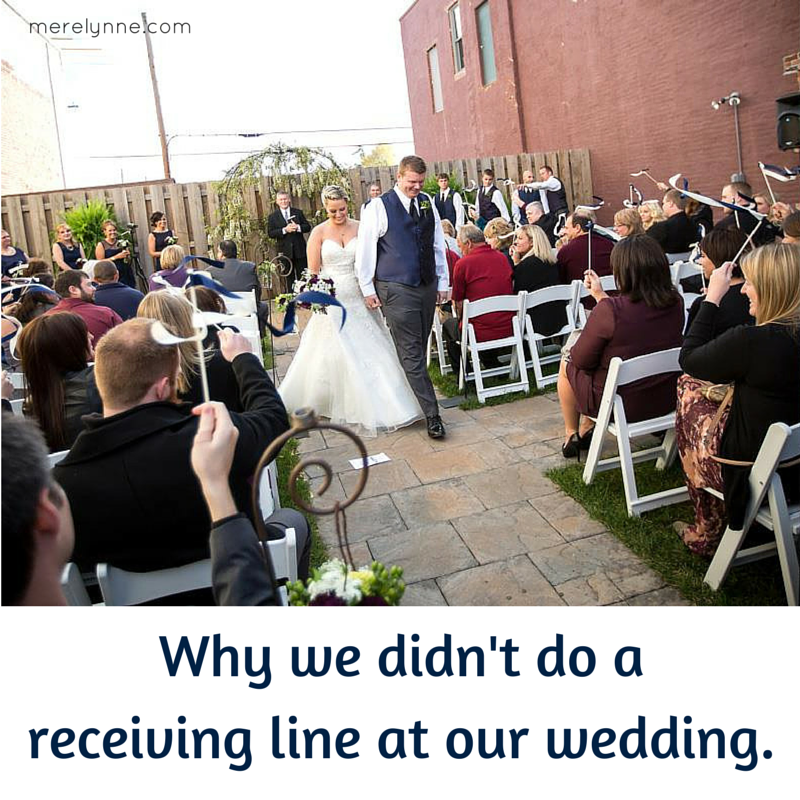 Have you ever been to a date to a wedding where you didn't know the bridal party?  Then have to stand through the awkward receiving line, contemplating what to say, should you hug them, shake their hand, or just do nothing?  I have.  It was uncomfortable.
I went to a wedding years ago with a receiving line immediately following the ceremony.  I instantly started searching for an escape route so I could fake needing to use the bathroom just to avoid the receiving line.  Unfortunately the only way to get out of the chapel was to go through the receiving line.  I was someone's date.  I didn't know the bride or groom and I had never met anyone in their wedding party. To say it was uncomfortable would be an understatement.  I was miserable.  Awkward.
Let's be honest, the bride and groom have way too much on their mind to even try to remember some random girl's name.  So my date was trying to be nice and he introduced me… they didn't care, I didn't care and it was one of those moments that seemed to last forever.  Then I had to meet all of the bridesmaids, groomsmen and family.  I survived, but barely.  I swore when the day came for me to get married that I would skip the receiving line.
There were only a few wedding traditions that J and I rebelled against.  Honestly I like traditions and wanted to follow as many as we could, even if it meant having to shuffle plans around.  J and I talked about everything we wanted our wedding to be about and that's what we worked for.  It was a fun day with our families and friends.  We spent the evening laughing, dancing and singing along to our favorite songs.  We even had our share of the unexpected, like when a homeless man tried to steal and then sell my wedding planner's phone or when a family friend stole my entrance after the gates were closed.  It was funny and made the day even more special, in my opinion.
We tried hard to follow as many traditions as we could, like….
We didn't see each other before I walked down the isle.  I wore something new, something old, something borrowed and something blue.  We shared our first dance.  We did the garter and bouquet toss.
There were a few things that we didn't follow tradition on….
We didn't have a ring bearer or flower girl.  We didn't walk down the aisle to the traditional wedding march.  And the one tradition that I was dead set on not doing was a receiving line.
Traditionally it was a time for the bride and groom to thank everyone that came to the wedding.  With changing times, there are so many other ways to do that.  At our wedding we had a short thank you note printed and placed at each table setting.  J and I also went around to every table right after dinner was served to say something to each person.  Doing it while everyone was eating was a perfect time.  Everyone was in their seats, music wasn't too loud and because everyone was eating it was pretty quite in the room so we weren't shouting.  We also divided and conquered.  We tried to hit every table, but we split it up and started on opposite ends of the room to make sure at least one of us went to all of the tables.
It was perfect.
Now when I go to a wedding and they have a receiving line, I secretly cringe.  I flashback to that awkward moment years ago, my palms start getting sweaty and my mouth goes dry.
Not every tradition is perfect for each couple.  You have to pick and choose what's important to you as a couple.  What traditions were/are important to you?