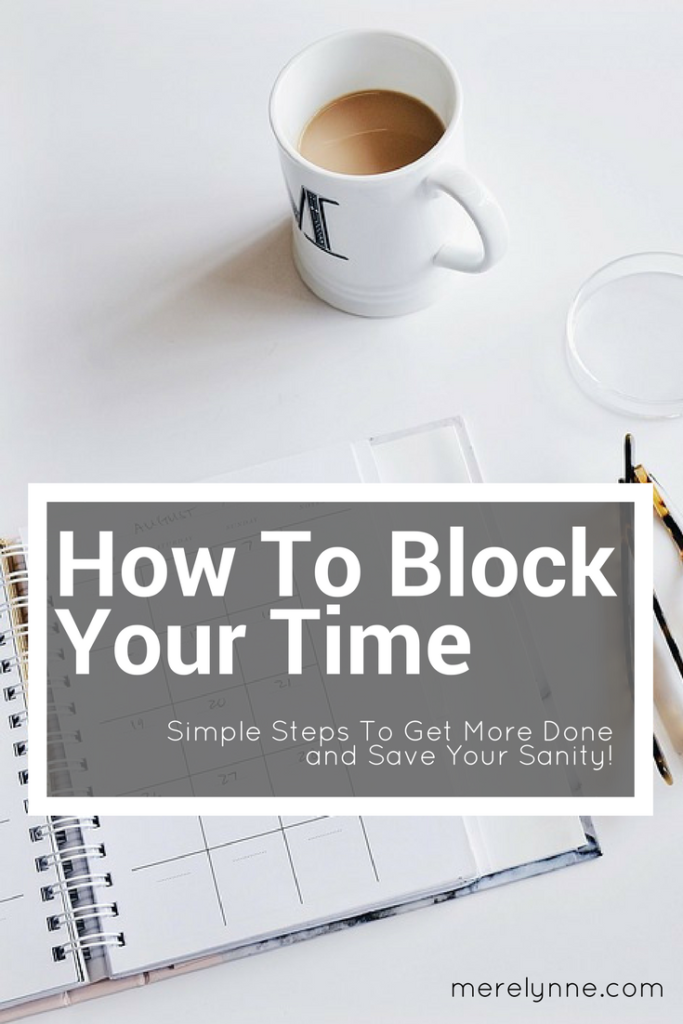 One of my biggest productivity secrets is all about how I schedule my time. As Moms our brains are working overdrive constantly. We may try to be focused on laundry, but our mind is thinking about an upcoming client meeting. Then as we're sitting in the floor playing with our little one we're thinking about the dishes in the sink and they're driving us crazy.
That's just what being a mom is all about – constantly thinking ahead and multitasking. Nothing wrong with it, but it's hard to be present with our spouse and with our children when we're always thinking about what else needs to get done.
Besides my Mom notebook that contains every little thing I have running through my brain, I've discovered a great way to get more done and be more present with my family.
Want in on the secret…?
You have to block your time.
Recently I started blocking time in my calendar and breaking my day into hour increments. It is amazing and works wonders for me!
You can watch the video online or down below:
Here's how you block your time to get more done:
Instead of scheduling every single detail down to the minute, you dedicate a specific period of time to an area of your life. Like house work, career, family time, me time, and so on. Keep all of your to-do's in a handy notebook so when you're getting ready to focus on a specific time block you know what you need to do. You may need to spend the first 5 minutes of each separate block prioritizing what's most important, but once you have a game plan then you can get started. Now you don't have to jump from one area of your life to another, which means you can actually focus on the task at hand.
When the period of time is over, I close down and move onto the next area. It really helps my sanity.
Here's how I block my time:
5:00 – 7:00 am is for getting ready, getting breakfast made and working on my blog. I like to make sure I'm showered, dressed and ready for the day then I'll spend any other free time (usually an hour) on making breakfast, checking emails and making sure any blog post is ready to go live.
7:00 – 8:00 am is for getting Dent up and dressed, feeding him breakfast then heading out the door to drop him off at the sitter. Typically I get to work about 7:30 each morning, which gives me time to check my personal emails and make my to-do list for the day.
8:00 – 12:00 pm is for working. I focus my attention on my clients, appointments, preparing illustrations, and so on. I try not to think about blog work or anything like that.
12:00 – 1:00 pm is for filming any new content and then eating lunch. I run home on my lunch hour to film a new video (or two) and then I reheat leftovers from the night before to eat before coming back to work. Each morning (when I arrive to work at 7:30) I make my to-do list for the day. In that list is what video I want to record and make sure my talking points are ready to go. So when I get home I just have to sit down and hit record.
1:00 – 5:00 pm is for working again. I finish up the day with any meetings, networking events, and so on.
5:00 – 7:30 pm is for family time, playing with Dent and following our evening routine. As I've mentioned before we tend to eat dinner by 5:30 most nights and then we clean up the kitchen afterwards. Once dishes are done then we sit down to play as a family. Then it's bedtime for Dent around 7:30.
7:30 – 9:30 pm is for straightening the house, doing laundry then relaxing with J on the couch, editing any videos, finishing blog posts and working on merelynne.com.
The following two tabs change content below.
Meredith Rines, a budget and financial strategist helping fans pay off debt and live the life they've always wanted.
Latest posts by Meredith Rines (see all)