Note: Some links in this post contain affiliate links, which means I may receive a commission if you make a purchase. Thanks for supporting my blog!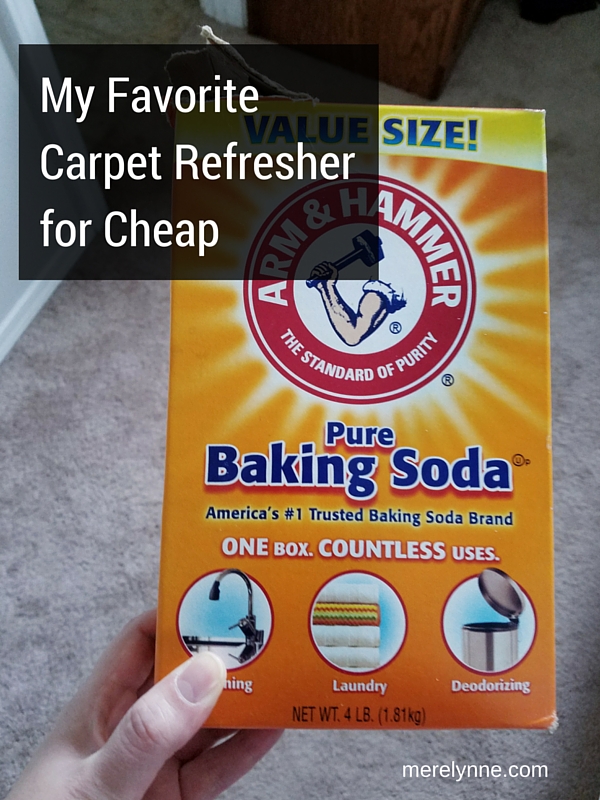 I shared a post way, way back when about a great DIY carpet cleaner. Well I'm still using it and have even developed new ways to use it to really get some fresh smelling, clean carpets at our house.
It's no lie – three dogs do not mean you'll have spotless carpets all the time. Especially when one of those dogs scares easily whenever a friend comes over, a car drives by or a leaf floats by the window.
I've developed tricks to score clean carpets. Now with a little one here, we want to make sure our carpets are clean. He's months away from crawling, but we do need to do tummy time with him. I don't want to put him on any dirty carpets, actually I don't even want to be walking around barefoot with dirty carpets – gross!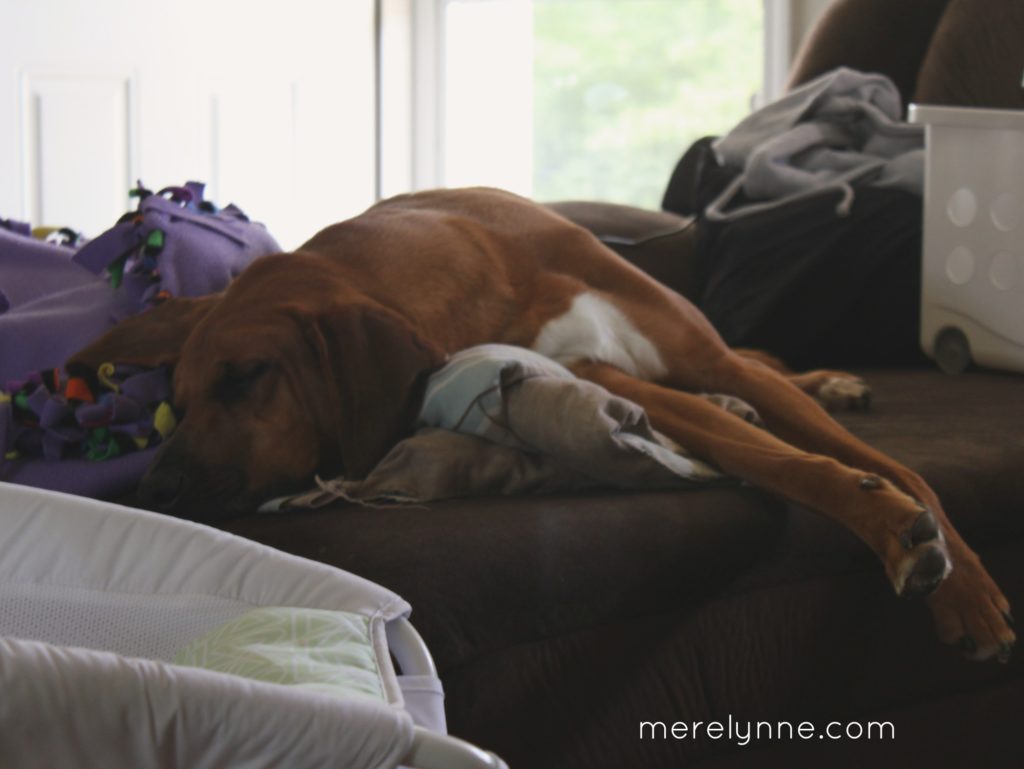 I've added a new carpet refresher to my DIY carpet cleaner and I just HAD to share it with you.
Before I vacuum I sprinkle my magic ingredient on the floor, well actually I go over the floor once just to get the bulk of the dog hair up. Then I add my magic ingredient…
Want to know what my favorite carpet refresher for cheap is? It's…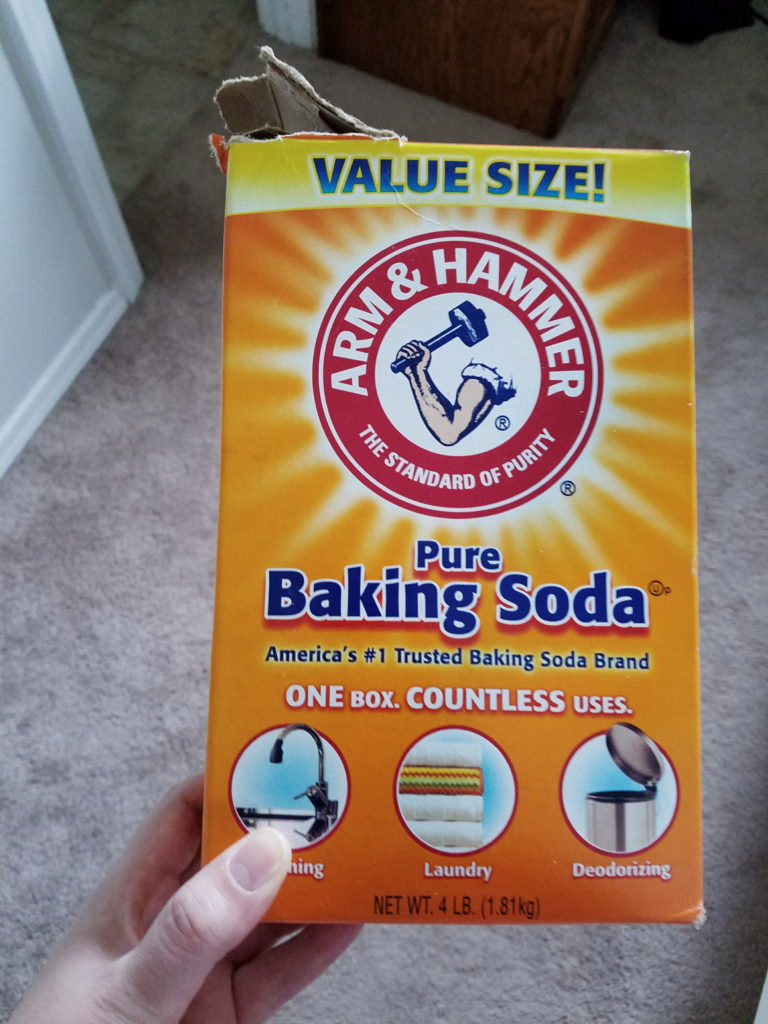 Baking Soda
Yep! I sprinkle baking soda over my carpets, let it sit for about 10-15 minutes then vacuum it right up. Once that's done I go over it with my DIY carpet cleaner in our steam cleaner. Our carpets will be sparkling clean and smell so good by the end of it.
I've found that baking soda is a better carpet refresher than the store-bought brands. Plus, my fearful dog was actually allergic to the last few store brands I purchased. Poor pup would sneeze and her eyes would get all gunky for weeks afterwards. When I started using baking soda, her allergies went away. That was a huge plus for me. I couldn't keep using products that were causing her problems…. that's not a good dog mom.
I also know that with three dogs any vacuum cleaner just won't do. We have invested in a good pet vacuum for all of that dog hair. I love the Hoover WindTunnel Pet Rewind Vacuum
. It works great for all of those hair nightmares.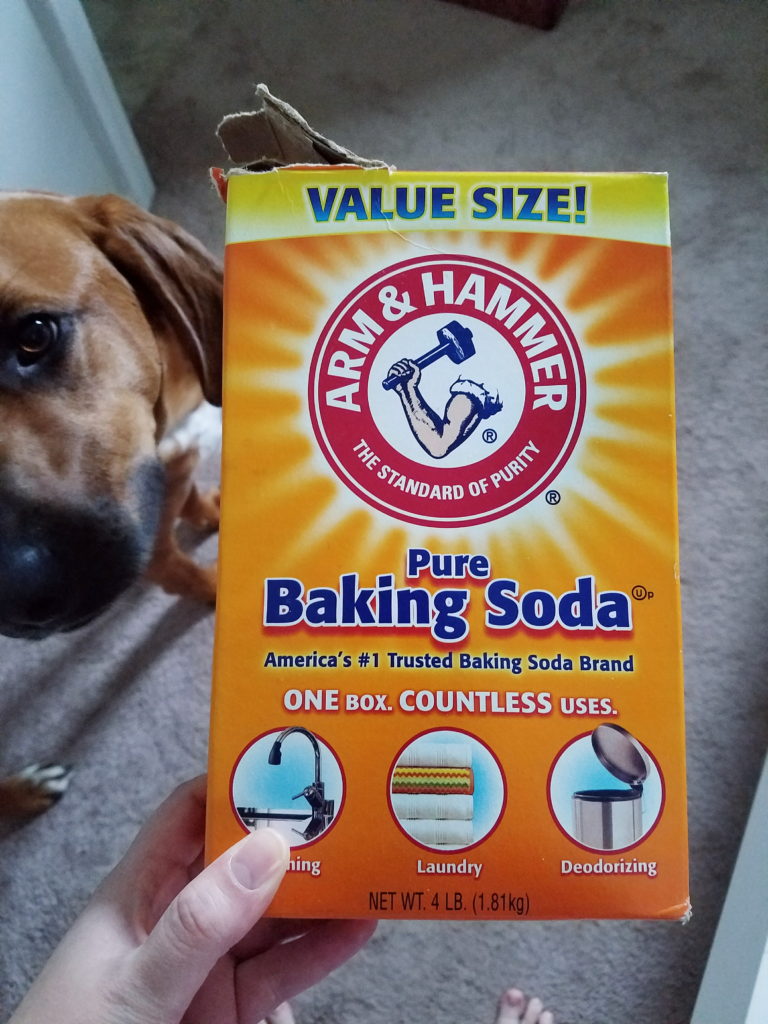 Here's what I do, step-by-step for my DIY carpet refresher to really work:
Lightly vacuum my house to get most of the dog hair up
Sprinkle about 1 cup of baking soda on my carpets, depending on the size of your space you may need more or less
Wait 10-15 minutes, then vacuum the baking soda up
Fill my steam cleaner with my DIY carpet cleaner
Steam clean the carpets
I will say our house smells great and the carpets look wonderful.
Stain Tip:
If you have a stubborn stain then I recommend sprinkling a heavier amount of baking soda on the spot, then directly spraying white vinegar on top.
You might have done a science experiment using banking soda and vinegar in elementary school. The two ingredients will have a reaction when combined and they will bubble up. The bubbling is what you need to get the stain lifted.
Once you spray the vinegar on the baking soda, take a small brush and start scrubbing. Once you've scrubbed it out, simply vacuum up the remainder baking soda after it dries. Voila! Stain is usually gone or a lot less visible. I've had a few spots where I had to do this more than once to get completely gone. But it was worth it because even the store-bought stain removers weren't budging it.
The following two tabs change content below.
Meredith Rines, a budget and financial strategist helping fans pay off debt and live the life they've always wanted.
Latest posts by Meredith Rines (see all)