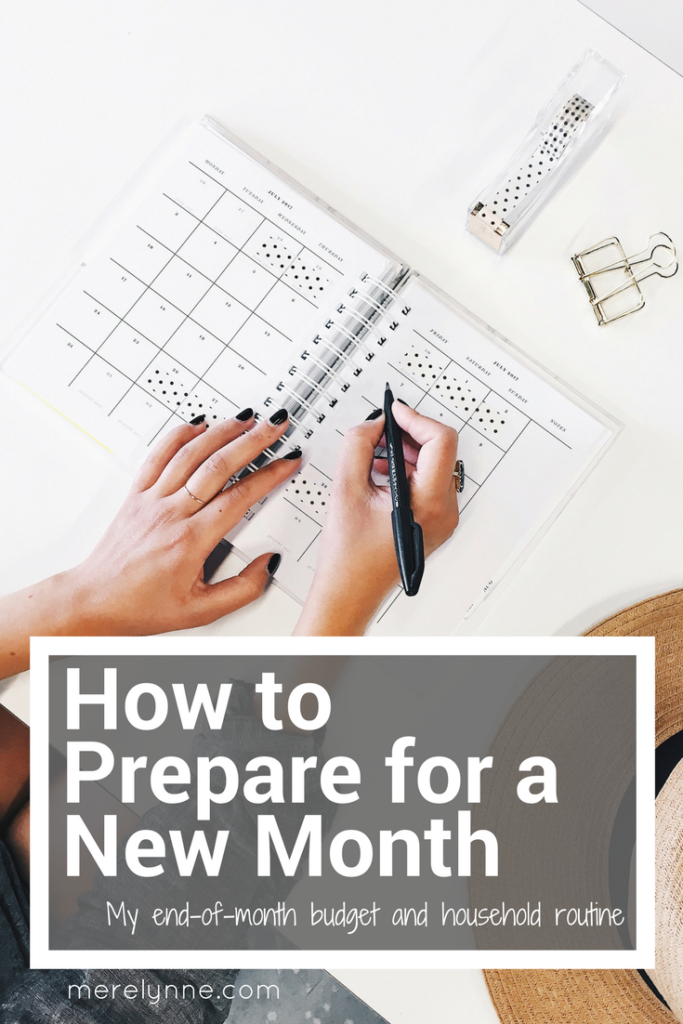 It's that time of the month again – I swear as I get older time just seems to keep going by faster and faster. I do wish it would slow down so I could enjoy my little boy a bit longer. Everyday he's learning something new and becoming so much of a little boy as opposed to a baby. When we went to the pumpkin patch a few weeks ago watching his determination and excitement was just awesome. He was willing to try just about anything (he didn't care for the slide in pitch black though) and he absolutely loved the big boy slide. He just kept wanting to go down it over and over again. When it was time to leave, a full on meltdown followed.
Anyways… this post is about how to prepare for a new month, not the challenges I'm having watching my little boy grow up.
Let's get back on track. Focus Meredith, focus.
There are a few things I do at the end of each month to help us kick off the next on a high note. I highly recommend coming up with a monthly routine for you and your family to follow. It helps to make sure nothing slips through the cracks.
The first thing we do is take a look at our 3-month plan. Awhile back I talked about how we plan our life 3 months at a time. This is how we approach just about everything. We sit down once a quarter to really get a big picture view of what we have going on, what we need to be planning for and budgeting for. Then we like to break it down by a month-to-month basis.
After we make sure we're on track for our big 3 month plan then we go forward with preparing for the new month.
Here's what our 3 months looks like:
January, February and March are planned end of December/beginning of January
April, May and June are planned end of March/beginning of April
July, August, and September are planned end of June/beginning of July
October, November, and December are planned end of September/beginning of October
Here we are getting ready for November, so our 3 month plan is already set. However, if this was the end of the quarter then we would be going through our steps to get ready for the next 3 months.
Here's the rest our monthly plan:
You should end each month with a money date. Now you typically should have a money date at least once a week (or every other week), but make sure to have one at the end of each month. This helps you know what each person has coming up and what they would like to do for the next month.
Next you need to take a look at your budget. Make sure you finalize any calculations or figuring to know exactly how you did the month before. This is the time to review any receipts, bank charges, expense tracking, etc. to make sure everything is accounted for and your numbers are correct. When you spend a little bit of time each week then this doesn't become too overwhelming.
But it's a good idea to review your budget before the start of a new month so if there were any overspending or surprises then you can be better prepared.
Plan Any Events
You should know a few weeks in advance of any dinners you need to attend or birthday parties. This is the time to make sure they are in your calendar and you have prepared your budget in case you need to bring a gift or spend money at a restaurant. Hopefully you've had more than a month's notice, but sometimes that isn't the case. Especially when it comes to children's birthday parties.
Also, this is the time to make sure you have a date night scheduled at least every other week (or once a week). You can swap out babysitting with a friend or see if the grandparents wouldn't mind keeping your little ones for an evening so that you can relax.
Before having kids I never understood the importance of date night, I mean we had date night but it didn't feel special. Now that we have our son, I get it. Date night is a chance for you to reconnect with your spouse, have adult conversations and just be together. The other week J and I had a date night at home. Grandma and Grandpa kept little man and we did nothing. We sat outside in our backyard, had the fire pit going and enjoyed a glass of wine. We then came in to heat up some leftovers and were in bed by 8:30. It was perfect.
Finally, you should spend some time meal planning. It doesn't have to be perfect, but you can take stock of what you already have on hand so that when it's time to grocery shop you aren't buying something you don't need. We like to meal plan for two weeks at a time so we aren't wasting food and can rearrange meals if needed. Typically if we eat leftovers an extra night or go to my parents' for dinner then I can take a meal and push it back to later in the month. It makes grocery shopping easier and we aren't wasting food.
You can find more about meal planning and eating out back in September's Budget Q&A. We found that by meal planning for two weeks we can save a lot more money.
What do you do to help prepare for a new month? Leave a comment letting me know!