During the first part of December, J and I finally threw our Gender Reveal Party. It was a killer holding onto that envelope with a little note tucked inside for almost 2 months.  I don't know how we did it, but we didn't peek!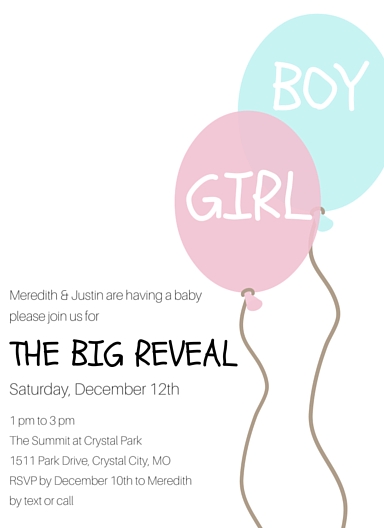 We wanted to be sure to share our big news with his family and mine, along with some of our closest friends.  It was really important to me and to J to find out together, hence why we threw a gender reveal party.  Let's be honest, this little bundle is going to be so loved by so many so it's really a tribe-thing.  I have to say that it was really hard finding a weekend that most of us could all get together.  That's why we held onto that little envelope for soooo long.  It was soooo hard!
Our plan for the day was to have a fun-filled time with those that are important to us.  But we had to keep it under budget.  Christmas was just a few days away and we knew money would be stretched.  Luckily, our families are awesome and really helped us out with everything.  My in-laws rented a cute house in the middle of a park not too far from their home.  My parents picked up the cookies from my all-time favorite bakery in town.  My sister and brother-in-law had all of the paper products and serving trays, plus she made most of the food.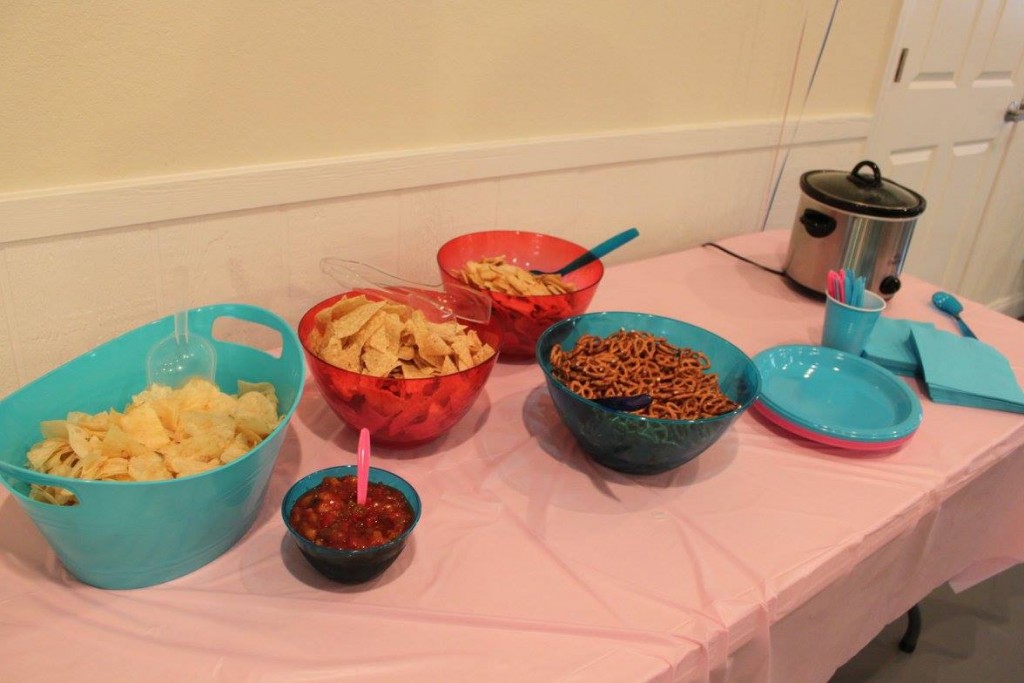 The biggest splurge we made was on the candy bar.  I went to Party City and picked up 4 types of candy – 2 in pink and 2 in baby blue for $6.99 each.  I also had ordered our balloons for the day from there and they came out to be about $20.  So overall I spend close to $50 at Party City – not too bad!
I had to call around to different Party City stores though.  The first one I called, which was the closest to the party told me they didn't put confetti in balloons.  I would have to stand there and put the confetti in then they would blow them up.  Well that defeated the purpose of us not knowing.  So I called another store that was about 30 minutes away and they had no problem handling it all for me.  I called a few days before the party to place my balloon order and had my office manager tell them the color.
I didn't want to ask everyone to wear pink or blue because I knew some would be traveling.  So I used clothespins.  I found a tutorial on Pinterest that I just loved.  I purchased a pack of wooden clothespins from Walmart for less than $3. I also added some craft paint in light pink and baby blue for less than $1 each.  Then I just painted one side of the clothespin and let them dry overnight.  We placed a bowl next to the door and asked everyone to wear their guess.  It was a huge hit!  Everyone got involved and our little nephews just loved it!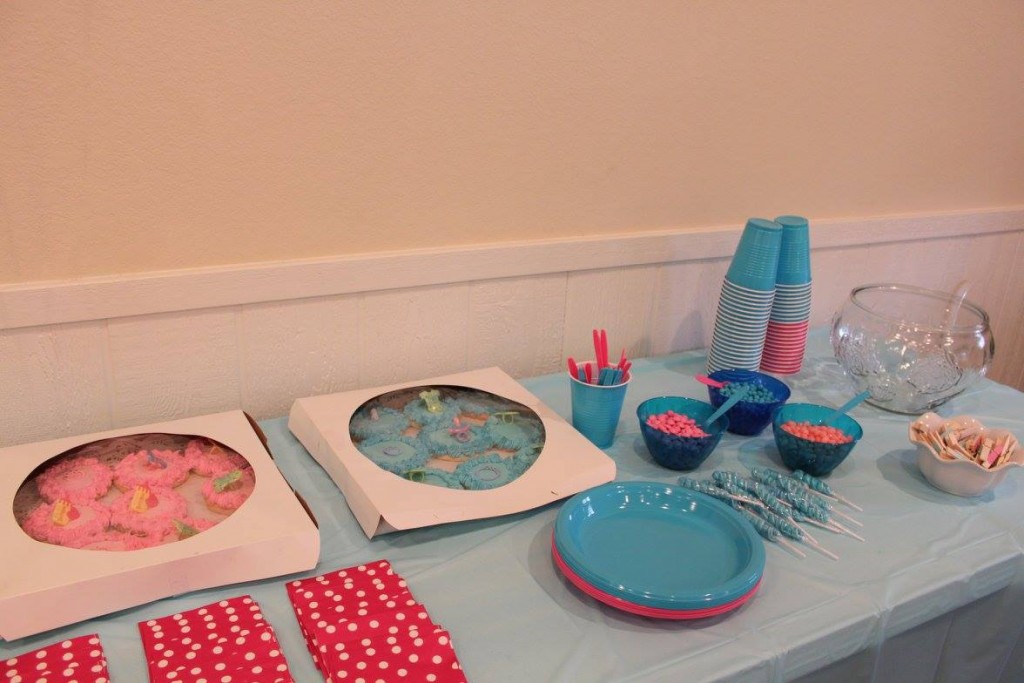 I guess everyone had a pretty good feeling because the blue pins went super fast!
After everyone had settled in, we handed out the black balloons.  Each couple got a balloon and a thumbtack.  Then on the count of three, we popped!  Once all the confetti settled there was no denying the blue everywhere.  It's a boy!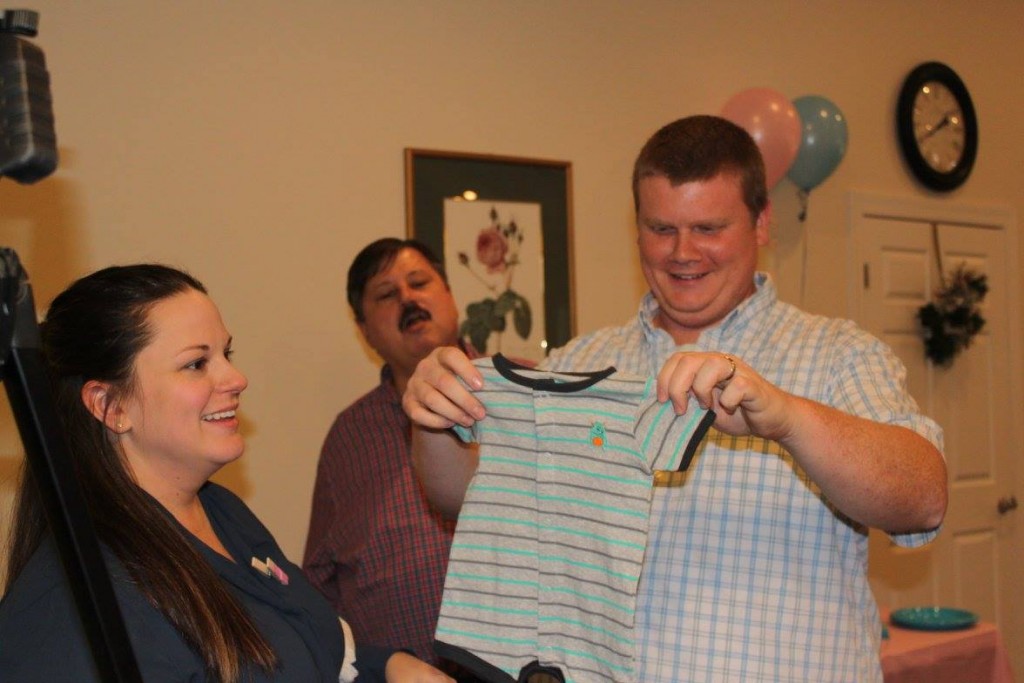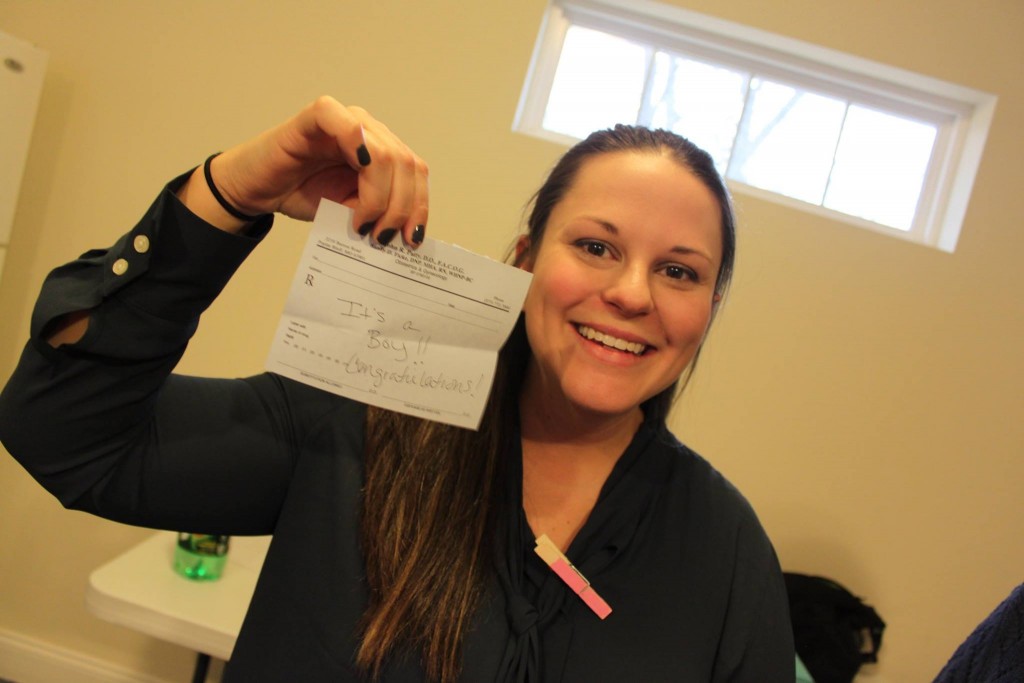 This gender reveal party was amazing!  I wouldn't have traded it for anything!  I was so glad that J's family was there and most of mine were able to come.  Plus his best friends made it and my best friend (who's due in January) made the trip down to my surprise!
The following two tabs change content below.
Meredith Rines, a budget and financial strategist helping fans pay off debt and live the life they've always wanted.
Latest posts by Meredith Rines (see all)