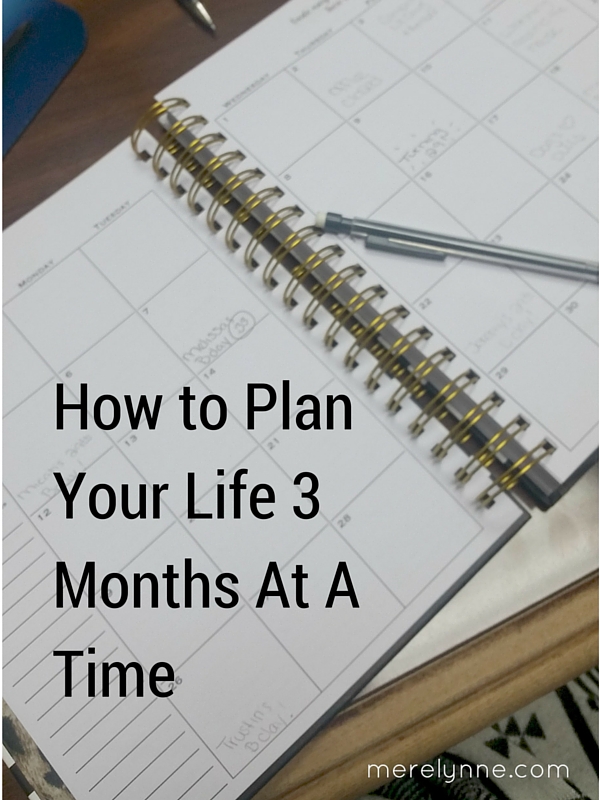 If you're new around here then you probably aren't familiar with my love of planning.  I'm the girl that has multiple calendars, lists and plans for every part of my life.  It's how I function and what works best for me.  I like to know what's going on.  I can fly-by-the-seat of my pants, but only to an extent.  Over the years I've found a few ways that have really helped me and our little family stay on track with everything going on.
A while back I was reading one of my favorite blogs, Fun Cheap or Free and came across this great idea – planning your year in advance.  It sounds like a great idea!  Basically, you sit down with your significant other and look at the whole year.  You plan out vacations, birthdays, date nights, holidays, and more for the entire year.  I tried doing it last year, but found I was lacking in a few areas.  Now, here we are already in 2016 so I came up with my own idea.
I decided we were going to plan our time, but only for 3 months at a time.  You see, if I start planning too far in advance, then plans change and things don't work out.  What was once a priority doesn't seem that important 9 months later.  So I have created a quarter-at-a-time plan.
Here's how planning your time works:
I use Google Calendar for our master family planner and it works great.  I also have my own personal Google Calendar for anything that isn't family related or for what doesn't affect J.
For our master planner I share it with J so he can see it, edit it and know what's going on.  That way we can access it from the computer or our phones, whichever is on hand.   I also like to add him to any event that I want to make sure he's aware of – I do this a lot for doctor appointments for our Baby Boy.  That way he gets an email invitation to attend the event and I don't have to rely on him to actually check the calendar.
The more and more I press using Google Calendar, the more he's getting better at actually checking it.  He still has his moments where he will commit to something only to find out he should have checked the calendar first.
The first step in planning your time for the next quarter is to setup reoccurring events.
I like to use reoccurring events for anything that happens on a monthly, bi-annually, or annual basis.  That way I don't have to reinvent the wheel every time.  It saves a lot of time and stops us from forgetting anything.
Next, we plan out everything for the next three months.
OUT OF TOWN TRIPS:
This is a big one for us.  With his parents living about 2 hours away, we like to go and visit quite a bit.  So we try to schedule in weekends where we can head that way.  It's great to be able to see which three-day weekends are coming up and plan for us to visit his family then.  That way we get to do something fun and get out of the house for a bit.
If we wait to long to plan these trips then we find ourselves stuck at home a lot more and missing our chance to see family and friends.
We take note of all the three-day weekends coming up in the next three months then decide what do you want to do.  We like to split our time between going out of town and working on projects around the house.
Calendar out any existing travel plans.  I have an annual conference for work that usually happens in June every year so I like to go ahead and plan that out – including my travel days.  I won't get to go this year since Baby Boy will be a newborn, but I plan on attending next year's conference and want to make sure it's noted well in advance.
DATE NIGHTS/ANNIVERSARY
J and I both are not too big on celebrating anniversaries, but we do like to do something small.  Since our anniversary isn't until November, we don't typically plan anything until the beginning of October.  That way we can make arrangements for someone to watch the pups if we're going to be out of town overnight.
With baby boy on the way we know our date nights will soon be changing.  Plus, it's just the two of us right now so we don't do a lot of planned date nights.  But we know we will in the future.  We know our date nights will never be anything stellar – probably just dinner and grocery shopping.  But we know we will need to plan these nights in advance because my parents will be watching Baby Boy for a few hours for us.  I know I will need to know what day of the week it's going to be so my parents can be prepared.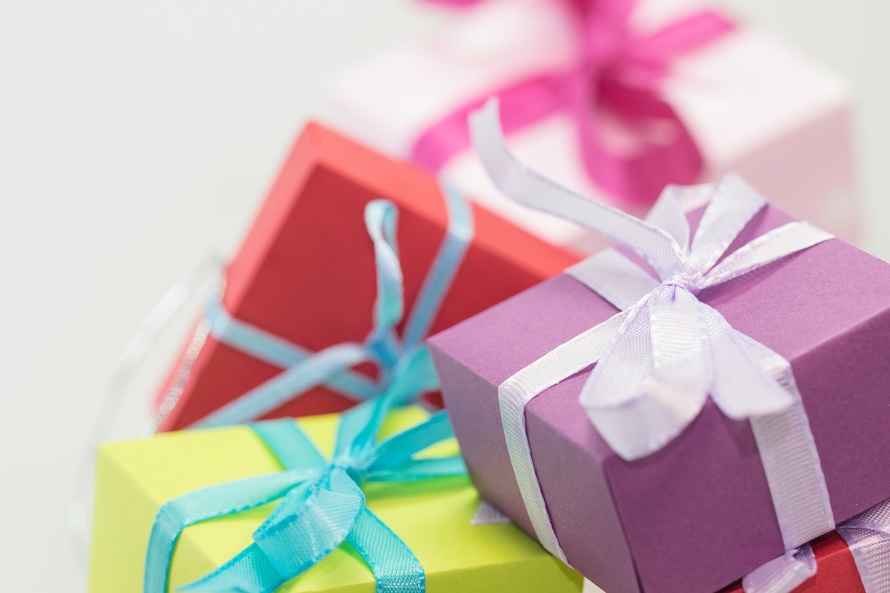 BIRTHDAYS
We go through the next three months to make sure we have everyone's birthday down in both of our family and our close friends.  Here's where I really rely on setting up reoccurring events in Google.  That way we don't have to search for birthdays – they simply roll into the next year.  I like to set reminders a few days ahead for the ones we want to buy cards or gifts for so we don't forget.  You can choose what format you want the reminder in – a text, a pop up or email.  I prefer email so I can get it when I'm read.  That way it doesn't pop up while I'm running into a meeting and it gets overlooked.
Typically, for our little nephews and cousins we will attend a birthday party – it's hard to know when it will be a year in advance, but usually a few months before is when we can get an idea of the weekend and mark it down.
HOLIDAYS
Now we go through our Google Calendar to mark any holidays that we will be off work.  Neither of us gets all the federal holidays off work, so it's nice to know which ones we will be working and which ones we get to take it easy for.  Also, J's work sometimes switching the days – meaning he may work the holiday, but get off another day in exchange.  I like to take note of all of these so we can plan any trips or home projects.
We also switch Thanksgiving and Christmas with our families so by planning a few months ahead of schedule then we can know where we're going to be.  We usually do Christmas with my family in even-numbered years and with his family in odd-numbered years.  We didn't plan for that to happen, but after our first year together we decided driving across the state wasn't worth it.  We didn't actually get to spend any quality time with any family – it was a bummer.  So now we switch off.

FINANCIAL REMINDERS
Being a financial advisor has some perks and working in accounting office means I never forget to file our taxes.  So I don't typically plan compiling our tax return information.  I usually keep it at the office and have it on hand whenever I need it.  But I do plan to check our credit reports and credit scores once a quarter.  I like to add it to our calendar and setup a reminder so I do not forget to run the report.
Make sure you stay on top of your finances with a quarterly credit report.
You can check your credit report for free, too!  Don't miss a chance to keep your finances in check!
HEALTH REMINDERS
I also like to add reminders to schedule any doctor appointments or exams that we need to do.  I do this for all of our doctors' appointments – eye doctor, dentist, and anything else I can think of.  If I don't schedule a reminder then I will forget to make the appointment, then I will wake up one day and will have no contacts left and be miserable until I can get in to see the doctor.  So I avoid all of the necessary glasses-wearing days by scheduling reminders.  I usually do this at the beginning of each month (whatever doctor appointment is needed that month) so I can plan around my schedule instead of having to be fit in.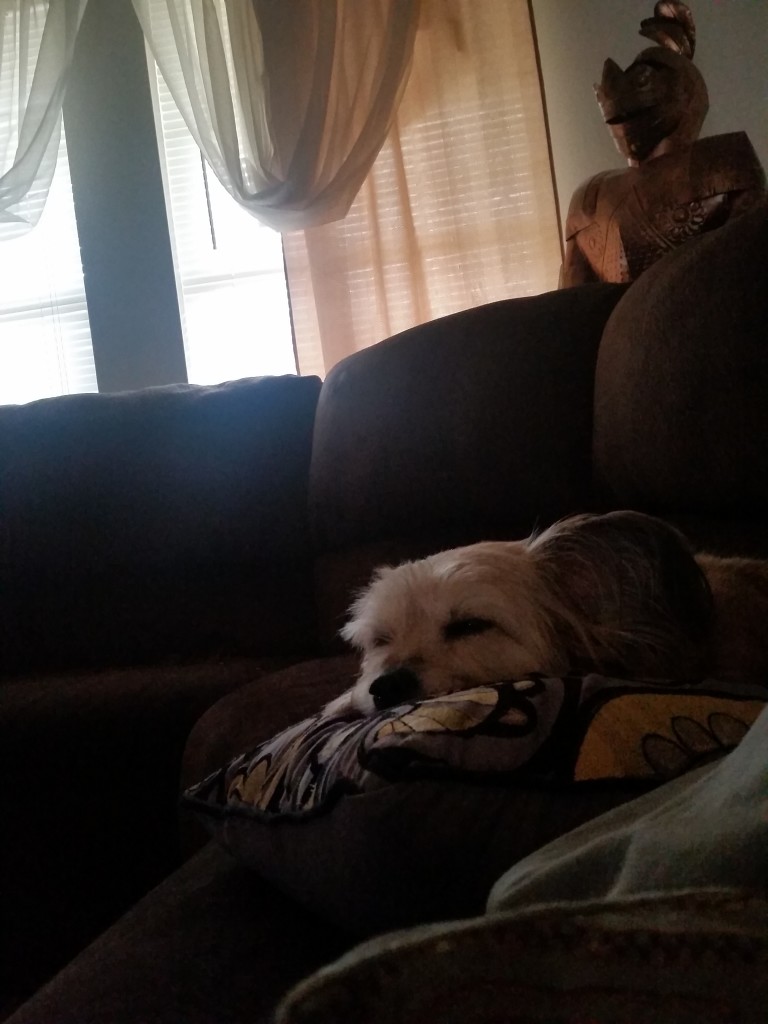 DOG APPOINTMENTS
This category kind of goes along with the health reminders, but it's for our pups.  I like to schedule the monthly heart worm pill reminder, vaccinations, and even grooming appointment reminders.  It's important to me to keep our dogs healthy and happy.  So I treat them like family and make sure they never miss their monthly pills or any vaccinations.
MISC. EVENTS
This category is kind of my catch-all for events that don't really fit anywhere else.  This is what I call, not-normal or reoccurring.  For example, I am getting ready to take a photography class at the local college.  It is only four weeks long and one night a week – so I will add it to the calendar, but it isn't going to be an annual event or something that occurs next month.
Plus, I also have a few childbirth classes and an epidural class coming up.  J has to attend the childbirth class with me so I went ahead and scheduled in the four week class and shared it with him.
Also, J is on a bowling league that meets every Tuesday night.  It's not an out-of-town trip, but it's still an activity that we both need to be aware of.  These are the nights I like to plan easy-to-prepare meals so we can eat and go because the bowling alley is about 30 minutes away.
Here's my best tip for planning out the next three months: schedule some home-time.
We schedule weekends to stay home and get things done around the house.
It's so easy to say yes to family or friends and before you know it, you have zero free weekends one month.  Last year, J and I looked at our calendar and had no weekend home for almost 2 months.  It was too much.  So we actually plan out weekends and projects that we want to stay around the house for.
Miscellaneous events can really fit any other plans you have coming up in the next three months.
By taking a look at the next three months, I'm able to fully see what's going on.  During tax season (remember I work in an accounting office – our lives are kind of on hold) I work 6 days a week and don't have time for many doctor appointments or weekend getaways.  So if we have something coming up then I want to know in advance so I can plan my work day around it.  It really helps J and I be on the same page with everything going on.
It may seem a little overwhelming when you lay out everything you have to look at, but it's not.  It goes by really fast, especially if you're working together on it.  I would say get in the habit of doing this every three months.  It can really make a difference in your planning your time and give you a chance to actually get things done.
The following two tabs change content below.
Meredith Rines, a budget and financial strategist helping fans pay off debt and live the life they've always wanted.
Latest posts by Meredith Rines (see all)