I love a good slow cooker recipe, which is why I'm a fan of pineapple teriyaki chicken.
Ever get in a food rut?  You know when you find yourself cooking the same dishes over and over.  When that happens you find yourself eating out more than you want.  Then your food choices start to slip back to bad habits.  That's what was happening to J and I.  We were in a food bore.
I needed to shake things up.  I came across a few slow cooker recipes and  that's when the light bulb turned on.  In the true-to-myself fashion I combined some recipes to make my own.  That's how the crockpot pineapple teriyaki chicken recipe came to be.  I'm sure I'm not the first person to come up with it, but I'd like to think I'm special.
NOTE: This slow cooker chicken recipe is amazing and super simple.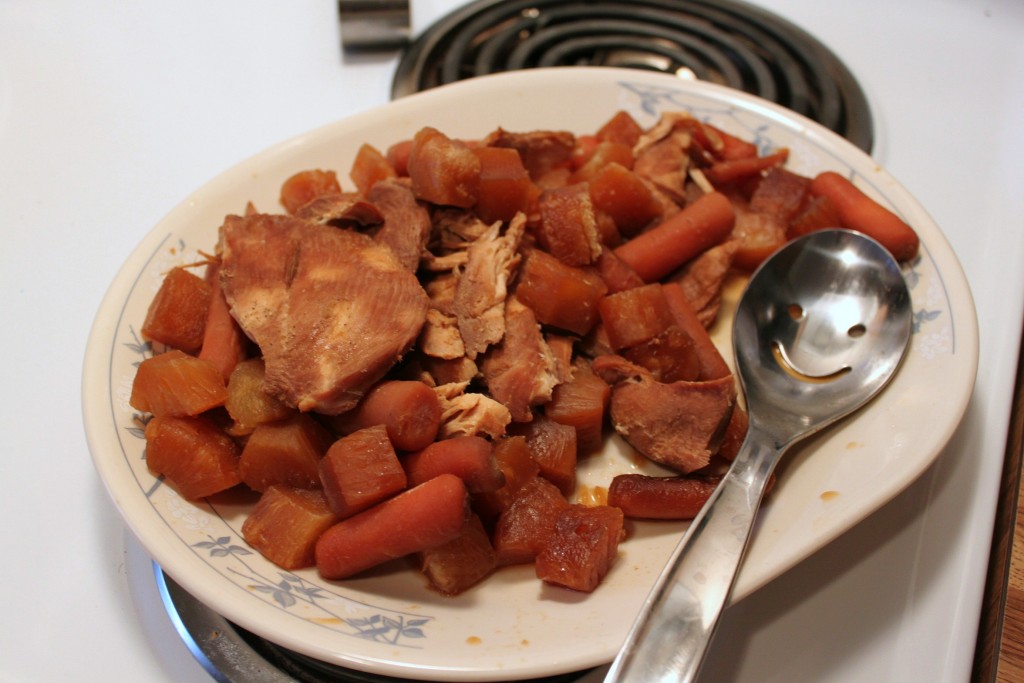 Here's what you need to make this delicious pineapple teriyaki chicken recipe:
4 chicken breasts
1/2 bag of carrots (I used organic baby carrots)
1 large can of pineapple in 100% pineapple juice, undrained
1 cup teriyaki sauce
2 tablespoons brown sugar (optional, but makes it sweeter)
2 tsp. garlic powder
2 tsp. onion powder
1 tsp. salt
1 tsp. pepper
Place the chicken in the bottom of the slow cooker.  Add the seasonings.  Pour the pineapple and juice over the chicken.  Be careful to not wash off too much seasoning from the chicken.
Add the carrots to the slow cooker.
In a measuring cup, pour out 1 cup of teriyaki sauce and mix in the brown sugar.  Pour over chicken.  Place lid on and cook on low for 7 hours.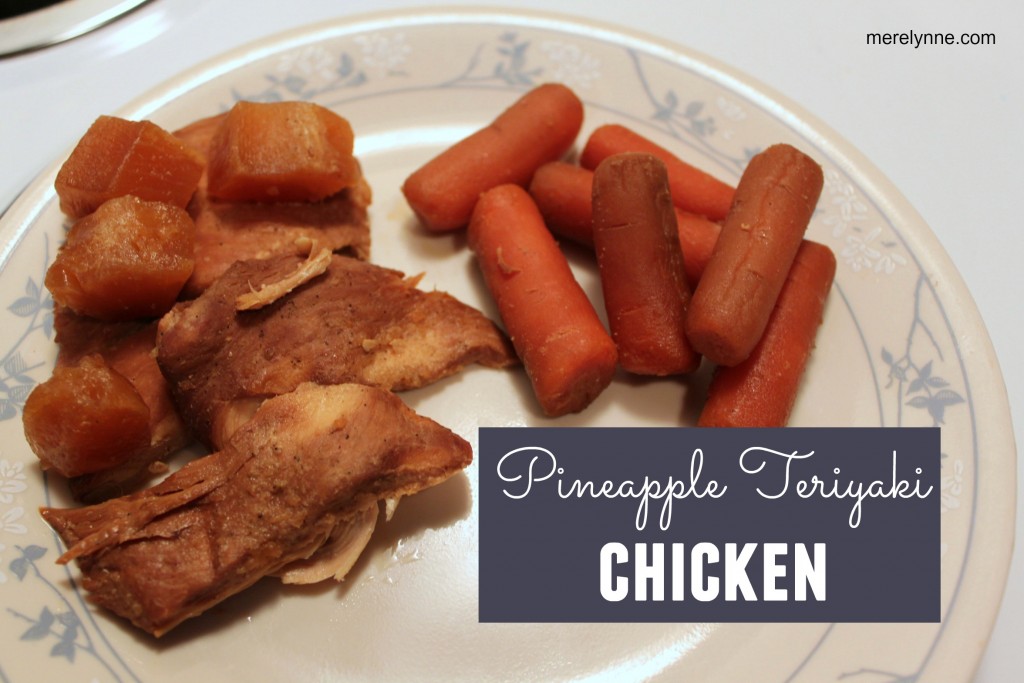 NOTE: You could always use 1 small red onion and 4 garlic cloves instead of the powder.  But J does not like onion so when I do use it, I tend to cut it in big chunks so it can be removed.  I didn't have any onion or garlic on hand so I substituted the seasoning.  It tasted fine to us!
Voila!  There you have it.  A simple chicken recipe that packs a load of flavor.
The following two tabs change content below.
Meredith Rines, a budget and financial strategist helping fans pay off debt and live the life they've always wanted.
Latest posts by Meredith Rines (see all)