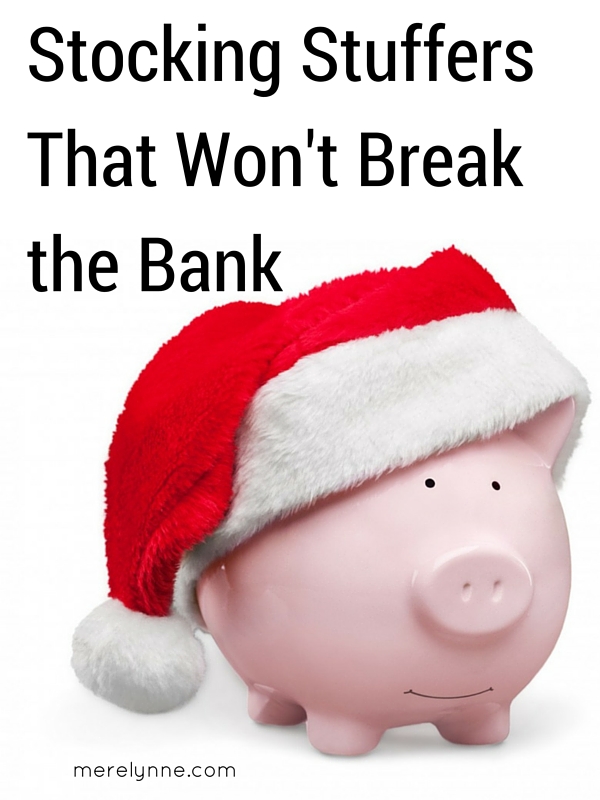 It's that time of year again. It seems to come so fast and without warning. I mean, you think Thanksgiving would be a fair warning, but it never is. Last year I did so good shopping for Christmas presents for our family and friends on a budget. I decided this year to do it again. I'm going to stick to last year's plan, which you can read about here. I was really able to come in golden on our holiday spending. All it took was a little planning and a little Black Friday shopping.
This year with it being the baby's first Christmas and all, we're going to break out the stockings. Nothing too crazy because the baby isn't even a year old yet. I'm not that mom… yet!
Every other year we switch holidays with my family and J's family. This year is time for Christmas with my family. My Mom always goes above and beyond on stocking stuffers every year. Most of the time the items are too big to fit in the actual stocking, so we each just get a spot on the couch and out stocking is laid on top of everything.
When it's our turn to be with my family I usually like to help my Dad out by getting stocking stuffers for my Mom. Let's be honest, he's not the best at what to get her and never knows if he has enough or too little. So my sister and I usually tag team it and take care of it for him.
This year, I wanted to get some awesome stocking stuffers that won't the bank. So I'm doing what I do best… coming up with a plan!
The best plan is to be thinking ahead all year long. Whenever you're out and spot something for a good deal (like a really, really good deal) then go ahead and buy it. But for me that's hard. If I buy too early then I have to find a place to store the items and actually remember where they are before Christmas. That doesn't happen too well in my house.
So I like to hit up a few key stores to get some good deals on stocking stuffers.
Dollar Stores
You can get some really great pieces for only $1. You can be creative and think outside the box at these type of stores.
For little ones look for toys and games – chalk, bubbles, little figurines. Let's face it kids are rough on toys and there are probably some really great items under the tree so stocking stuffers don't have to be anything too expensive.
For adults you can find some items that are sure to catch your eye. For women I usually go to the nail care aisle. I can grab some nail files and little mani/pedi kit. They also have some cute coffee mugs that make great stuffers. For the men in your life most dollar stores sell car cleaning pieces. They aren't the highest quality, but the rags and sponges work just fine.
Big Lots
In our small(ish) town Big Lots is the place. You can find just about anything at Big Lots. I like to grab favorite candy and throw that in the stockings. Sometimes you can get lucky and find name brand items that are really discounted. So again, be creative and you can find some great stuffers.
Target $1 Bins
This is another favorite. Those bins are magical! You never know what they are going to have and some of those pieces are really neat. You can find great stuffers for any age.
I'm a huge fan of notepads. I know my Mom likes them to make lists on them and most people can always find a need for a notepad and pen set. You can sometimes find some great kitchen utensils too that are colorful. Those make great stocking stuffers!
Amazon Add-Ons
I use Amazon a lot for our dogs. Yes, I buy stocking stuffers for our dogs because I'm that lady. I'm okay with it too! I like to shop on Amazon for some of our household items. Amazon has really inexpensive add-on items. I like to go through their dog toy sections to find some good quality, inexpensive toys.
I also use the Amazon add-on feature for smaller gifts for friends, co-workers and even my family's pets.
Christmas Clearance
If you are someone that can buy in advance and then not lose your stocking stuffers, I would recommend stocking up during Christmas Clearance. You can find some great deals at some really great prices. You just have to remember where you store everything before next Christmas!
You can find some great quality pieces at Wal-Mart, Target and even department stores like DIllard's and Macy's. You just have to keep your eyes peeled.
Words of Advice: Just because something is inexpensive doesn't mean it would make a great stocking stuffer. Really think about whether or not you want to gift the item. I like to think about each person I'm buying for – what they like, their hobbies, etc and then try to find stocking stuffers that fit them. I'm also a stickler for quality. Just because something is only $1 doesn't mean it's worth $1.
Handmade Items
If you're feeling crafty then you could always make stocking stuffers.  I did a small gift exchange with my cousins a few years back where each gift had to be under $3.  So I crafted a DIY ornament.  They turned out great.
So what are your go-to stocking stuffers that won't break the bank?
The following two tabs change content below.
Meredith Rines, a budget and financial strategist helping fans pay off debt and live the life they've always wanted.
Latest posts by Meredith Rines (see all)