I see all these bloggers that talk about their Saturday morning brunch at some super-hipster place and they look flawless.  That's not me though.  Let's be honest for a bit.  I don't usually wear makeup on the weekends, I rarely get out of my sweat pants, and my hair is 98% of the time in a ponytail or top-knot.
Here's a real shot of me on Saturday about 2:30.  We just got home from helping some awesome friends move into their new house.  J was taking a nap on the couch and I was getting ready to go study for a few hours.
Warning: this is not a pretty shot, I look rough.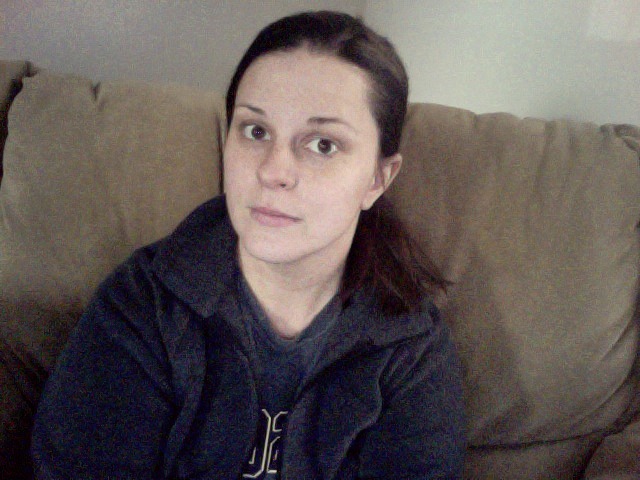 Told you, I was looking rough.
That picture makes me look like I have lots of freckles, but I think it's just the camera on my laptop. I guess it kind of looks like dirt a little, but I had just washed my face so it has to be the computer.  Yes, the computer.  I have better skin…. yeah, a lot better.
Sometimes I'm envious of those bloggers who wear cute clothes on the weekends, but that's not me and I wouldn't be real if I took a picture of myself dressed like that.  Honestly, if you ever see a picture of me dressed up on a weekend then you can probably assume that I changed into yoga pants about 3 minutes after the picture was taken.  That's more me.