Today's post is going to be a quick one because I am running around like a crazy woman. After this weekend's 24 hour stomach bug attack. Our house looked as if a tornado had passed through. We had toys thrown everywhere – in the family room, hallway, kitchen, the dog's crate – everywhere. Dished piled up and laundry that needed to be folded, washed and dried.
I knew today was going to be a mess. There are too many meetings, errands and just stuff to get done in these 24 hours. Plus I like my sleep. So I figured on a day where I barely have time to catch my breath I wanted to share with you some quick cleaning tips.
Because let's be honest…
Who doesn't need quick cleaning tips this time of year?
These are my go-to when it comes to a messy house, feeling stressed and not much time to get it clean.
Baking Soda To Freshen Carpet
Alright the first one is probably my favorite. We have a dog who is allergic to any carpet deodorizer we've tried. So to save her from feeling miserable we had to find a new option. After trying baking soda on our carpets once I fell in love. It works great and it's non-toxic for the dogs and kid. All you have to do is pour some on your carpet, let it set then vacuum it up. Your carpet will be left smelling fresh. I also LOVE how cheap a box is compared to the fancy carpet powders you can find at the store.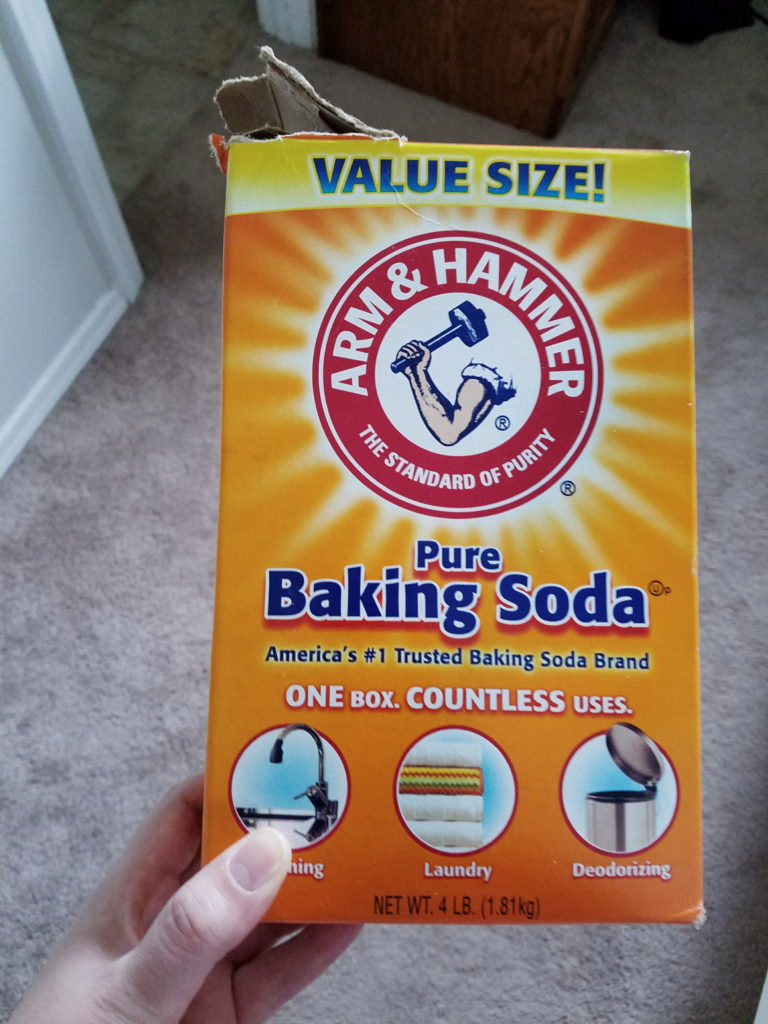 I like to vacuum once without any baking soda down then pour baking soda to vacuum again. We have three dogs, so I like to get as much dog hair up as possible.
Vinegar To Clean Carpet
Do you have a steam cleaner? If you have kids, dogs or both then you need a steam cleaner! I love mine. We got it years ago and it's still kicking. After trying to find a less expensive way to clean, I discovered vinegar. Instead of using the store-bought shampoo and cleaners, just add some white vinegar to your solution. Then you just clean like normal.
You will notice your floors will smell a little like salt and vinegar chips until it dries (at least that's what I thought), but then the smell goes away as it dries. This was my go-to for steam cleaning our carpets when our little boy was crawling everywhere. I felt so much better using vinegar on our floors since it's non-toxic compared to all of those chemicals you find in store-bought cleaners.
Use Vinegar To Clean Your Microwave
Here is the quickest way to clean your microwave without all that scrubbing. Take a glass of white vinegar and microwave on high for 5 minutes. Once it's done, simply wipe down the inside with a towel and you're done. No more scrubbing. Something about the vinegar, the steam and the heat just melts away messes.
I usually start a cup in the microwave while I'm putting dirty dishes in the dishwasher and by the time I'm done with dishes it's time to wipe out the microwave.
Clean Your Toys In The Dishwasher
This one is my new favorite. I really don't know how I waited until as long as I did to try it. Did you know you can take your child's toys (the ones that are plastic and don't have holes in them) and put in your dishwasher. Just pile them in and turn on. Our dishwasher has a one hour cycle, which is perfect. Make sure to turn off your heat dry option and let them air dry. I'm always afraid that high of heat might ruin a few of them. I've never had a problem washing any toys in the dishwasher though.
I usually start it before bed and then by the morning they're dry. It's best to do this during cold and flu season or if you have a sick little one. It's great at disinfecting all the toys at one time and makes it a lot easier on you.
Wash Your Pillows In The Washing Machine
Again, with another quick deep cleaning tip. You can wash your pillows in the washing machine – not just the pillow cases. Just take your pillows out of the cases and toss in the washing machine. Try not to overload the machine, you want them to move around a little easier. Just wash on cold in a delicate cycle with a little bit of detergent. I prefer the detergent without any dyes or perfumes since our son and I have allergies.
Once you've washed them you can throw them in the dryer with a tennis ball (I wrap ours in a sock) or even a toy rubber ball. The ball helps the pillow to dry evenly and come out fluffy.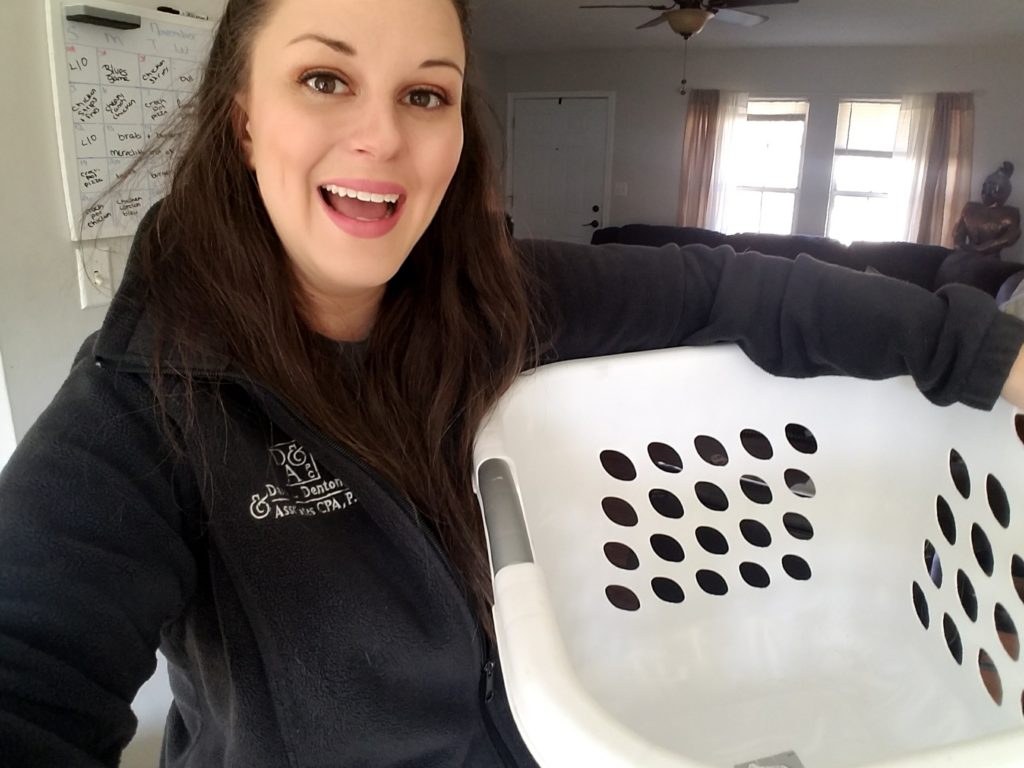 Use The Laundry Basket Method
Whenever you have a room that looks as if a tornado hit then grab an empty laundry basket. Go around your house, room-by-room and gather any items that don't belong. Once you have gone through each room in your house (or until nothing else fits into your basket), you can start emptying it. Take your basket back into each room and put away anything in it that belongs to that room.
I use this a lot in our kitchen and family room because they tend to be a catch-all. I put shoes, clothes, pans, toys, and anything else our son tends to carry around. Then I go back through each room and I put away whatever is in the basket. I usually start in the bedrooms when it comes to putting things away because I always have shoes or dirty clothes in the basket and they tend to be the biggest and bulkiest items.
Split Your Duties
We prefer to not do any house cleaning on the weekends. We like to have our weekends to ourselves to do whatever we want. So J and I bust our butts Monday through Friday to get everything done. One of the best things we did was stop being a perfectionist. We break our cleaning into days and then work on something for a few minutes each night. That way the house is always getting cleaned with little effort.
We try to focus on one room each night and between the two of us we can dust, sweep or vacuum, mop, clean and straighten within 15 minutes for most rooms. We tend to clean after our little one goes to bed and before we sit down to relax for the night.
What are some of your favorite quick cleaning hacks?