Can you believe 2017 is here? I seriously feel like I just rang in 2016 and now here we are a year later. I never understood when my parents or other adults said that time just seemed to speed by. "In a blink of an eye."
In school time just felt like it was dragging on. I couldn't wait to be graduated, working a job, having my own home, etc. I just couldn't wait to be an adult. Now here I am. 30 years old and time is flying.
It's hard to imagine our little guy turning ONE in just 4 short months. It's crazy to think we will be living in my hometown for 3 years this summer or how J and I will be celebrating our 4th wedding anniversary this fall.
Life does really fly by. I don't know what's changed since school. Maybe I'm busier, maybe I have more commitments then I used to. Or maybe… just maybe I can't keep up like I did when I was 20.
I am so thankful that I didn't have a ton of responsibilities at such a young age because I just don't think I was mature enough. But I can tell you having a baby at 30 isn't easy. It's so much harder to pull an up-all-nighter or to go with very little sleep.
Well.. that's enough about getting older and time just passing quickly. This post is all about the New Year. So alright, we're starting 2017 off right. I've jotted down my top resolutions for this next year.
I've never been crazy about using the word "resolutions." It just seems negative. Something about saying my 2017 new year's resolutions just seems like I'm in trouble.
Like I resolve to stop this bad habit.
I want to be more positive. I've never really liked calling them resolutions. Even last year I called them my goals.
I'm continuing with that and I am making my 2017 list all about goals. I want to continue striving and working towards something that will benefit me and my family.
So here it is… my 2017 Goals: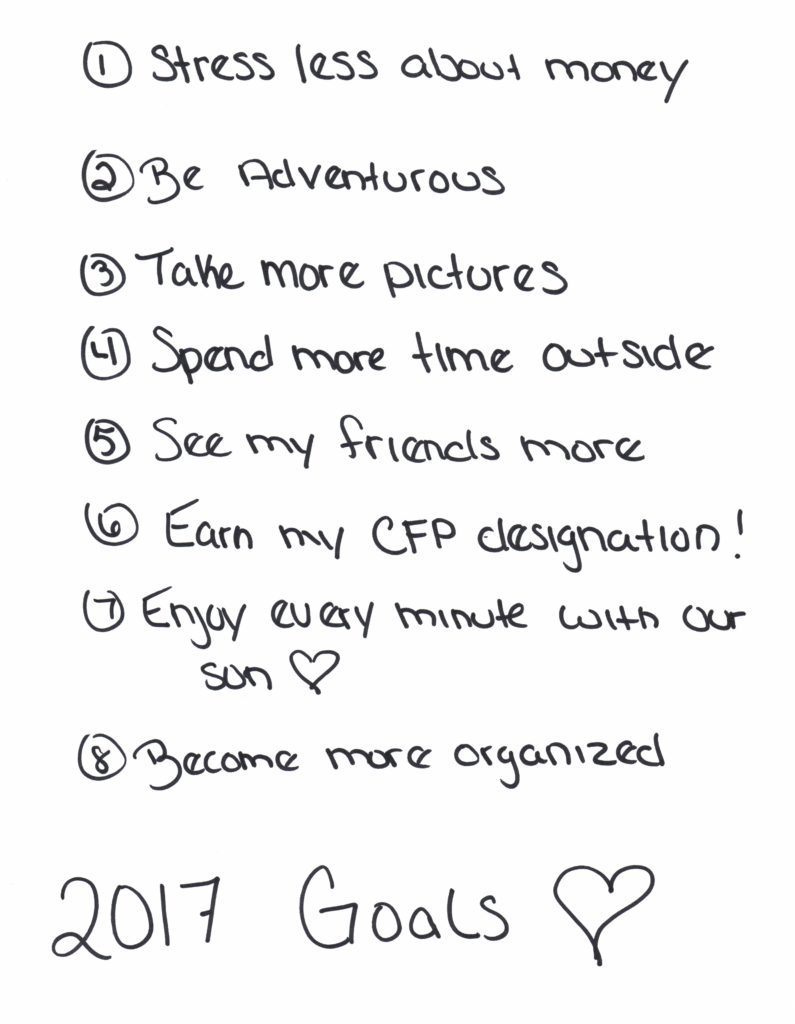 I started looking back at my goals since I started sharing them on here. It's crazy to see what's changed and how I've grown over the years. One thing is certain – my new year goals are getting simpler. No more crazy lists, crazy achievements that I know will be difficult to attain. I'm pushing myself, but only in the areas that are most important. I'm keeping my goals broad so I know when I've achieved it in my heart and not on paper.
Here are my previous goals:
No matter if you call them your 2017 New Year's resolutions or your new year goals, either way it's time to kick butt.